Dispose of your Food and Garden Organics (FOGO)
Find out more about our kerbside FOGO service and communal FOGO hubs.
As outlined in our Don't Waste It! Waste Management Strategy (2022-25) we are expanding our FOGO services in 2023 to ensure that all households are able to divert their FOGO materials from the garbage stream.
We are delivering a hybrid waste model where some residents who have space for additional bins will be allocated a kerbside (FOGO) bin and others who don't have the space, will instead have access to a communal service, enabling them to drop off FOGO materials at communal recycling collection points in local parks and reserves and other central community locations.
Throughout January 2023 we delivered 120L kerbside FOGO bins to eligible stand-alone houses and townhouses and the FOGO recycling service started week commencing 23 January 2023. Bins were delivered with a FOGO Brochure including information about the service. If you live in a house or townhouse and didn't receive a kerbside FOGO bin but would like one, please lodge a request through My Port Phillip. 
FOGO bins are collected from kerbsides weekly on the same night as garbage and mixed recycling bin collection. The cost of the new kerbside FOGO service is $88.10 for this financial year and will appear on your rates notice.
We are currently planning for the rollout of FOGO bins to flats and apartments. Residents of eligible flats and apartments within the City of Port Phillip will receive a FOGO bin from July 2023.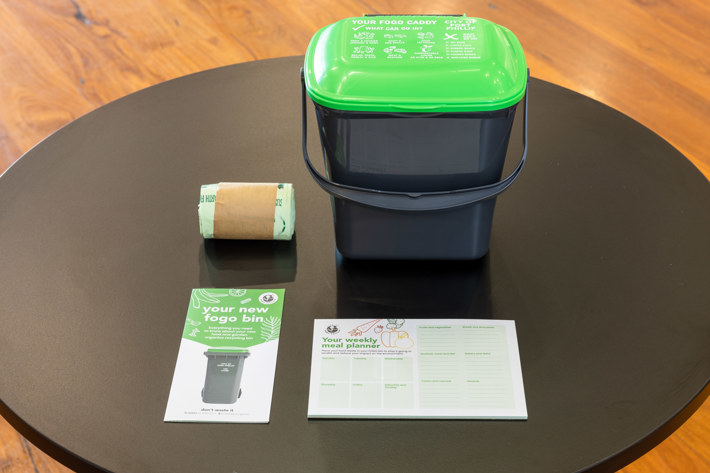 Kitchen Caddy and Liners

A free kitchen caddy (7L container with a lid) and one roll of caddy liners are available for collection to any household in Port Phillip that would like one.
Caddies can be collected from any of our five library branches: Albert Park, Emerald Hill, Middle Park, Port Melbourne and St Kilda.
If you have accessibility requirements that prevent you from collecting a FOGO caddy please contact ASSIST on 03 9209 6777 to discuss delivery options.
Compostable liners
You don't need to use liners to dispose of your food waste. However, if you would like to use caddy liners you must use lime green certified compostable liners (certified to AS 4736 or AS 5810). These can be purchased from most supermarkets, major hardware stores or from online retailers, for example:
Using non-certified compostable liners will result in your food waste being diverted to landfill as it cannot be composted. 
Compostable logos
Look out for AS 4736 or AS 5810 logos for certified compostable liners.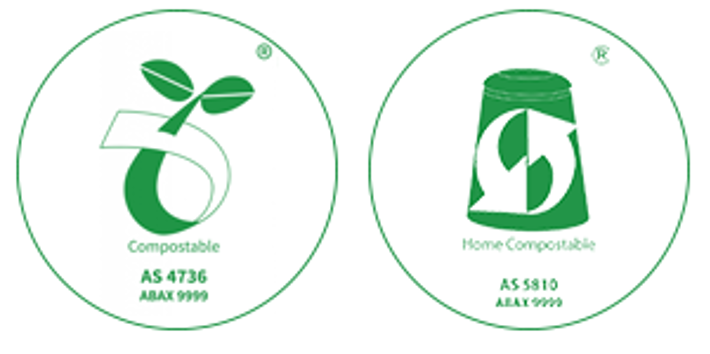 Food and organic waste we accept
We only accept food organic waste that can be made into safe compost. If you would like a reminder of what can go in your FOGO bin, please download our FOGO poster.
Accepted
Food organics:
fruit and vegetable scraps including citrus and onion 
meat and seafood
uncooked bones
baked goods including bread, pastries 
grains and cereal
mouldy and expired products 
loose tea leaves and coffee grounds.
Garden Organics
grass clippings and weeds (free of soil)
garden prunings
leaves
Other items
lime green compostable caddy liners (AS 4736 and AS 5810)
small amounts of tissues, paper towel and shredded paper.
Don't include
tea bags 
coffee pods 
pet waste and cat litter
compostable food packaging
liquids including cooking oil
soft plastics and plastic bags
soil 
rocks and pebbles
plant pots
cooked bones and shellfish shells 
rubber bands and string
bamboo cutlery
nappies.
Communal FOGO recycling hubs
You can recycle your FOGO materials at communal FOGO recycling hubs that can be found in parks and reserves across our City.
Please note that our communal FOGO hubs can only accept small amounts of green waste such as cut flowers and indoor plant trimmings. Please take your bulk garden waste to the Resource Recovery Centre or book a free green waste collection.
Reducing your food waste 
Food and garden waste makes up around 46 per cent of the waste our households send to landfill, and produces methane, a greenhouse gas that is approximately 21 times more potent than carbon dioxide. Reducing the amount of food waste we produce is an important step in helping our environment. 
We recommend planning your meals and checking your fridge for existing groceries before your weekly shop to reduce food waste. To help you plan your meals we have created a meal planner and shopping list for you to use. Click here to download your meal planner and shopping list.  
Apply to opt out of an allocated FOGO bin
We encourage you to give your FOGO bin a try and see the impact it can have on the amount of waste your household sends to landfill. If the bin still is not suitable for your property and you would like to request to opt out, please contact ASSIST on 9209 6777 or use the opt out of FOGO button below.
Please keep in mind there are only two criteria in which an application can be considered:
If there is no space at the front or rear of your property to store an additional bin.
If you have alternative methods of repurposing all food and garden organics

at your property. Only compost systems that are able to accept food items include meat, dairy, citrus, expired products and garden organics will be considered to opt out.
Please note that due to a high number of enquiries there will be a delay in response time. Please keep your FOGO bin within your property until you receive a response. 
Processing your FOGO – step by step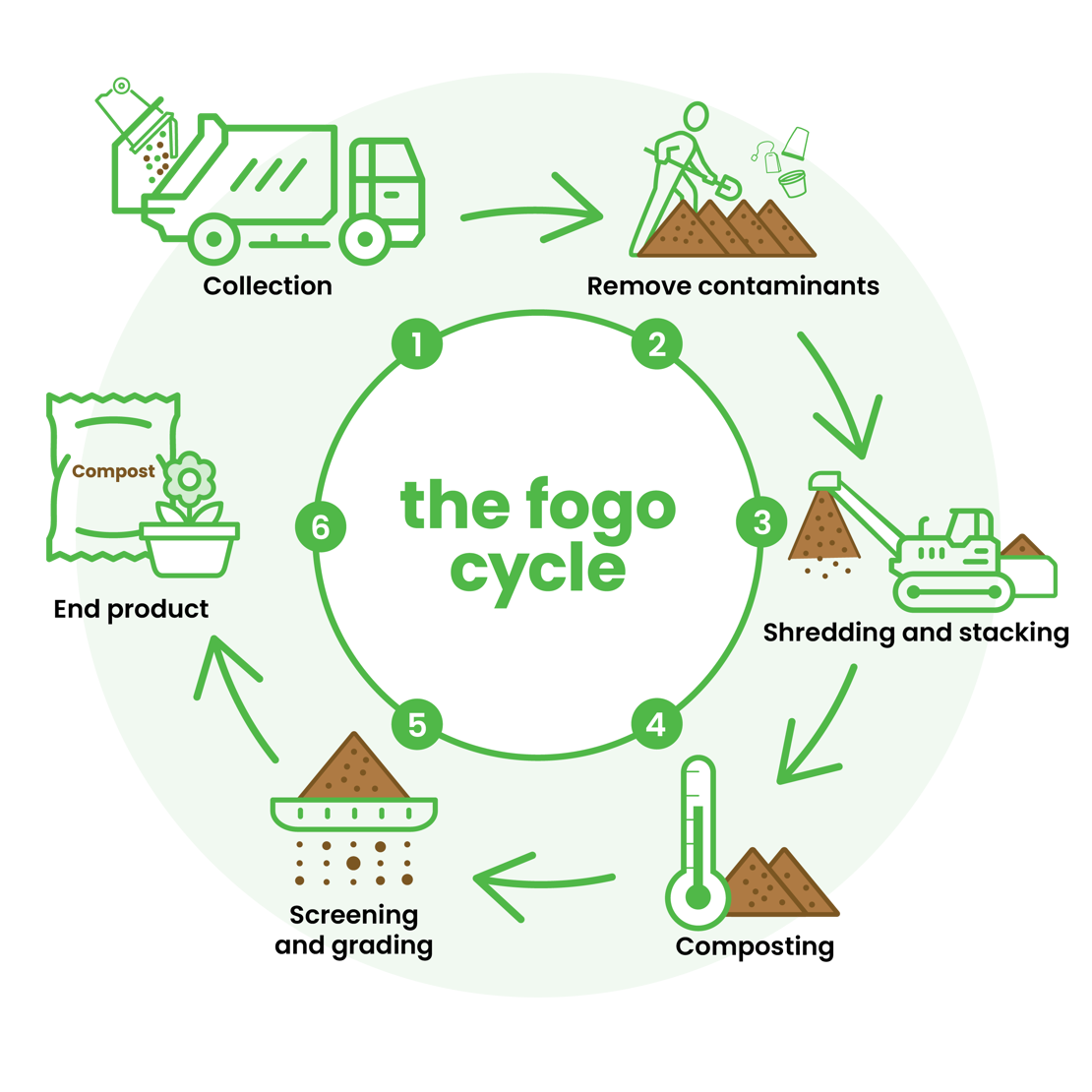 The FOGO Cycle
Food and organic waste goes through a 6-step process to become compost:
Collection: FOGO materials are collected and taken to Cleanaway's South East Organics Facility in Dandenong South.
Remove contamination: Contamination is hand-removed – things that shouldn't be in the FOGO bin are taken out.
Shredding and stacking: FOGO materials are shredded then stacked into long piles called windrows, which are kept moist and turned regularly for 16 to 20 weeks.
Composting: These materials are composted at 50 to 70 degrees to destroy weeds and pathogens. Lab testing ensures the compost complies with standards.
Screening and grading: The composted FOGO is screened into required sizes. Different grades of compost are required for different applications.
End product: Your processed FOGO is ready for use! This compost is full of nutrients and used to rehabilitate land throughout Victoria.
Our Customer Charter
We promise to:
Make it easy
Listen and understand
Be responsive and follow through
Be open and honest
Always look to improve.