Grand Prix parking and traffic
We work closely with the Australian Grand Prix Corporation (AGPC) to try and minimise the impacts of the Grand Prix on local residents and businesses. Information about parking and traffic management is published on this page in the period leading up to the event.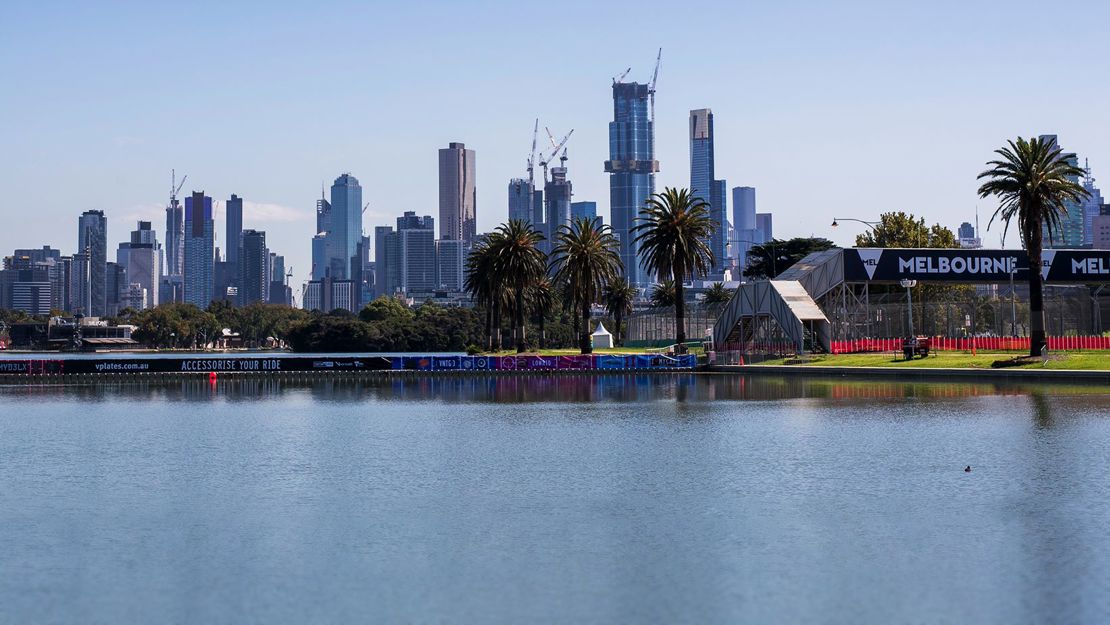 About the Grand Prix
The Grand Prix (GP) is a Victorian Government event run by the Australian Grand Prix Corporation (AGPC). The 2023 GP will run from Thursday 30 March to Sunday 2 April 2023. The Australian Grand Prix has been confirmed to be held in Albert Park until 2035.
2022 Parking management trial
In response to issues raised by the community about previous traffic management during the GP, we trialled a new approach in 2022. This involved replacing the previously used barriers around Middle Park and Albert Park with temporary parking restrictions, designed to prevent Grand Prix visitors from occupying parking spaces in the local area.
Trial evaluation and response
To measure the success of this trial, the City of Port Phillip worked with Global Research and the AGPC to produce an evaluation report. This assessment drew on targeted community engagement as well as traffic and parking occupancy surveys, conducted both prior to and during the event.
Nine key recommendations to further minimise impact to the local community were put forth in the final evaluation report. All these recommendations were endorsed by Council on Wednesday 7 September 2022.
See below for information on how Council is responding to each recommendation during the 2023 GP.
Recommendations
Response

1. Install temporary signage that is harder to remove, especially in areas that saw a high level of illegal removal such as within 400 metres of the Gate 1 on Canterbury Road.

In response to feedback received from the community last year, Council is working with AGPC to install temporary 90-minute parking signs using standard steel face plates in key streets within the Local Parking Area. These are much harder to remove and tamper with than the overlay stickers used last year. In streets where only minor changes will be made to existing restrictions, some stickers will continue to be used.

 

2. Install temporary signage the week before the Grand Prix to ensure we have enough time to check that all signage is correct and in place before the start of the event.

 

Council will ensure that signage is installed with appropriate time to assess clarity and accuracy before the temporary parking restrictions begin on Thursday 30 March.

3. Investigate opportunities to enhance parking enforcement for the 2023 event.

By consolidating the temporary parking restriction area, we can focus its parking enforcement resources and monitor instances of illegal parking. The installation of more robust parking signage will also ensure a more reliable level of enforcement.

 

4. Consider how to manage observed increases in traffic along Richardson Street, Wright Street, Nimmo Street, McGregor Street and Langridge Street, and continue to monitor traffic impacts.

 

Having reviewed the 2022 trial, we have developed a revised approach involving the creation of a smaller area where parking restrictions apply.

We will monitor traffic and parking data during the 2023 event to refine and adjust the approach as needed.

5. Consider how to further protect resident parking access on streets with over 85 per cent parking occupancy and continue to monitor parking impacts.

In addition to the consolidation of the area where parking changes will apply, temporary 90-minute parking restrictions will be enforced where previously a 2-hour restriction was trialled. This will encourage higher turnover of non-permit vehicles.

We will monitor traffic and parking data during the 2023 event to refine and adjust the approach as needed.

6. Provide improved Council access and direction for customer enquiries and better quantify the number of calls regarding the Grand Prix.

We've created a dedicated option for customers to direct their call as a 'Grand Prix enquiry' when phoning our ASSIST customer service line. This will allow us to generate faster responses to enquiries and helps us to better quantify the number of enquiries received in relation to the event.

7. Set aside additional dedicated space for shared mobility parking to minimise safety and amenity issues especially around Gate 1.

Council has worked with the AGPC to investigate the opportunity for dedicated space to be set aside for shared mobility parking, in order to minimise safety and amenity issues. Operators will be on-site throughout the event to respond promptly to any issues.

8. Continue to support visitors to use public transport to travel to and from the event, while also looking to support easy access to our local businesses.

A ticket to the Grand Prix 2023 gives attendees free tram travel between Melbourne City and Albert Park.

Council continues to work with the AGPC, as well as representatives from other local councils, emergency services, and the Department of Transport and Planning to seek improved traffic management across the municipality during the event period.

9. Leverage increased visitation to the area and support a range of Grand Prix related community events and business activities.

The Grand Prix produces significant local economic benefit to the City of Port Phillip. We continue to advocate for, and work with local businesses to leverage this economic benefit as much as possible.
2023 Parking management approach
In 2023, City of Port Phillip, together with the AGPC, is continuing with the parking management approach first trialled during the 2022 Grand Prix with some adjustments based on the findings.
Temporary parking restrictions will apply in the highlighted area of the below map.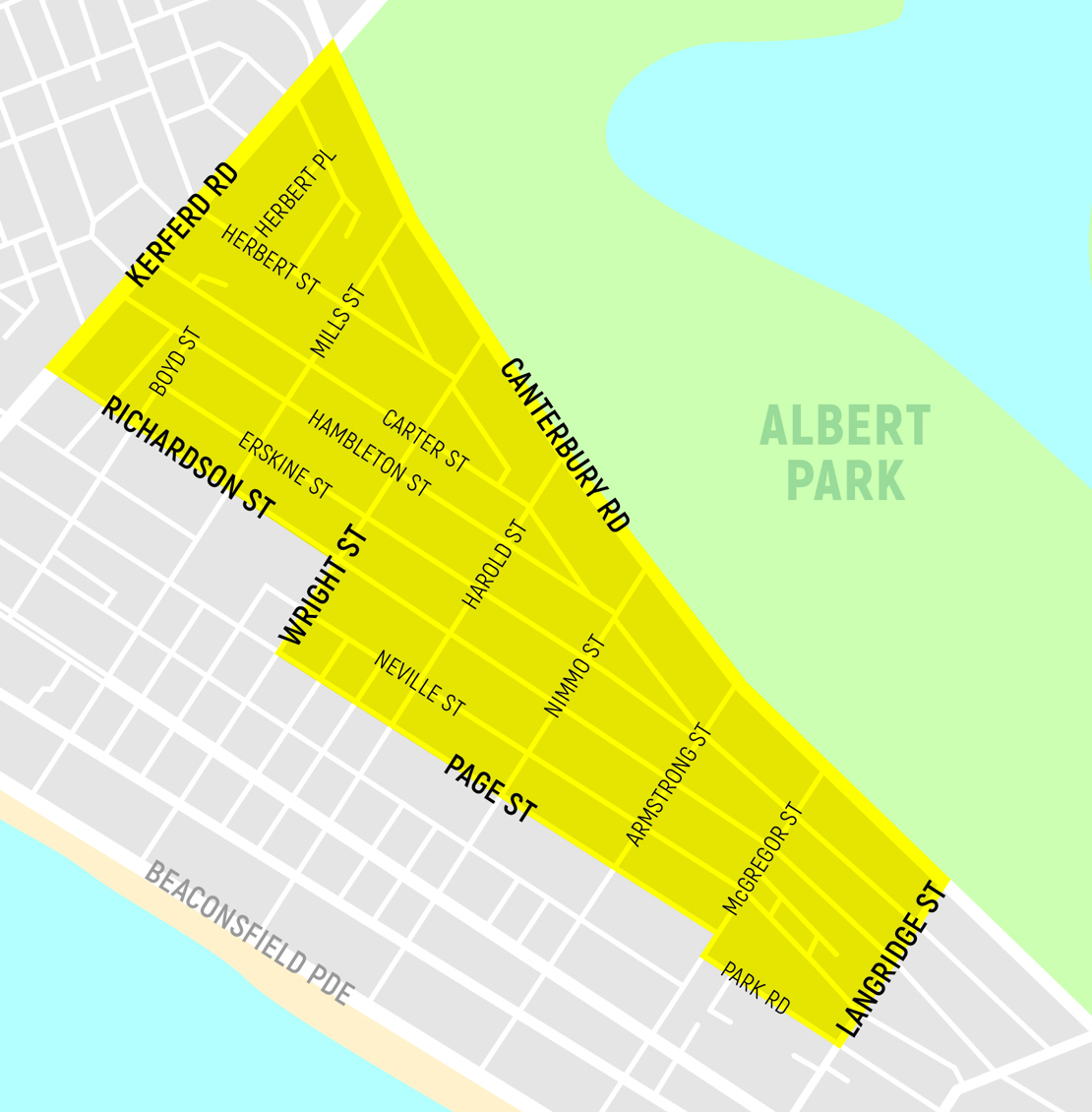 Temporary 90-minute parking restrictions will apply in the Local Parking Area during the four-day event period, from Thursday 30 March to Sunday 2 April. As part of these changes:
Existing 4P or unrestricted zones will be adjusted to 90-minute zones.
Existing 2P or permit zones which only operate Monday to Friday (or Monday to Saturday) will be adjusted to also include Saturday and Sunday.
Existing Loading zones, clearways or Disabled parking bays will not be modified.
All properties within the Local Parking Area will receive two temporary parking permits in the mail to exempt them from temporary parking changes.  
Council's parking enforcement officers will patrol and enforce all signposted parking restrictions. All vehicles must comply with signposted parking zones or display a valid parking permit to be exempt from time limit restrictions. Illegally parked vehicles will be subject to fines and tow-aways for obstructing access.
Frequently asked questions (FAQs)