Accessible beaches
City of Port Phillip has a world renowned foreshore along Port Phillip Bay. An accessible pathway, shared between pedestrians and bike users extends the length of this foreshore. Find out more about the accessibility along our foreshore.
The Mobi-chair beach wheelchair is available for hire for the summer season 2021/22 at St Kilda and Port Melbourne Life Saving Club. Full details on how to book are below. Please remember that:
all bookings are for 1.5 hours
beach wheelchairs cannot be independently pushed so users may need to bring someone to assist with transfers
if you are hiring a Mobi-Chair and would like to enter deep water, you must have a minimum of two support people
a hoist is available in the Changing Places at St Kilda Life Saving Club for transfer in and out of the Mobi-Chair
accessible beach matting is on the sand in front of both life saving clubs every day during the summer patrol season and does not need to be booked.
Book a Mobi-chair beach wheelchair
Weekend bookings for both beaches are essential can be made online below.
If you need help with a booking, please phone 03 9209 6777
St Kilda Life Saving Club
Location: 34 Jacka Boulevard, St Kilda
Available: Saturday and Sunday during patrol times, 12 midday to 5 pm, 1.5 hour booking limit
Port Melbourne Life Saving Club
Location: 38 Beaconsfield Parade, Port Melbourne
Available: Monday to Sunday during patrol times, 12 midday to 5 pm, 1.5 hour booking limit
The Mobi-chair beach wheelchair is available seven days a week from 12 midday to 5 pm, during summer 2021/22.
Mid-week bookings are subject to availability, please phone the patrol tower on the day via 03 9646 8773
Council aims to increase the hours the Mobi-chair beach wheelchair is available. Currently it is limited to times volunteer lifeguards are on duty. Please keep checking this page for updates on the service.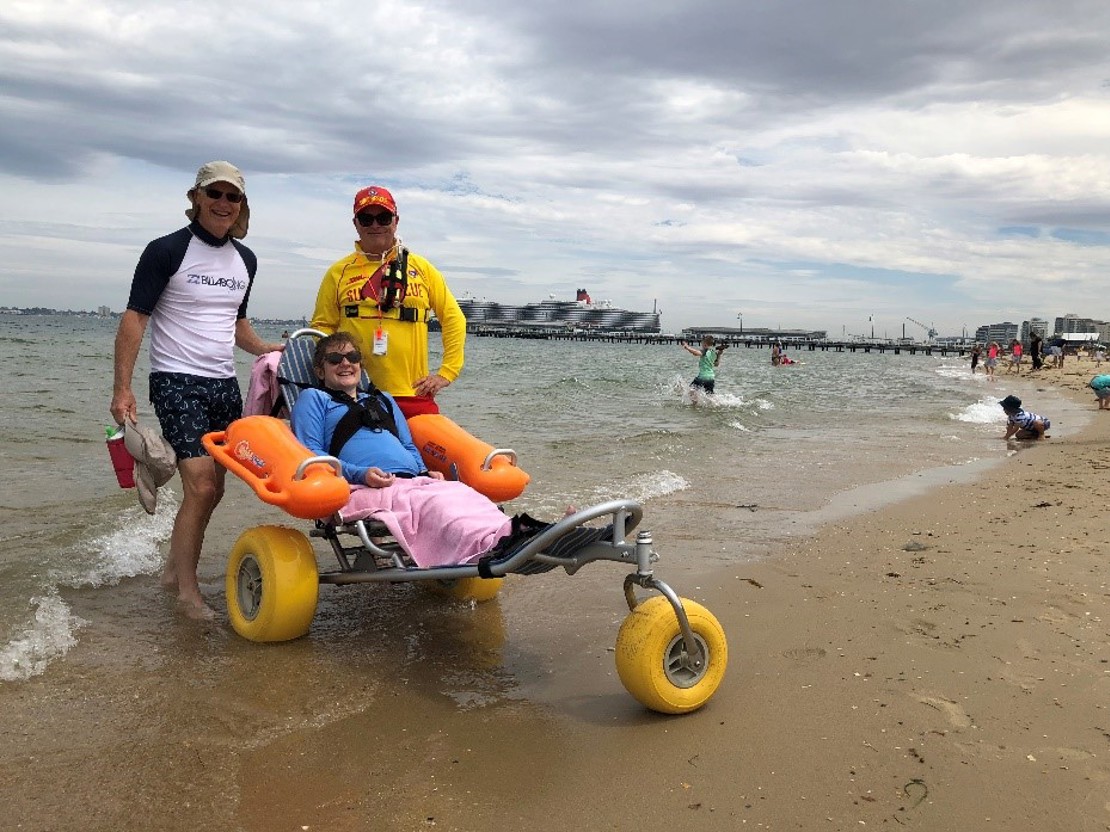 More about beach wheelchairs
Beach wheelchairs let you hit the sand and take a dip in the ocean. These specialty chairs are designed for outdoor use and specifically for beach environments.
They are ideal for people who have mobility limitations, including permanent disability, temporary disability or reduced mobility.
The armrests and wheels on Mobi-Chairs are made from materials that enable the chair to float in water. They're designed to enter water to the waist height of a support person. Integrated handles on the armrests provide added stability on land and in water.
To learn about other beaches and activities in Victoria that are accessible, please see AAA Play Find an Activity Directory. For accessible beaches around Australia, please visit the Accessible Beaches Australia website for information.
The beach matting is specially designed equipment. It helps people with a disability and increases access for all community members, from older people to children and pram users.
The equipment has been available over the summer season since 2017 in partnership with Port Melbourne Life Saving Club, St Kilda Life Saving Club and Life Saving Victoria.
Public transport
Public transport connections and accessible tram stops are available along the foreshore. Only tram routes 16, 96 and 109 are partly serviced by low floor trams.
Full tram and bus timetables can be accessed at Public Transport Victoria.
For more information on Getting Around.
Public toilets
All Port Phillip public toilets are opened and closed by Council Security Staff on a daily basis. Toilets will be opened at dawn and locked at dusk, on a seasonal basis.
There are three EXELOO toilets in Port Phillip, these are located on Kerferd Road (Albert Park), Shakespeare Grove (St Kilda) and Eastern Road (South Melbourne). These toilets are maintained by an external company, and are closed at approximately 10 pm during summer.
To locate a toilet, visit the National Public Toilet Map.
Changing Places
The St Kilda Life Saving Club includes a Victorian Government funded Changing Places facility for improved disability access. These facilities have larger-than-standard accessible toilets and extra features, along with more space to meet the requirements of people with disability.
The facility has a height-adjustable, adult-sized changing bench, a tracking hoist system, and space for two people in a safe and clean environment. The doorway width for this facility is 1000mm. Hoist users must bring their own sling. For further information on Changing Places please visit the Changing Places website.
To access the Changing Places facility, an individual or carer must have a Master Locksmiths Access Key (MLAK). This is an innovative system that enables people with disability to gain 24-hour access, seven days a week to the facility. Eligibility to use this facility is restricted to people with disability who must have written authority from a doctor, a disability organisation or a community health centre.
People with disability are able to purchase an MLAK from a Master Locksmith. Use the search by suburb or postcode function on the Master Locksmiths Association website to find your closest locksmith that can provide an MLAK.