Looking after our collection
The Port Phillip City Collection is comprised of over 10,000 objects that are preserved, displayed and stored for current and future generations.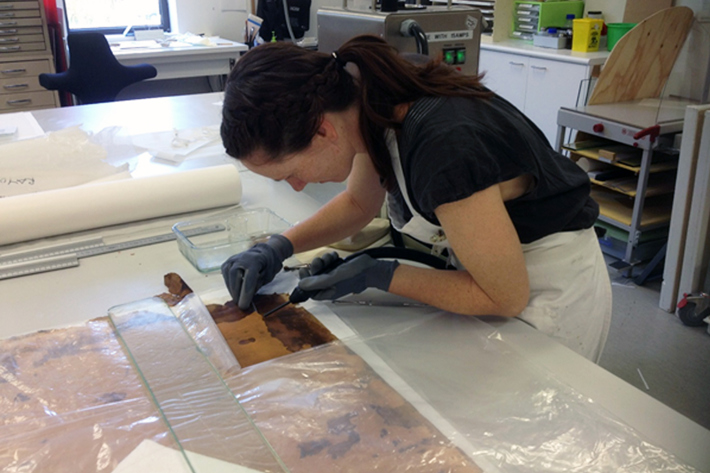 We recognise the importance of our municipality's cultural and artistic heritage. As the custodian of a public collection, the City of Port Phillip manages these art and heritage treasures in line with international museum standards and guided by the Port Phillip City Collection Policy.
The officers who manage the collection are trained specialists who coordinate the research and development, preservation, display and interpretation, promotion and access to the collection.
Port Phillip City Collection Policy 2019 (DOCX 290 KB)
Port Phillip City Collection Policy 2019 (PDF 720 KB)
The Port Phillip City Collection is here to:
increase the understanding and enjoyment of heritage, history and contemporary art as it relates to the culture of the City of Port Phillip
reflect a diversity of views and interpretations of local culture and heritage
comprise items which best reflect the cultural development of the City of Port Phillip
be recognised for its community relevance and good governance, as an exemplary local government collection
attract donations, bequests and other external support because of its professional standing and accessibility.
Looking after our Collection involves:
providing access through exhibitions, cataloguing and the online database, image reproduction services and research services
caring for collection items, and storing them in secure and safe facilities with effective environmental controls
minimising risk of collection damage or loss through skilled handling and transport, documenting and digitising copies of the collection and having emergency response procedures
maintaining a high degree of integrity through the application of management practices for the selection, custody and care of the collection and compliance with contemporary standards of best practice in collection management.
Digitisation
In 2007 the City of Port Phillip began working on a project to digitise the Port Phillip City Collection (PPCC). Over 3000 collection items from both the Heritage and Art collections have been scanned or photographed with the aim of providing better public access to the PPCC and to preserve original collection items. Digitising the PPCC is an ongoing project and forms an important part of current collection management processes ensuring the handling and movement of work is significantly reduced.
Digitisation also means the collection is more accessible providing quality digital images of items for study and public use through our online databases. The Collection can be used for exhibitions and publications through our image reproduction service or loan program.
Search the Port Phillip City Collection