Family violence
The City of Port Phillip aims to be a safe, inclusive and liveable city where everyone feels safe in their homes, workplaces and places of recreation. We want our community to live free from violence.
16 Days of Activism against Gender-Based Violence
Background
The United Nation's 16 Days of Activism against Gender-Based Violence is a global campaign that takes place annually between 25 November (International Day for the Elimination of Violence Against Women) and 10 December (International Human Rights Day). Violence against women and girls is one of the most prevalent and serious human rights abuses in the world.
In Australia, on average, one woman is murdered by a current or former partner every nine days. Almost 10 women a day are hospitalised for assault injuries perpetrated by a spouse or intimate partner. In Victoria (indeed in Australia as a whole), intimate partner violence is a leading contributor of disability and illness in women aged 15-44. Domestic and family violence is also one of the main reasons why women and children become homeless in Australia.
Domestic and family violence can affect anyone. But overwhelmingly the evidence shows that women are far more likely to experience violence from an intimate partner than men. Some groups of women are at greater risk, particularly Indigenous women, young women, pregnant women, women separating from their partners, women with disability and trans women.
The Art of Respect: Raising Awareness of Gender-Based Violence during the 16 Days of Activism
Coinciding with the international 16 Days of Activism against Gender-Based Violence, City of Port Phillip is launching its own local campaign featuring the work of artists. We aim to raise awareness and start conversations in our community by showcasing the work of artists in prominent locations throughout the City. Four artists were selected following an expression of interest to design original works on the topic of gender-based violence and respect.
The Art of Respect encourages people to take action when they witness disrespect towards women and girls.
Not all disrespect towards women results in violence. But all violence against women starts with disrespectful behaviour.
The four artists selected are:
Qing Zhang
Renkai Liu
Sophia Whitney Hewson
Zhenyi Lin
Artist information
Qing Zhang
Title of artwork: For Our Girls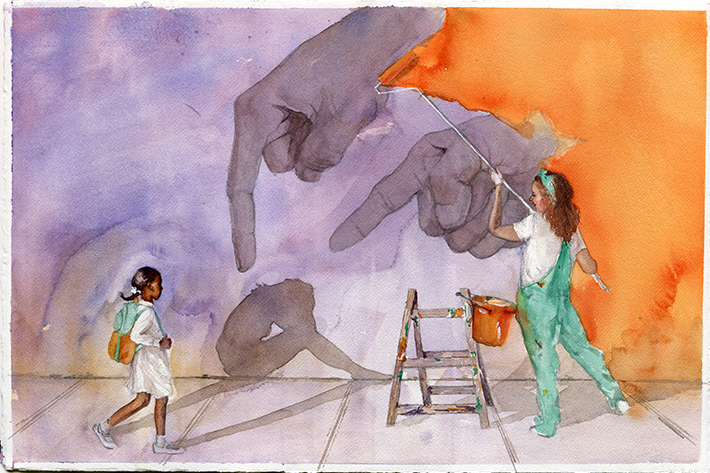 About the artist:
From a young age Qing dabbled with and soon fell in love with painting. Despite feeling drawn to visual arts, she started down a career pathway in the corporate world. As she continued honing her craft in her spare time, Qing realised that art was her calling and she has since left the corporate world behind, embracing the ups and downs of being a full-time artist. Drawing inspirations from many things, Qing is interested in expressing ideas and emotions through her artworks, even though they are often representational. Qing holds a degree in science from Fudan University, China; and obtained a diploma in Visual Arts at RMIT, Melbourne.
Artwork description:
I started with giving myself plenty of time to get connected with my emotions, as emotional clarity is probably the key for me to create a work, and sometimes the clarity lands when the artwork is finished. I feel the need to say no to disrespectful attitudes and behaviours towards women; belittling women violates not just women's rights, but human rights.
This painting was done with watercolour on paper. It is a half imperial sheet (38cm x 56cm), cold pressed paper. I enjoy expressive watercolour washes, as well as the more controlled brushworks. The palette was decided after finding out the campaign theme colour. The possibility that this public art piece will be viewed on walls and walk paths also inspired the design.
Renkai Liu
Title of artwork: I Was There At Home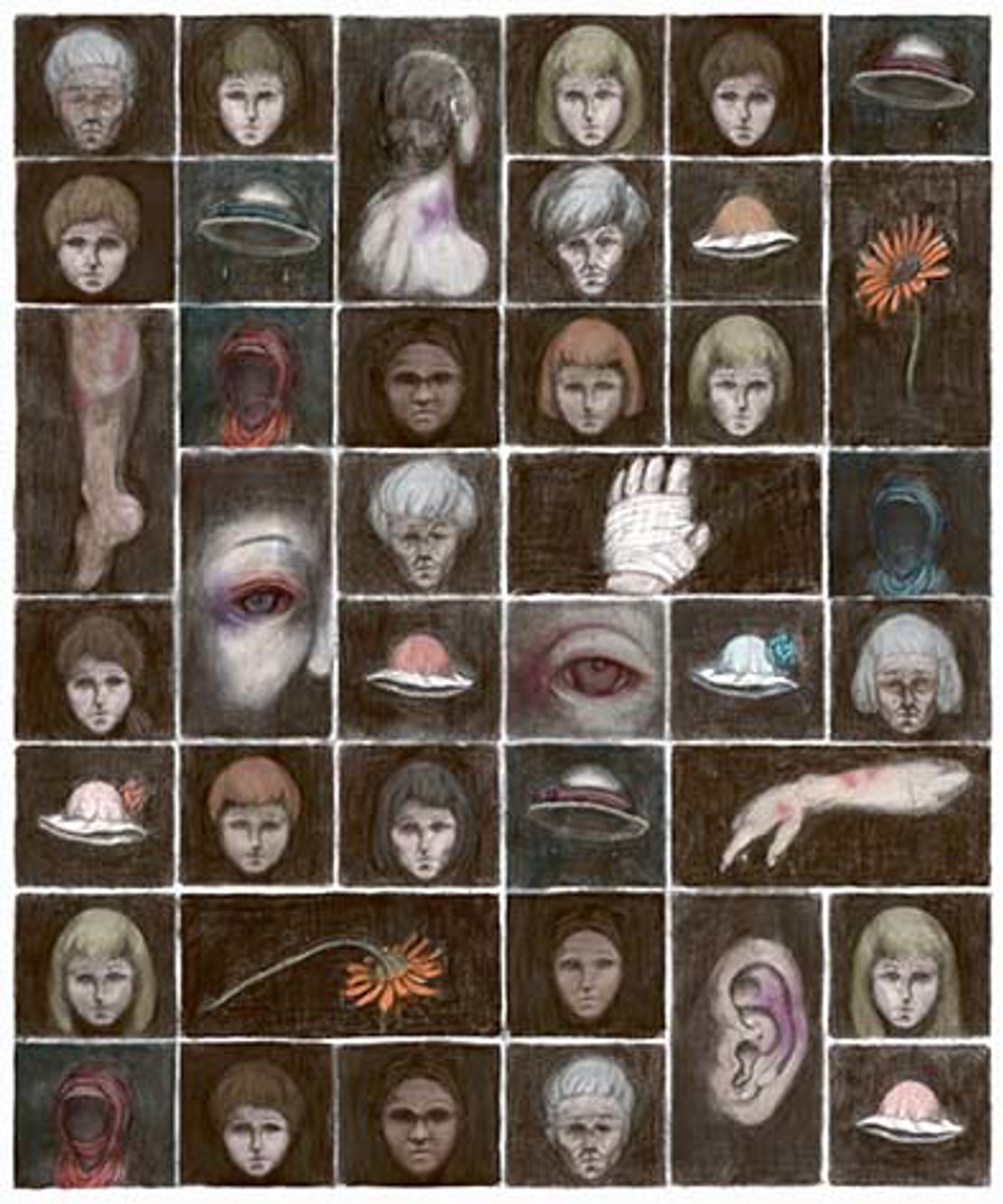 About the artist:
Renkai Liu (b. 1993) is a visual artist based in Melbourne, Australia working primarily in painting and drawing. The subject matter he adopts the most is a depiction of a specific narrative or emotion. Some of the inspirations behind his works are magical realism, fantasy and wild nature. Through his works, he attempts to project a contextual balance between reality and surreality.
Artwork description:
According to the Australian Bureau of Statistics, since 2014, at least 40 women were murdered as the result of gender-based violence every year. From number 1 to number 40 and more, each number was a person who had been undergoing a terrifying horror caused by her partner, at her home, before losing her life. Each number was once a human being who could love and could have been loved.
Sophia Whitney Hewson
Title of artwork: Untitled (1300 134 130)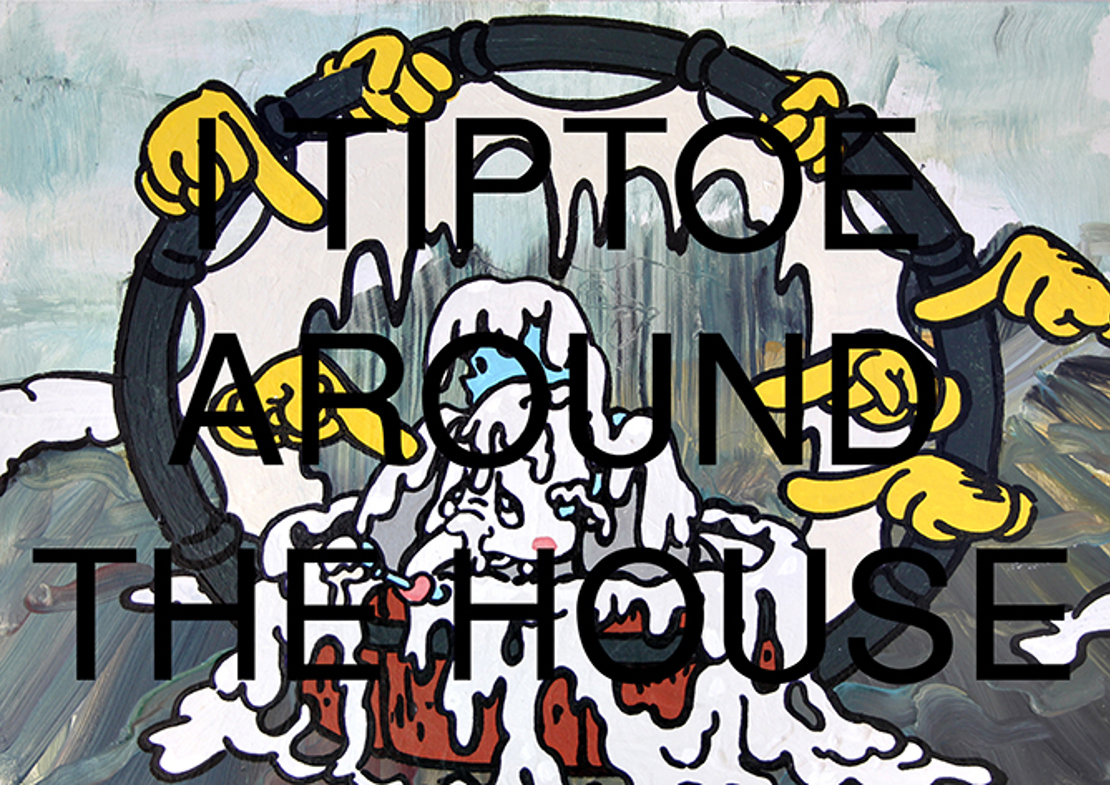 About the artist:
Hewson is a member at The Australian Centre for Psychoanalysis in Melbourne (2021), she was a Ramsay Art Prize finalist in 2019, completed a six-month residency at Residency Unlimited in New York (2015), is a recipient of the Northern Centre for Contemporary Art international project (2014), and was selected by Art Collector Magazine as one of Australia's 50 most collectible artists in 2011.
Since graduating with First Class Honours from The Victoria College of the Arts in 2007, Hewson has completed numerous solo exhibitions and research projects. Including, 'Untitled (viewer as patient)' -where she conducted over 50 private therapy sessions in the gallery space 2018/19, 'Untitled (Sleeping) 2017' -where she remained asleep in the gallery space as a performance work for the duration of the exhibition, 'Untitled ("are you ok bob")' – were she shot notorious video work/rape representation, and 'Untitled (Hildale)' -where she entered notorious FLDS cult community and lived for 10 days in Utah (2015).
"I am working, as a multidisciplinary artist, to generate ways of speaking about the body that are alternative to patriarchal ideology encoded in art, law, language and economy. Thus I use my body in my work as a means to inhabit a new subject position alternative to these singular idealities." - Hewson
Artwork description:
'Hewson has been working on gender inequality for 15 years as a professional practicing artist, she has experienced domestic violence personally, and has worked as a qualified support worker at W.I.R.E. (a women's refuge) in Melbourne from 2016-2018 (where she supported women who experience family violence).'
Zhenyi Lin
Title of artwork: Your Reflection in the Glass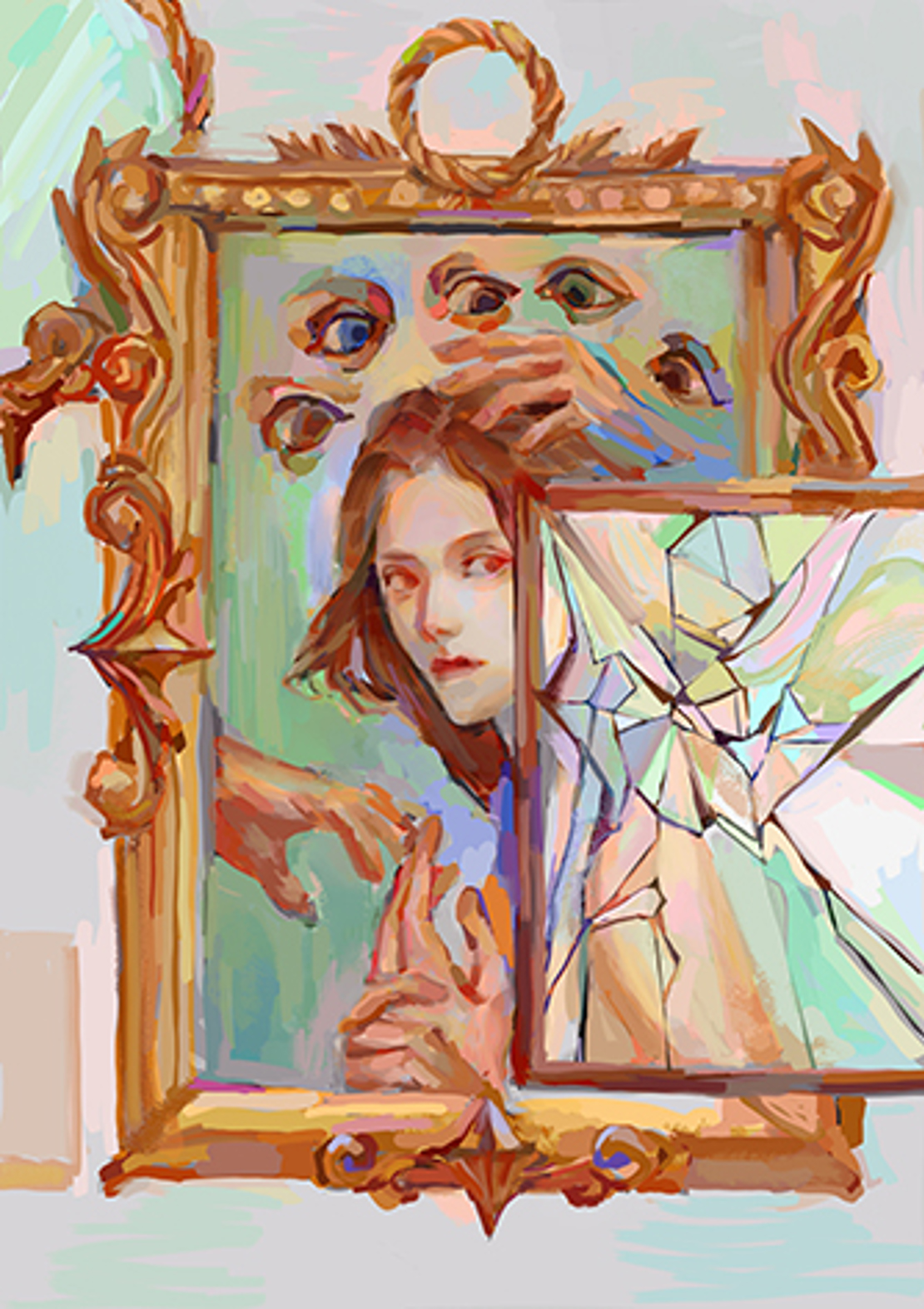 About the artist:
Melbourne based Chinese digital character illustrator with a passion for art and activism
Artwork description:
A woman surrounded by eyes is framed in an ornate oil painting frame, with a shattered mirror layering above it.
I seek to represent the abuse and scrutiny that women experience through the use of mirrors and paintings: revealing the emotional and physical suffering that many women have to conceal and push through despite the shattered glass, embodying the message that women are not just decorations like an ornate painting, not delicate like glass to protect, but real human beings worthy of respect.
Location of the decals
Large-scale decals, representing the artists' work based on their original design, will be installed in five locations across the municipality: Acland Plaza, the St Kilda foreshore (Shakespeare Grove), South Melbourne Life Saving Club, Port Melbourne Life Saving Club and Elwood Life Saving Club during the 16 days.
Respect is standing up for equality.
Respect is calling out harmful comments and behaviours.
What is family violence?
Family violence is any threatening, coercive, dominating or abusive behaviour that occurs between people in a family, domestic or intimate relationship, or former intimate relationship, that causes the person experiencing the behaviour to feel fear. In Australia, it is against the law for any member of your family, including your partner, children, siblings or in-laws, to hurt or control you.
Family violence includes (but is not limited to):
Any type of physical violence (hitting, punching, biting, choking)
Being forced to do sexual acts, even if you are married or in a relationship
Making threats or any kind of verbal abuse
Denying access to money
Controlling contact with people outside the family
Stalking (including online)
Intentionally hurting a pet
Children witnessing this abuse.
It is never your fault.
Often, people affected by family violence feel alone and isolated, perhaps even guilty or ashamed or feel like they deserve what is happening to them. Many victim-survivors suffer the effects of family violence alone, and the violence goes unreported. If you are worried about someone, or need to seek help yourself, contact one of the support services below.
Where to go for help
In an emergency
If you are in danger, or there is immediate risk of harm to yourself or others call 000 for Police.
Safe Steps Family Violence Response Centre
Safe Steps Family Violence Response Centre has a 24-hour family violence response phone line which can be reached on 1800 015 188; If you cannot safely call the phone line, email safesteps@safesteps.org.au
Crisis and counselling services
The following list of crisis and counselling services are available 24 hours a day, seven days a week.
Resources for people affected by family violence
Help and support for all people affected by family violence may also be found through the following specialist services:
Preventing family violence
There is no single cause of family violence and violence against women. But current evidence, outlined in Change the Story: a shared framework for the primary prevention of violence against women and their children in Australia, tells us that higher levels of violence against women are consistently associated with lower levels of gender equality.
Actions that will prevent violence against women:
Challenge the condoning of violence against women. We do not accept that violence against women is normal or inevitable and we will challenge any attitudes or practices that minimise or excuse it.
Promote women's independence and decision-making. We ensure that women have access to the same resources, power and opportunities as men.
Challenge outdated gender stereotypes and roles. We support children, young people and adults to develop their own personal identities free from restrictive rules and stereotypes. And we promote gender-equitable roles in parenting, paid and unpaid work and other areas.
Strengthen positive, equal and respectful relationships. We challenge disrespectful behaviour towards women, and assumptions that men should have power and control in relationships. And we work with children and young people to promote respect and gender equality.
Promote and advance gender equality in public and private life. We support women's social, economic, cultural and political participation, as well as equality in relationships.
Council's role in preventing family violence
City of Port Phillip is committed to providing a whole of community approach to preventing family violence. Council has considerable influence and access to the local community through partnerships, collaborations and the services that we provide. We work closely with individuals, families, community organisations, local businesses, sporting clubs and faith groups. We impact the community through planning, facilities and infrastructure provision, as well as being a large employer and procurer of goods and services.
Advancing gender equality
Victoria's new Gender Equality Act 2020 provides an opportunity for Council to align our efforts with the Victorian Government's enhanced commitment to gender equality.
The Act requires local government to take positive action towards achieving workplace gender equality, and to promote gender equality in our policies, programs and services. Council is currently developing our first Gender Equality Action Plan (2022-2025) to advance workplace gender equality. We are also conducting gender impact assessments of policies, programs and services that have a significant impact on the community. This gender analysis will enable us to consider the impacts of our work on people of different genders and how our policies, programs and services can better support people of all genders, promote gender equality and prevent violence against women.
Promoting Respect and Equality Together strategy
'Promoting Respect and Equality Together – A strategy for the Southern Metropolitan Region' is an initiative of Women's Health in the South East (WHISE) in collaboration with partner organisations including the City of Port Phillip. The strategy coordinates a consistent approach to the prevention of violence against women and their children across the Southern Metropolitan Region.