Dispose of your Food and Garden Organics (FOGO)
Find out what food scraps and organics you can bring to a communal food organics recycling bin. There are 7 local drop-off hubs.
As outlined in our Don't Waste It! Waste Management Strategy (2022-25) we will be expanding on our FOGO services in 2023 to ensure that all households are able to divert their FOGO materials from the garbage stream.
We will be delivering a hybrid waste model where some residents who have space for additional bins will be allocated a kerbside (FOGO) bin and others who don't have the space, will instead have access to a communal service, enabling them to drop off FOGO materials at communal recycling collection points in local parks and reserves and other central community locations.
In early 2023, we will be rolling out 120L kerbside FOGO bins to residents of houses and townhouses with space to accommodate an additional bin.
The cost of the new kerbside FOGO service will be $88.10 for this financial year and will appear on your rates notice.
FOGO look-up service
To inform our roll out of the new kerbside FOGO service we have assessed each property across the city where there is a house or a townhouse, to establish whether there would be space to accommodate an additional bin.
Use our address look-up service to find out if your house or townhouse has been allocated a kerbside FOGO bin.
Communal food organics recycling hubs
You can drop your food organics into one of the bins at our communal Food Organic recycling hubs. There are currently 7 hubs in local parks and reserves, with more to come from July 2023:
Food and organic waste we accept
We accept only food organic waste that can be made into safe compost. This includes:
Food organics:

fruit and vegetable scraps including citrus and onion 
meat and seafood
uncooked bones
baked goods including bread, pastries 
grains and cereal
mouldy and expired products 
loose tea leaves and coffee grounds.

Garden Organics

grass clippings and weeds (free of soil)
garden prunings
leaves

Other items:

lime green compostable caddy liners (AS4736)
small amounts of tissues, paper towel and shredded paper
wooden chopsticks.
Make sure you don't include:
tea bags 
coffee pods 
pet waste and cat litter
compostable food packaging
liquids including cooking oil
soft plastics and plastic bags
soil 
rocks and pebbles
plant pots
cooked bones and shellfish shells. 
Please note that for our Food Organics communal hubs we accept only small amounts of green waste such as cut flowers and indoor plant trimmings. Take your bulk garden waste to the Resource Recovery Centre or book a free green waste collection.
Collecting, storing and dropping off your FOGO
Use any container with a lid to collect all food scraps and unwanted leftovers. Empty ice-cream cartons or old food containers work well.
There's no need to use bin liners. If you choose to use them they must meet the Australian Standard for composting (lime green bags, printed with the reference AS4736).
Drop the compostable bag or empty the container into one of the bins. We recommend doing this every 2 to 3 days.
Elwood FOGO service
Some households in Elwood have a FOGO service. It is another step as we plan to expand our food and garden organics recycling services.
Residents were offered a 240-litre bin for their FOGO waste in an area bordered by Bluff Avenue and St Kilda Street (top to bottom) and from Glen Huntly Road and Ormond Road (even-numbered households only) to Ormond Esplanade. We chose to trial this area after a June 2020 audit found that 60 per cent of waste was FOGO for these households.
If you get this service you can use your kitchen caddy without a liner or make a newspaper bin liner. The caddy is dishwasher-safe. If you are unsure about what can go in your FOGO bin check the list on the lid of your kitchen caddy or kerbside FOGO bin. 
The FOGO bins are collected every fortnight on a Thursday. The recycling and garbage bins are collected weekly on Wednesdays. Click here to download a FOGO bin collection calendar. 
Apply to opt out of an allocated FOGO bin
The FOGO opt out process is closed for 2022. All allocated properties will be provided with a kerbside FOGO bin early next year.
Once you receive your FOGO bin we encourage you to give it a try and see the impact it can have on the amount of waste your household sends to landfill. If the bin still is not suitable for your property and you would like to request to opt out, applications will be re-opened in March 2023 via our online service request system.
Please keep in mind there are only two criteria in which an application can be considered:
If there is no space at the front or rear of your property to store an additional bin.
If you have alternative methods of repurposing all food and garden organics

at your property. Only compost systems that are able to accept food items include meat, dairy, citrus, expired products and garden organics will be considered to opt out.
When the opt out applications reopen in March 2023, you will be required to provide photographic evidence to confirm the reason for your opt out request.
Processing your FOGO – step by step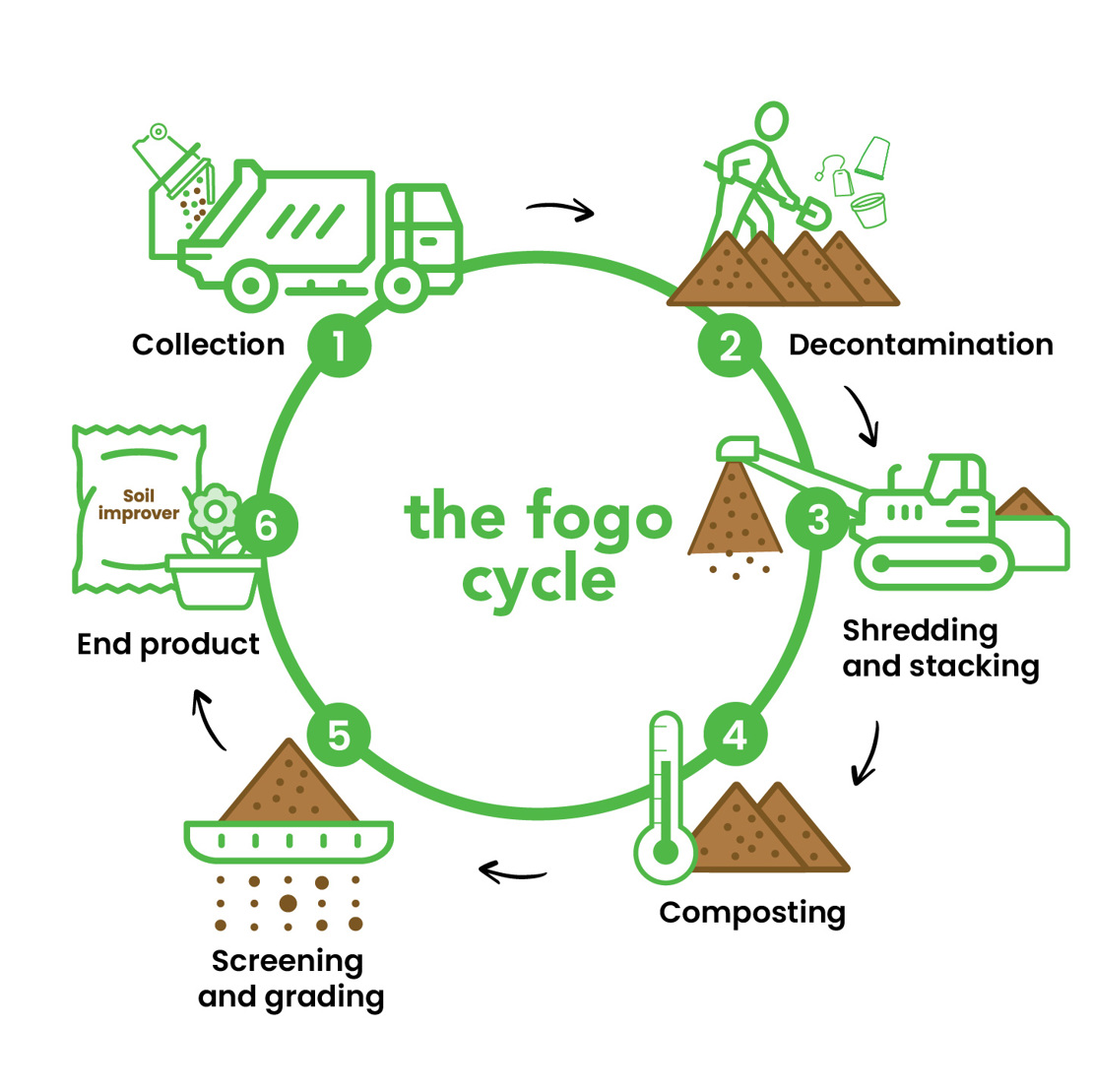 The FOGO Cycle
Food and organic waste goes through a 6-step process to become compost:
Collection: FOGO materials are collected and taken to Cleanaway's South East Organics Facility in Dandenong South.
Decontamination: Contamination is hand-removed – things that shouldn't be in the FOGO bin are taken out.
Shredding and stacking: FOGO materials are shredded then stacked into long piles called windrows, which are kept moist and turned regularly for 16 to 20 weeks.
Composting: These materials are composted at 50 to 70 degrees to destroy weeds and pathogens. Lab testing ensures the compost complies with standards.
Screening and grading: The composted FOGO is screened into required sizes. Different grades of compost are required for different applications.
End product: Your processed FOGO is ready for use! This compost is full of nutrients and used to rehabilitate land throughout Victoria.