Closed-circuit television (CCTV)
CCTV is one activity we use for crime prevention. It can also help with renewal and activation of our streets and neighbourhoods.
Council's approach to safety is underpinned by a strong commitment to crime prevention through environmental design, including the application of CCTV surveillance systems, where appropriate.
Our Public Place CCTV Program commenced in August 2016. It's one of several initiatives designed to improve community safety. The program operates cameras in and around key public spaces within the municipality. They aim to create a safer environment for residents, businesses, and visitors.
Council is responsible for provision, installation and ongoing maintenance of all infrastructure associated with the system. Victoria Police are responsible for the day-to-day operation of the cameras and monitoring of the network. All footage is owned by Victoria Police.
CCTV Locations
The Public Place CCTV Network currently covers several key areas, including:
Fitzroy Street, St Kilda
Little Grey and Grey Streets, St Kilda
The St Kilda Foreshore
The Acland Street, St Kilda Entertainment Precinct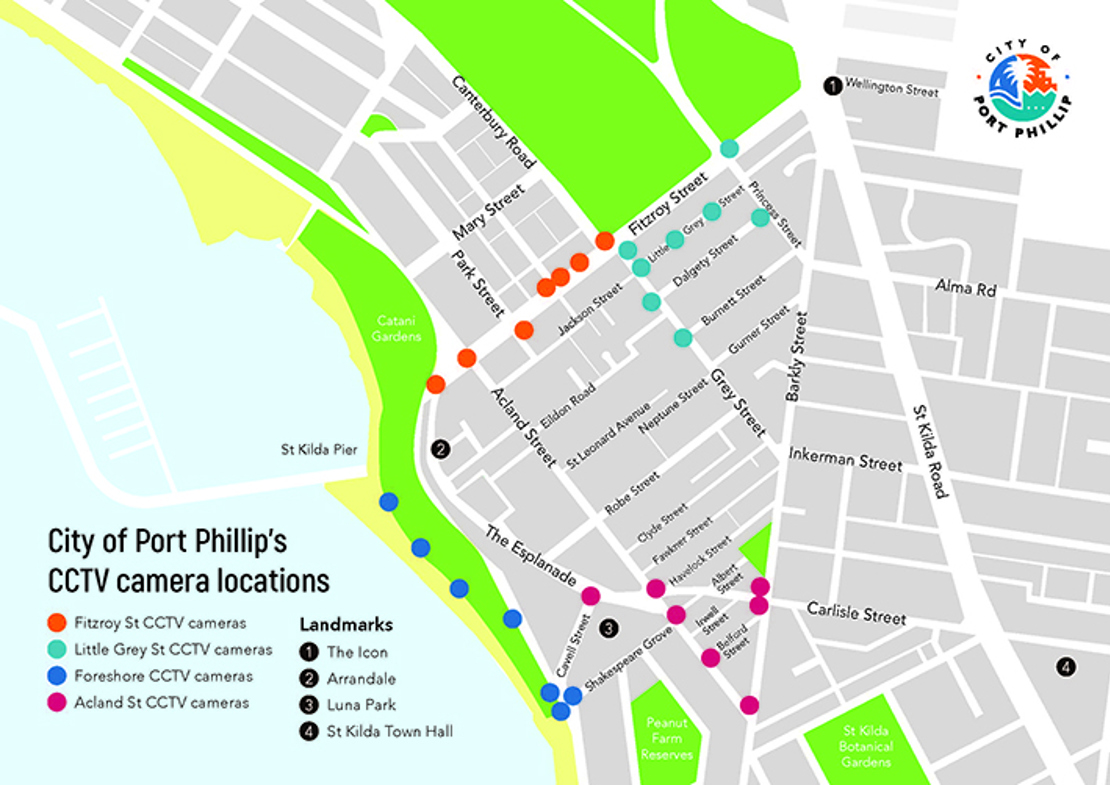 Camera Footage Storage and Access
All recorded footage captured is transferred in real-time to St Kilda Police Station where the system is proactively monitored by Victoria Police.
Recorded footage and images which do not make up part of ongoing police investigations, court proceedings, or which are not required for any other lawful reason, are kept for a maximum of 31 days.
Access to and use of footage is governed by strict protocols and procedures designed to safeguard the integrity and accountability of the data and the program.
Requests for CCTV footage from the public in relation to a criminal matter should be directed to:
St Kilda Police Station
92 Chapel Street
St Kilda, Victoria, 3182
CCTV Privacy and Data Protection Controls
Port Phillip Council and Victoria Police take your privacy seriously. All data is stored in a remote off-site location within a secure and monitored building with limited access to people.
The Code of Practice provides an overview of the program and the protocols and procedures that guide Council officers, Victoria Police, contractors, and other partners in the program, to ensure its aims are met.
Access to the data and the CCTV network is audited and evaluated on a regular basis and is also subject to random state government and privacy commission audits.
In addition, the Port Phillip Council has entered into a Memorandum of Understanding with Victoria Police that puts controls and measures in place to restrict access and authorise who is able to view the CCTV footage.
Audit committee
The City of Port Phillip has established an audit committee which is responsible for:
ensuring adherence to the relevant legislation, policies and procedures including the Memorandum of Understanding, Code of Practice, and standard operating procedures
promoting public confidence in CCTV systems by ensuring its operations are transparent and subject to public scrutiny
ensuring the CCTV systems are efficiently and effectively operated and managed
making recommendations to improve the integrity of the CCTV systems.
Providing feedback
All enquiries in relation to Council's Public Place CCTV Program, including complaints, can be made in writing to:
Manager Open Space, Recreation and Community Resilience
Private Bag 3
ST KILDA
VIC 3182