Barring Djinang Kindergarten
Co-located with South Melbourne Primary School. Featuring flexible arrival and departure times, and a Maternal and Child Health service on-site.
Current vacancies
Barring Djinang, South Melbourne, has places available on Tuesday, Wednesday, Thursday and Friday for 3 to 5 year-olds.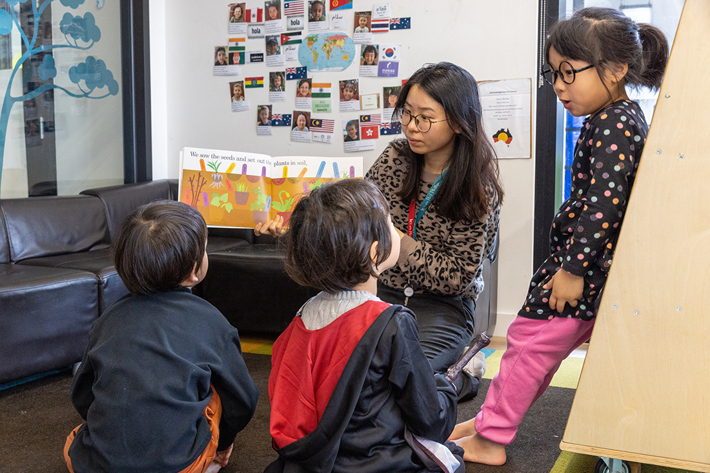 About
Barring Djinang Kindergarten is a Council-run kindergarten offering extended hours kindergarten for children aged 3 to 5.
We're conveniently co-located on Level 5 of Melbourne's first vertical school building, South Melbourne Primary School. The kindergarten is managed by a team of professional early years qualified educators, with a modern setting and a great outdoor playspace with city views! A Maternal and Child Health service is also on-site.
The kindergarten has been rated as Exceeding the National Quality Standard by the Australian Children's Education and Care Quality Authority (ACECQA).
Barring Djinang is not affected by the school's zoned boundaries. Any interested family can register their child without being required to attend the South Melbourne Primary School the following year.
You choose arrival and departure times for your child that suit you best within the opening hours listed below. The kindergarten program is provided by a Degree qualified early childhood teacher from 8:30 am to 1.30 pm.
Our programs
At our Council-managed services we offer a rich and stimulating play-based educational program that is designed around children's interests and developmental needs.
Children's wellbeing is at the centre of all we do. Our educators support children to develop social and emotional skills through playing, learning, and exploring with their peers.
The indoor and outdoor spaces provide a wide range of resources and opportunities that allow children of all abilities to be included in the program. 
We respect and value the diversity of our community and strive to reflect the cultures and values of families in our services.
Nutrition
Families provide food for their child. This should include morning tea, lunch and afternoon tea.
Centre tours
We encourage families to tour any centres they are interested in attending before registering their child.
To visit Barring Djinang Kindergarten, please call the centre directly to make an appointment. Please allow approximately 30 minutes for the tour.
Our team are happy to answer all your questions.
Hours
Tuesday to Friday 8 am to 5.30 pm
(minimum 2 day attendance policy applies)
Public holidays
Barring Djinang Kindergarten is closed on all public holidays, and over the Christmas and New Year period.
Cost
$147 per day (City of Port Phillip residents). Find out about your eligibility for subsidies.
Families can access the Victorian Government's Free Kinder program at Barring Djinang Kindergarten. See Free Kindergarten in 2023 for more information.
Location
Level 5, 129 Ferrars Street, Southbank 3006
Quality rating
Barring Djinang Kindergarten is rated Exceeding by the Australian Children's Education and Care Quality Authority (ACECQA). For more information visit ACECQA.