St Kilda
One of Melbourne's most famous suburbs, St Kilda has long been a beachside playground from sunrise to well after dark.
St Kilda is defined by two distinct retail strips, Fitzroy Street and Acland Street Village. The Esplanade and St Kilda Beach provide a natural link between the two precincts.
Renowned for live music, arts and culture and outdoor activities, plus home to many annual festivals, including St Kilda Festival, St Kilda Film Festival and the Pride March, St Kilda provides the perfect urban playground.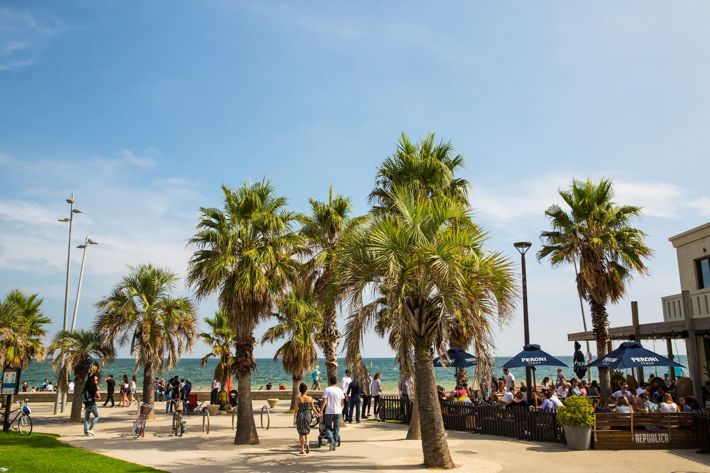 Shopping strips
Fitzroy Street
Acland Street
Grey Street
Barkly Street
Things to see and do
Enjoy hours of thrill-seeking entertainment at Luna Park
Attend one of St Kilda's famous events or catch a show at the Palais Theatre
Discover contemporary, thought-provoking, new art at Linden New Art
Stroll along the Esplanade, stopping at the St Kilda Esplanade Market held every Sunday
Picnic in the gorgeous St Kilda Botanical Gardens
Visit the quirky shops along Acland and Fitzroy Streets, plus pop into Acland Street's famous cake shops
Fine dine at one of St Kilda's infamous restaurants, including Di Stasio, Donovans and Stokehouse
Enjoy cocktails and beach views from a plethora of bars
Master stand up paddleboarding with lessons available for families, couples and individuals
Discover St Kilda's hidden gems
Acland Street
In April we explored Acland Street to discover some of its many hidden gems.
We spoke to Bunny from Made in Earth, Daniel from Sister of Soul and Nick from Europa Cake Shop.
"St Kilda is a destination," says Nick from Europa Cake Shop on Acland Street.
"During COVID, the locals, they came and bought a cake from me one day, then went to the next cake shop the next day, etc, etc. They supported the street. It's been fantastic. It's a community. Have a look around, look at the diversity. I mean you've got iconic cake shops, there's four of us in the street. You've got a supermarket, you've got fashion, you've got restaurants of any type of food that you want, and you've got the beach across the road."
The time is ripe to explore the diversity and hidden gems of Acland Street Village St Kilda.
These neighbourhood tours are part of our Live Love Local campaign. Through this campaign, we're supporting local businesses, promoting our shopping villages and working closely with traders to reinvigorate the City.
Find more of our City's hidden gems on our YouTube playlist.
Jewish Museum of Australia
Located on Alma Road in St Kilda, the Jewish Museum of Australia is currently showing the exhibition MIRKA until 19 December 2021.
Following the life of Mirka Mora, Noè from the Museum explains that the exhibition is "about Mirka taking you through her art.... And all of us in Melbourne know so much about her artwork from the clothes that we've worn to the pier in St Kilda to Flinders Street Station, to Readings in Acland Street. There's so much of Mirka all around us.

"But what we also learn... here is the stories behind the artwork, the woman herself and her narrative. The fact that she was a Holocaust survivor. The fact that she was a strong woman. The fact that she was an artist, a family woman, a mother, a mentor and a teacher. And that's the kind of story we try to give here."

The museum is open 10 am to 5 pm Tuesday to Friday and Sundays.
Watch the video below to find out more and go to the website to arrange your visit.
Getting there
Tram routes: 3a, 12, 16 and 96
Bus routes: 246, 600, 606 and 623
For timetables and information visit Public Transport Victoria.
Community profile
Economy ID provides demographic and economic data, population forecasts and interactive demographic maps for St Kilda.