Bins and collection services
Find out bin day in your street. How to report a missed collection or lost, damaged or stolen bin.
Report a missed bin collection
We apologise to anyone affected by the disruption to our kerbside waste collection services. We're working with our new contractor on fixing the issues. We have extra trucks out every day to collect missed bins and improve the daily service.
If any of your bins have been missed, please report it to us so that we can arrange pickup as soon as possible. After reporting a missed bin pickup, please make sure you leave your bins out, so that our crews can empty it without delay.
Kerbside waste collection issue
We're urgently working on improving our service. Extra trucks are on the road every day doing regular scheduled pickups and focusing on collecting missed bins.
We have also redeployed staff from other services to provide extra crews. They are responding to the most urgent cases of missed pickups.
We will keep extra services going until the issue is resolved.
If you have mixed recycling (from your yellow lidded bin) that you'd like to drop off yourself, we've opened up our Resource Recovery Centre in South Melbourne, to enable Port Phillip residents to drop off recyclables at no charge. We also have communal recycling hubs for glass and food organics, located across the municipality, which are available for use by anyone in our community. Check the communal hubs web page for a list of communal hub locations.
Bin collection schedules
We empty your waste and recycling bins once a week. Put your bins out on the street before 6 am on collection day. They will be emptied any time between 6 am to 8 pm that day. If your bin isn't picked up by 8 pm, report a missed bin collection.
Make sure your bin is back on your property within 24 hours of it being emptied.
Look up bin day for your address on our map. Simply input your address into the search bar in the top-left corner. Alternatively, look at the table below.


Bin collection day schedule - by area
| Day | Collection area | Bounded by… |
| --- | --- | --- |
| Monday | Albert Park | St Kilda Road, Albert Road, Canterbury Road, Nimmo Street, Beaconsfield Parade, Mills Street, Richardson Street, Pickles Street, City Road, Kings Way and Dorcas Street. |
| Tuesday | St Kilda and East St Kilda | Barkly Street, Carlisle Street, Hotham Street, Inkerman Street, Orrong Road and Dandenong Road/Queens Way. |
| Wednesday | St Kilda and Elwood | Carlisle Street, Hotham Street, Glenhuntly Road, St Kilda Street, Ormond Esplanade/Marine Parade, Barkly Street, Dickens Street and Brighton Road. |
| Thursday | Middle Park and St Kilda Road | St Kilda Road, High Street, Punt Road/Barkly Street, Carlisle Street, Brighton Road, Dickens Street, Barkly Street, Marine Parade/Beaconsfield Parade, Nimmo Street, Canterbury Road, Fitzroy Street, Queens Road and Albert Road. |
| Friday | Port Melbourne | Pickles Street, Richardson Street, Mills Street, The Boulevard/Beach Street, Todd Road and Westgate Freeway |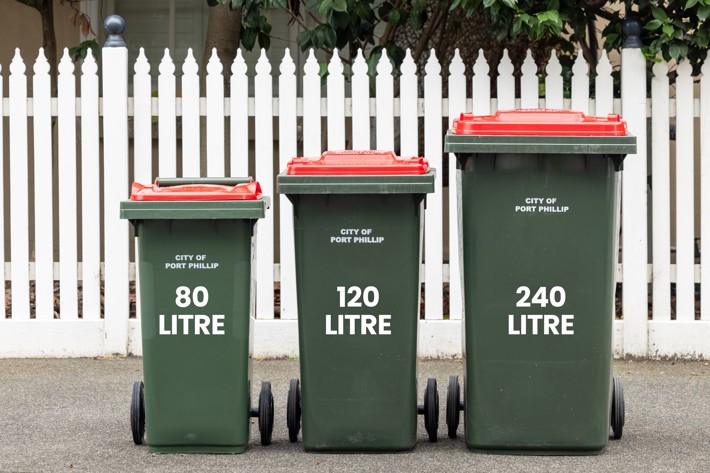 Each rateable property can have 2 wheelie bins:
Garbage bin: red lid, 120 litre (standard).
Recycling bin: yellow lid 240 litre bin.
You can change your garbage bin size to a:
smaller 80-litre bin for a $80 rebate on your rates
larger 240-litre bin for an annual extra $248.
If you live in a unit or apartment, you'll share waste and recycling bins with others in the building, and only the property owner or managing agent may request a change in the waste bin allocation.
In 2023, many residents will be receiving an additional kerbside bin:
Food Organics and Garden Organics (FOGO) bin, 120L (standard).
Once we have delivered the new FOGO bins you will be able to change the size to a:
smaller 80-litre bin
larger 240-litre bin.
The cost of the new kerbside FOGO service will be $66 for this financial year and will appear on your rates notice.
Our Customer Charter
We promise to:
Make it easy
Listen and understand
Be responsive and follow through
Be open and honest
Always look to improve.