Homelessness
We recognise homelessness is a major issue for our community and seeks to address its impact across a range of approaches that incorporate housing, information and support..
What is Homelessness
Council believes that everyone needs a home. Council has an enduring commitment to social justice and recognises homelessness, primarily a housing problem, as a priority. Affordable housing is consequently an important element of the council's strategy to help those experiencing housing stress and who have no home. On any given night, around 90 people sleep on the streets, parks or foreshore in City of Port Phillip. There are many more sleeping on someone's couch, in their cars, in crisis accommodation, rooming houses or overcrowded dwellings.
Homelessness isn't just rough sleeping
Causes of homelessness are many and varied. Family violence, a critical shortage of affordable housing, unemployment, mental illness, family breakdown and drug and alcohol abuse all contribute to the level of homelessness in Australia. Homelessness is not a choice and it can happen to anyone.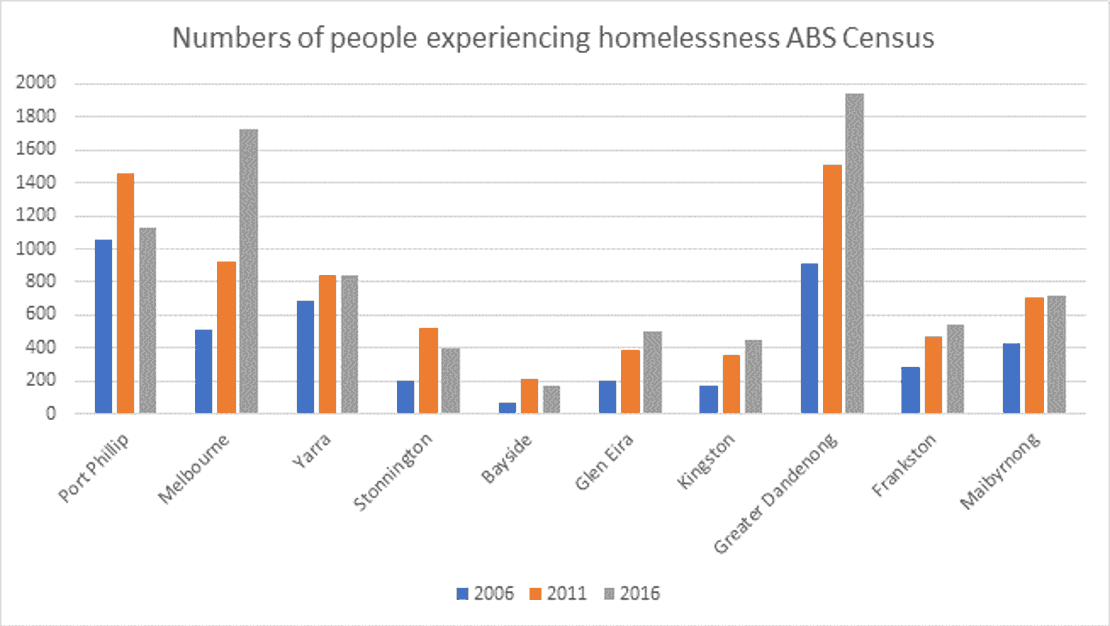 What is Council doing?
Council has two main strategies which aim to address homelessness.
In our Backyard: Growing Affordable Housing in Port Phillip 2015-2025 is Council's affordable housing strategy. This continues Council's 30- year history of directly investing in affordable housing in the City: Housing Strategy
Think and Act: Homelessness Action Strategy 2015 – 2020 is Council's specific homelessness strategy Homelessness Action Strategy 2015-2020 (PDF 4.11 MB).
Over the past 4½ years of the Homelessness Action Strategy, Council has worked with over a 1000 people aged over 50 to assist them to apply for a range of housing and support. Council has also directly assisted over 300 people aged 50 plus to move into social housing locally (most through Council's nomination into older person public housing-add link to sponsorship). Over 50 per cent of these people were long term local residents on very low incomes, mainly receiving Centrelink Job Seeker benefits, who were losing their private housing.
We aim to provide an integrated response across Council's services to people who are sleeping rough and needing assistance and referral to crisis accommodation.
In Port Phillip we have an acute shortage of affordable rental housing. We are aware that the costs of housing locally are placing great stress on residents living on less than $400 per week.
This affects local households who receive incomes in the lowest 40 per cent of the population and spend more than 30 per cent of their household income on housing costs. This can ultimately lead to homelessness and this is happening across our region.
Council's responses to people sleeping rough in Port Phillip
Human rights principles inform council's approach to people sleeping rough and managing public space, working in a targeted way to ensure the rights and interests of vulnerable people, who are sleeping rough, are also met. Housing First is an approach that places people experiencing homelessness directly into permanent and safe housing with "wrap around" support services to address complex needs such as mental health and alcohol and drug support.
Council, along with a range of service providers and other agencies, has initiated Port Phillip Zero, a "collective impact" response to rough sleeping throughout the City. Collective impact is where a range of groups from different sectors agree to co-operate and work together to solve a common and complex problem.
We actively monitor and manage amenity of sites and space and work closely with local health and homelessness outreach agencies and Victoria Police to achieve better outcomes.
For more information see the following documents No fixed address - Council's responses to people sleeping rough in Port Phillip (PDF 2.4 MB) and the following Protocol: Protocol for Assisting People Who Sleep Rough

Where can I find help?
There are many services that offer support and information to help you secure accommodation quickly and then work towards longer term housing at a range of locations. Many of the crisis support agencies are available for drop in contact or you can phone to make an appointment, some also are open after hours. For their details see below:
Salvation Army 1800 627 727,
Sacred Heart Mission 9537 1166
Launch Housing 1800 825 955.
How can I help?
Many local services welcome your support and involvement if you have time to share or could direct funding to their services
Donate
Help someone find a secure home and feel part of our community via one of our community partners:
Volunteer
Volunteer your time and skills -see -Volunteer Victoria
Support
Support people experiencing homelessness and housing stress by learning more about the causes and the demand for more affordable housing -in -link to affordable housing page
More Information