Glass ban
Don't let glass break up the fun, leave it at home instead.
Under our local laws, we have a complete glass ban across the City of Port Phillip foreshore.
The ban has been in effect since 1 July 2018. In accordance with the ban, you cannot take glass containers, bottles, or any other glass items onto the foreshore without a permit.
The foreshore within the City of Port Phillip includes beaches, reserves and parklands, from Elwood to Port Melbourne, between the water and the road along Ormond Esplanade, Marine Parade, Jacka Boulevard, Beaconsfield Parade and Beach Street.
The map below highlights the areas along the foreshore where the glass ban is in place.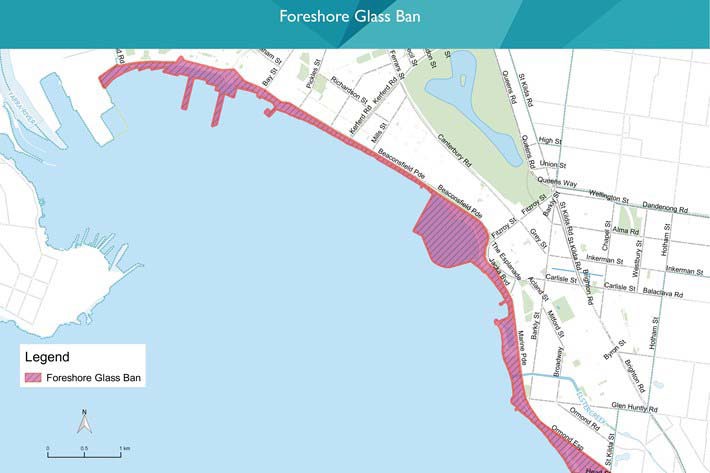 Why is there a ban?
Glass can become a huge safety hazard especially when it breaks and become embedded in sandy and grassy areas.
The best way to protect users from unexpectedly encountering glass along the foreshore is by ensuring it is not there in the first place.
The ban also prevents glass from negatively effecting the delicate balance of our foreshore ecosystems.
How is the ban enforced?
Local Law Officers actively patrol beaches and parks and will be enforcing the glass ban. Non-compliance can result in a $192 fine and the confiscation of glass items.
To make sure that you don't get caught with glass, leave it at home instead.
More information
Detailed information about glass bans is included in City of Port Phillip's Community Amenity Local Law 2023 and the City of Port Phillip Policy and Procedures Manual. A copy of the Local Law and the incorporated documents are available on the Local laws and enforcement page.