LGBTIQA+ community
We pride ourselves on being welcoming and sensitive to the needs of people who identify as lesbian, gay, bisexual, trans and gender diverse, intersex, queer and asexual (LGBTIQA+).
We pride ourselves on being welcoming and sensitive to the needs of people who are LGBTIQA+, and provide a range of services and advice to assist the LGBTIQA+ community.
Council works hard to ensure our community is inclusive and we are committed to promoting a fair, just, tolerant and inclusive community.
A Statement of Commitment sprang from a long-standing awareness by Council of the LGBTIQA+ community and it recognises the contribution it makes to the social development in the area.
LGBTIQA+ Advisory Committee
To ensure our City continues to be a safe, welcoming and inclusive place, where people of all backgrounds and ages can thrive, an LGBTIQA+ Advisory Committee has been established.
Council endorsed the establishment of LGBTIQA+ Advisory Committee on 19 May 2021 as part of its ongoing commitment to members of City of Port Phillip 's lesbian, gay, bisexual, trans and gender diverse, intersex, queer and asexual communities (LGBTIQA+).
Valentine's Day 2022 marked the inaugural meeting of the LGBTQIA+ Advisory Committee, made up of Cr Copsey and Cr Martin and eleven community members. The Committee's community members were selected from twenty-seven nominations received from a publicly advertised recruitment process. In selecting the eleven community members, the aim was to reflect the diverse experiences of LGBTQIA+ people. Members of the Committee reflect a balance between individuals and organisations and the community and business sectors.
The Committee provides advice to Council on issues impacting LGBTIQA+ residents, visitors, businesses and will help steer the development and implementation of the Port Phillip LGBTIQA+ Action Plan See the Terms of Reference for the LGBTQIA+ Advisory Committee (PDF 120 KB).
Pride Program 2022
Midsumma Festival
We're a proud supporter of the Midsumma Festival celebrating our LGBTIQA+ communities.
Running from 22 January until 12 February 2022, to find out about events happening visit Celebrating the pride of Port Phillip and the full program on Midsumma Festival.
Rainbow Pride flag-raising ceremony
On Tuesday 1 February, the City of Port Phillip had its annual Pride Flag Raising ceremony ahead of the 27th Midsumma Pride March. Everyone was welcome to this event which was held on the St Kilda Town Hall front lawn.
The rainbow and transgender flags together carry a strong universal message and are internationally known and recognised symbols of pride and inclusion, celebrating all LGBTIQA+ people and our diverse community.
If you were unable to attend, you can watch the livestream on our Facebook page.
Midsumma Pride March
On Sunday 6 February, Midsumma Pride March will be taking over St Kilda in a parade of solidarity. If you'd like to attend the march as a spectator, you'll need to book in to a Fitzroy Street venue to watch the parade live while supporting our local Fitzroy Street traders.
IDAHOBIT Day 2022
On 17 May 2022 the City of Port Phillip celebrates LGBTIQA+ inclusion acknowledging the International Day against LGBTQIA+ Discrimination (IDAHOBIT).
Wear It Purple Day 2022
On 26 August 2022, show your support by wearing purple and participate in any activities or opportunities to share a message of support on the day.
Older LGBTI people
Our Aged Care Services have been Rainbow Tick accredited since 2013. The Rainbow Tick is a national quality framework and accreditation program.
This accreditation show's our commitment to safe, inclusive practice and service delivery for LGBTI people. A sign of our commitment to ensuring that our services are inclusive and friendly and you feel confident to be open in your communication with our staff.
For more information about our services, please visit Aged Care and Disability Services.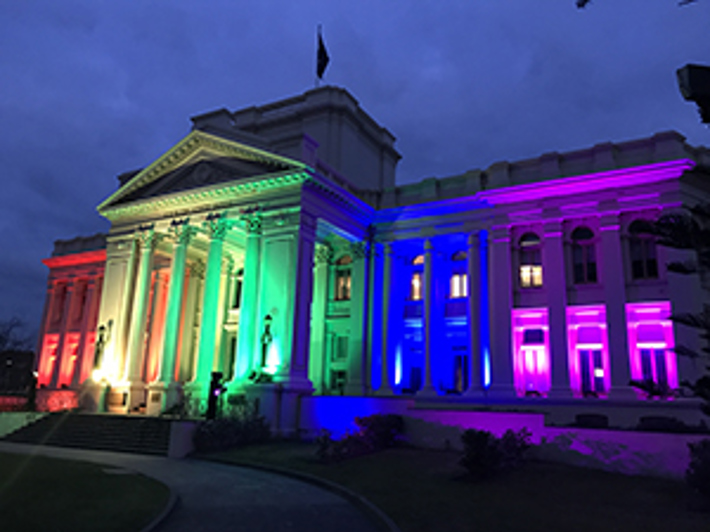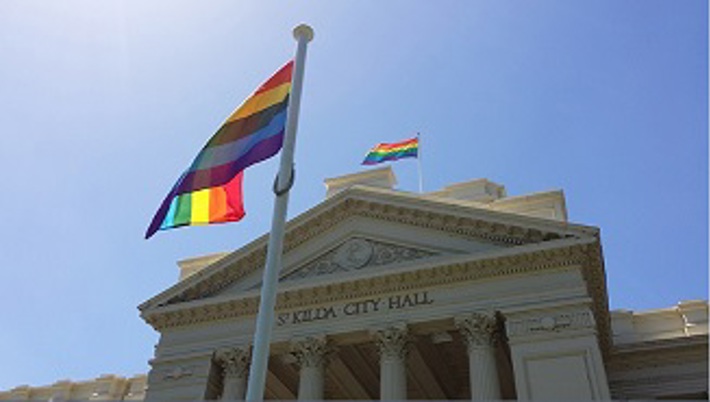 More information
To ask us a question, request information or give us feedback, contact us and ask for the Diversity Officer.