North St Kilda Children's Centre
Located just off Chapel Street, St Kilda. Nestled between a tree-lined street and spacious reserve, your child can run, grow and branch out.
Current vacancies
North St Kilda Children's Centre has places available Monday, Wednesday, Thursday and Friday, for 3- to 4-year-olds.
There are also limited places available Monday and Friday for 4- to 5-year-olds.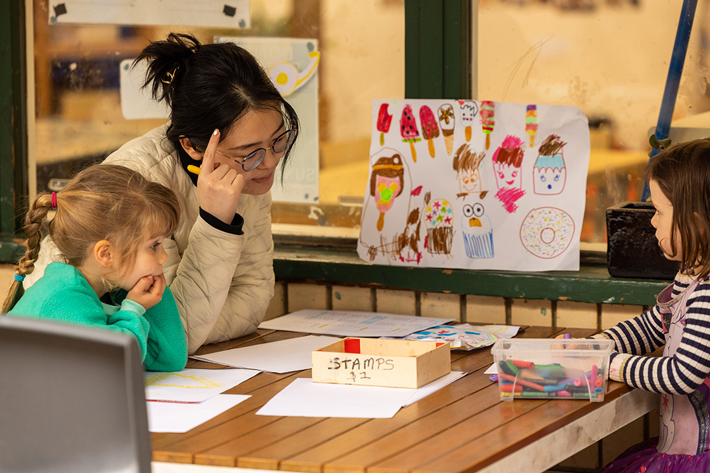 About
North St Kilda Children's Centre is a 77-place centre with 5 rooms where children participate in education and care programs. The rooms are grouped by age and developmental level.
All Council run childcare and kindergarten centres are staffed by a team of professional early years qualified educators.
Our programs
At our Council-managed services we offer a rich and stimulating play-based educational program that is designed around children's interests and developmental needs.
Children's wellbeing is at the centre of all we do. Our educators support children to develop social and emotional skills through playing, learning, and exploring with their peers.
The indoor and outdoor spaces provide a wide range of resources and opportunities that allow children of all abilities to be included in the program. 
We respect and value the diversity of our community and strive to reflect the cultures and values of families in our services.
Nutrition
Children are provided with morning tea, lunch and afternoon tea. All dietary requirements and food intolerances are carefully catered for.
Menus have been assessed by the Healthy Eating Advisory Service to ensure they meet Australian Guidelines and are displayed weekly at the centre. Families are invited to provide feedback on our menus.
These health initiatives are part of our centre's Achievement Program to achieve various health and wellbeing priorities.
Centre tours
We encourage families to tour any centres they are interested in attending before registering their child.
To visit Bubup Nairm Children's Centre, please call the centre directly to make an appointment. Please allow approximately 30 minutes for the tour.
Our team are happy to answer all your questions.
Hours
Monday to Friday 7.30 am to 6.15 pm.
Public holidays
North St Kilda Children's Centre is closed on all public holidays and over the Christmas and New Year period.
Cost
$147 per day. Find out about your eligibility for subsidies.
Families can access the Victorian Government's Free Kinder program at Coventry Children's Centre. See Free Kindergarten in 2023 for more information.
Location
71 Argyle Street, North St Kilda 3182
Quality rating
North St Kilda Children's Centre is rated Meeting by the Australian Children's Education and Care Quality Authority (ACECQA). For more information visit ACECQA.