Public spaces, sports and recreation
Albert Park Yacht Club upgrades
Published 5 May 2022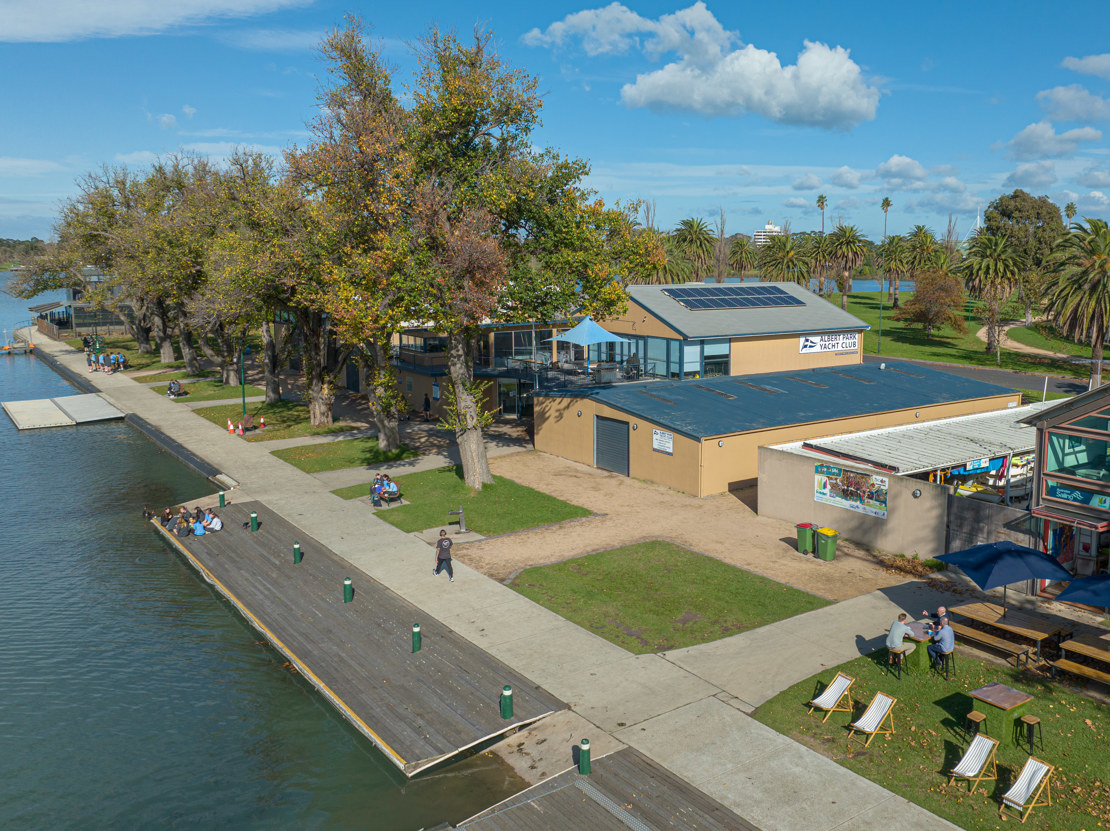 An upgraded yacht club for the community.
The contents of this page have been archived. This represents Council's advocacy position prior to the 2022 State and Federal elections.
For updated information on any of these projects, please contact Council.
Victorian Government investment is required to help upgrade the Albert Park Yacht Club.
What is the ask?
Council is requesting the Victorian Government to commit to upgrading the Albert Park Yacht Club.
What is the issue this initiative will address?
The club provides sailing throughout the year on Albert Park Lake with weekly club races, social sailing, sail training programs and social events. However, the club requires upgrades to provide greater accessibility, expand membership and encourage greater participation.
What is Council proposing?
Council is advocating for the redevelopment of the yacht club.
The Albert Park Yacht Club (APYC) is celebrating its 150th Anniversary of sailing on Albert Park Lake in 2022.
Albert Park College currently has 50 students every weekday at the club for outdoor education and leadership programs. This could double next year if there were a new building as planned in Stage 1 of the development.
The college runs the largest sailing program in Victoria. In cooperation with Albert Park Yacht Club, this program is moving to Albert Park Lake which provides activity on the lake and training through the Boatshed at Australian Sailing.
The club is working with the Sea Scouts to run training programs on the lake.
The club is promoting girls and women in sailing by running training programs for them as well as the City Sail regatta for girls and women.
Social membership is being developed to encourage local residents to use the facilities and create a community feel.
The club has developed relationships with the Classic Boat Association, Wooden Boat Association, Melbourne University Sailing Club and other groups, which all use the club with the aim of sharing its facility and adding to participation on the lake.
With the above activities, the APYC estimates approximately 30,000 visitors would pass through the club in a year.
How does this initiative align with the Council Plan and Victorian Government priorities?
Council
Council Plan 2021-31: Inclusive Port Phillip – a City that is a place for all members of our community, where people feel supported and comfortable being themselves and expressing their identities.
Council Plan Measure - advocacy support to individual clubs within Albert Park, which are applying for funding through third parties.
Partner with Parks Victoria to improve communication and engagement with Albert Park users and clubs. Parks Victoria over time to align plans for sport and recreation within Albert Park with broader municipal sport and recreation strategies.
This project is consistent with outcomes in our Sports and Recreation Strategy 2015-2024.
Victorian Government
The project supports the following Victorian Government priorities:
the Victorian Government's commitment to increasing the number of women and girls participating in sport and active recreation, from grassroots through to senior leadership roles
Sport and Recreation Victoria's work to inspire women and girls to participate and become leaders in sport at all levels
Sport and Recreation Victoria initiatives that create more participation opportunities for all Victorians, including building a more sustainable and inclusive sport and recreation sector
Victorian Government's support for under-represented groups experiencing barriers to participation in sport and recreation.
How does this initiative assist the community to recover from COVID-19?
The project has a focus on supporting participation, especially juniors, women and girls. The redeveloped facility will accommodate the high levels of sport participation and broader community use. It will help the local community be active and engaged, which will support improvements to physical and mental health and wellbeing.
Cost and current status?
Cost
The full project is estimated at $15 million, however, can be delivered over three stages.
Status
Completed a Precinct Vision, which includes Design and Scoping with probable costs.