Council services
Waste and recycling
Sustainability
Your community
It's official: Port Phillip knows how to FOGO
Published 12 September 2023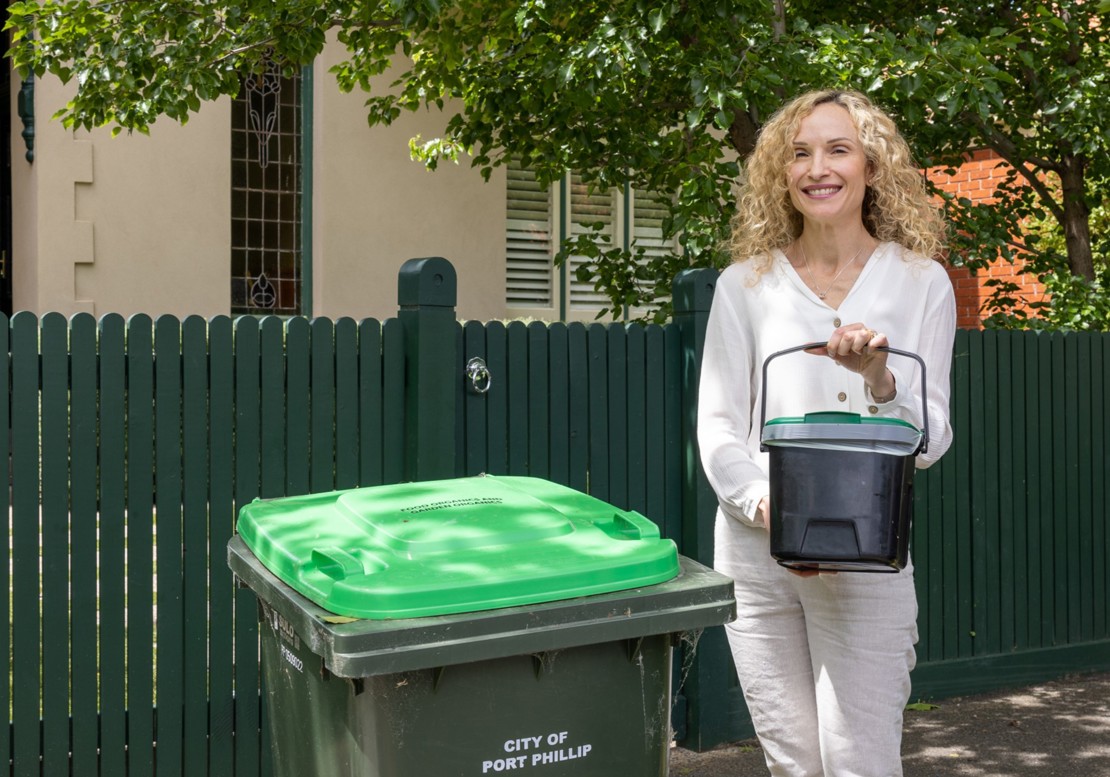 In May of this year, we commissioned a detailed audit of over 200 kerbside food and garden organics (FOGO) bins and over 200 garbage bins. The results show that on the whole, our community is enthusiastically and correctly adopting FOGO recycling.
In January of this year, we began rolling out kerbside food and garden organics (FOGO) recycling bins for houses and townhouses. Since then, we have seen an enthusiastic response from our community, and we have conducted various bin audits to understand how our residents are using the service.
In May, we commissioned a detailed audit of 'matched' kerbside FOGO and garbage bins – meaning that the FOGO and garbage bin belong to the same household. The aim of this audit was to understand the extent to which the FOGO bin was being used and to uncover any contamination. We are pleased to report very encouraging results that demonstrate that our community is embracing food and garden organics recycling.
Very low contamination in FOGO bins 
Contaminants are items that are not accepted in a particular kerbside bin as they interfere with the recycling of permitted items. These items have to be manually removed in order for FOGO recycling to take place successfully.
Of the bins that were audited in May, contamination was very low, at 1.5 per cent – this is a fantastic result and an acceptable rate for our processor. The audit showed that common contaminants in FOGO bins include ceramics, plastic bags and bio-packaging. These results tell us that while there is still some work to be done, most of our residents in houses and townhouses know how to properly use their FOGO bin.
FOGO materials recovery
This audit showed that our community has enthusiastically adopted FOGO. Our goal is to get to a point where all food and organic materials go in the FOGO bin, and our community has made a great start.
We learnt that on average, audited householders placed 74 per cent of FOGO materials into the correct bin. The audit also shows that residents are using the FOGO bins for almost all of their garden organics but for just under half of their food waste.
We know that our community care about recycling, so these results show that some people may need more guidance to use their FOGO bin for food waste specifically. We're using these audit results to create further resources to make this as easy as possible.
A reduction in kerbside garbage
Since the introduction of kerbside FOGO bins for houses and townhouses, we've seen a 58 per cent reduction in FOGO materials inside audited garbage bins. As a result, garbage bin weight has reduced by 34 per cent on average. We expect this decline in garbage bin contents to continue as people become more familiar with FOGO recycling.
More information on our FOGO services
For more information on how to use your FOGO service, visit: Dispose of your Food and Garden Organics (FOGO) - City of Port Phillip
If you are living in an apartment or don't receive a council waste service, we strongly encourage you to use our communal FOGO hubs. Our communal hubs allow anyone in our community to recycle their food and garden materials. These materials are then transformed into compost instead of heading to landfill. For exact communal hub locations, see our website: Communal glass recycling and FOGO recycling hubs - City of Port Phillip