Transport, mobility and safety
Increased investment LRCI and Black Spot funding programs
Published 21 February 2022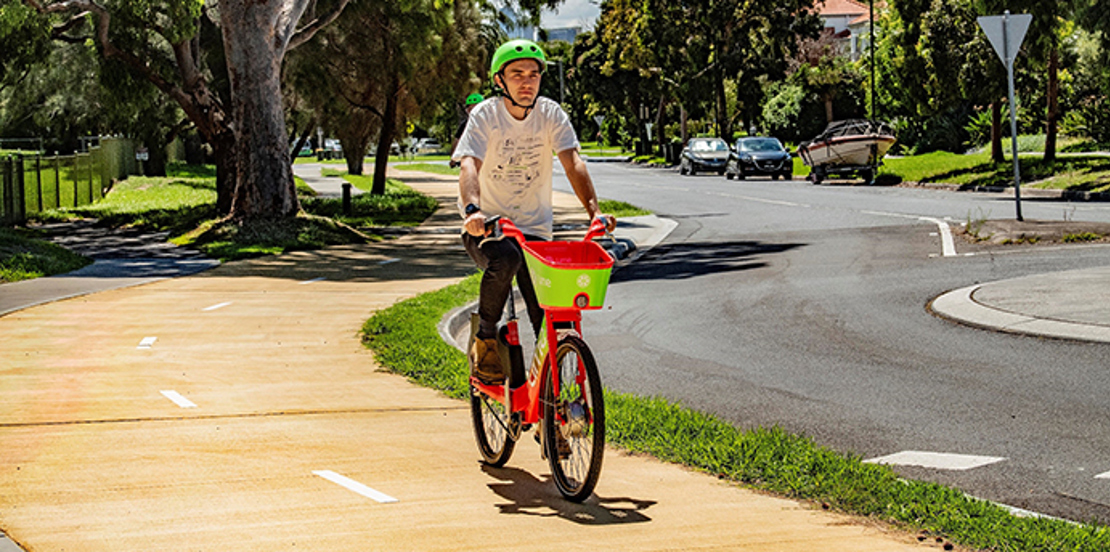 Australian Funding that empowers councils to prioritise local projects.
City of Port Phillip is keen to expand on the projects currently being delivered under the Australian Black Spot and Local Roads and Community Infrastructure (LRCI) Programs.
What is the ask?
Council request that these funding programs receive additional funding moving forward, to continue to enable our Council to deliver much needed infrastructure.
What is the issue that this initiative will address?
The economic shock associated with responding to the challenge of COVID-19 has disproportionately hit our municipality, including businesses, staff and residents. The City of Port Phillip, with an estimated population of 113,512 (2018) is the most densely populated municipality in Victoria and the second most popular for visitors each year.
Australian Government funded programs such as the Black Spot Funding and the Local Roads and Community Infrastructure are much needed, to support local infrastructure projects, create new jobs and stimulate the local economy.
What is Council proposing?
Council is requesting that Federal Government continue to fund these programs at the equivalent or higher levels than the 21/22 budget.
Council has been successful in receiving funding under the Local Roads and Community Infrastructure (LRCI) program and the Black Spot Safety Program. Through these funding streams we have been able to deliver safety improvements for sites with a proven history of crashes and much needed community infrastructure, including new playgrounds, bike paths and road safety improvements.
Council has a history of delivery projects under these funding streams, which it is keen to continue.
How does initiative align with the Council Plan and Government priorities?
Council
City of Port Phillip Council Plan 2021-31: Liveable Port Phillip - A City that is a great place to live, where our community has access to high quality public spaces, development and growth are well-managed, and it is safer and easy to connect and travel within.
We partner with the Australian Government to implement Black Spot safety improvements at high collision locations
Council's Integrated Transport Strategy: Move, Connect, Live 2018-2028 commits to improvements at locations with high collisions with the intention of removing casualty crashes, which are addressed by the Black Spot funding program.
LRCI: These projects are consistent with several priorities and outcomes in the Council Plan 2021-31. The flexibility of the LRCI funding allows Council to allocate funding to a range of community infrastructure projects that align with Council priorities.
Australian Government
The Black Spot and LRCI programs are funded under the Department of Infrastructure, Transport, regional Development and Communications.
The Black Spot projects target those road locations where crashes are occurring. By funding measures such as traffic signals and roundabouts at dangerous locations, the program reduces the risk of crashes. Programs of this sort are very effective, saving the community many times the cost of the relatively minor road improvements that are implemented.
The LRCI program supports local councils to deliver priority local road and community infrastructure projects across Australia, supporting jobs and the resilience of local economies to help communities bounce back from the COVID-19 pandemic. LRCI Program Phase 3 will continue to support local jobs and businesses at the time it is needed most.
Australian Local Government Association
The Australian Local Government Association support this advocacy priority. They are advocating for a "$500 million per year for a four-year extension of the Local Roads and Community Infrastructure Program." More info here: https://alga.com.au/local-roads-and-community-infrastructure/
How does the initiative assist the community to recover from COVID-19?
Black Spot
Black Spot project has created local jobs, improved road and safety and improved network flow. These benefits have helped drivers return to work and navigate the community post lockdowns.
LRCI
LRCI funded projects have created local jobs, improved access and usability in the public realm providing health and well-being benefits, improved cycling routes and transport options, enhanced green space and community infrastructure and supported local businesses.
Cost
Council has received $4 million over 3 years (Phase 1, 2 and 3) – we are advocating for the same funding as Council received under Phase 2- $3.2 million to continue an annual basis.
Council has received $160,000 from the Federal Government for Black Spot projects in St Kilda East and Albert Park since 2019.
Status
Council currently has a pending submission $173,000 for Inkerman Street and Westbury Street, St Kilda. Notification of outcome expected in July 2022
Council is currently delivering a range of projects un LRCI Phases 1 and 2. LCRI is currently undertaking an assessment of eligible projects for Phase 3.
Commitments
Josh Burns MP - Labor
Labor will expand the Local Roads and Community Infrastructure (LRCI) Program by an additional $250 million on top of existing funding levels, to allow more priority projects to be funded and more local roads to be upgraded. 
Colleen Harkin - Liberals
The Liberal Party have allocated $500 million allocated for local road and community infrastructure projects over the next four years ($101.7 million allocated to Victoria).
At the time of writing Steph Hodgins-May (Greens) does not have a commitments on this issue.
More information
An example of projects currently funded under LRCI Funding: