Environmental Leadership course
Enrol in this free environmental leadership course to gain the skills to lead an environmental project.
Enrolments for the 2021/22 Environmental Leadership course have now closed.
Please contact us via enviro@portphillip.vic.gov.au to be added to the waiting list for the 2022 course.
Participant numbers are strictly limited to 30. Please note, all applications will be processed on a 'first in best dressed' basis, meaning that as soon as we have the required number of suitable applicants to begin a course, the application process will close.
About the course
This 10-week online course supports you to develop and lead your own sustainability action project and will focus on individual growth in a team-based environment.
The course consists of 10 weekly evening sessions on a Wednesday from 6.30 to 9 pm.
Sessions have been planned for in-person delivery at Middle Park Community Centre but will be moved online if COVID-19 restrictions are in place.
The course structure:
Welcome and introduction
Understanding leadership
Creating a vision
Making change happen
Project management
Resource management
Action orientation
Communication and media
Pitch night
Going public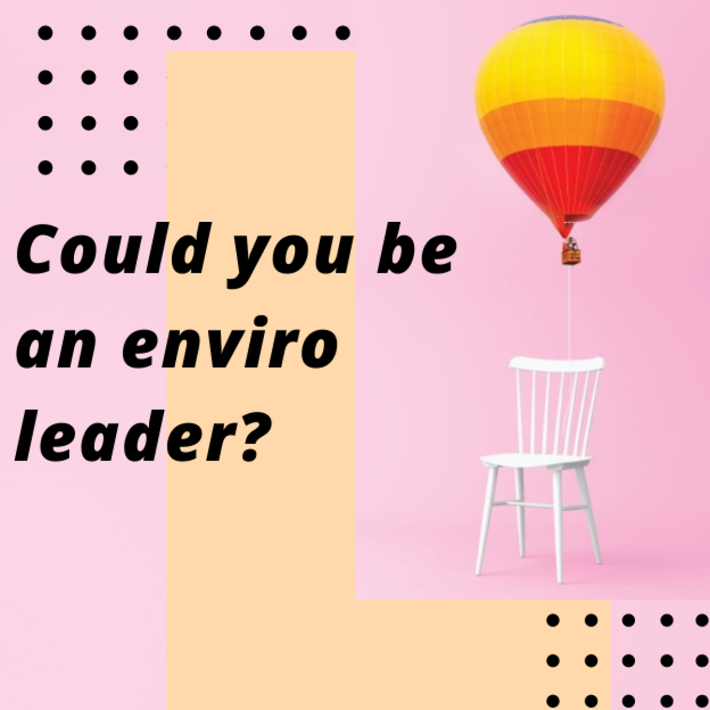 Brett Hedger, Sustainability Officer at the City of Port Phillip will facilitate the course with guest presenters adding specialist knowledge throughout.
The course is provided free of charge and one-on-one coaching will be offered throughout the year in addition to the course.
Participants who complete the course will receive a certificate of completion.
Who can take part
This course is aimed at everyone who wants to become an environmental leader. There are no pre-requisites and no skills required.
The course will be challenging, consisting of 2.5 hours per week in class, around 2-4 hours per week of homework, and further team-based project work which will take place both during and after the completion of the course. Aspiring leaders will be supported throughout the training with easy and regular access to facilitation staff.
In terms of executing a project, don't worry. You don't have to have a project idea to take part. And it does not matter if you are a seasoned environmental project manager or someone at the beginning of your environmental journey. Your ideas, enthusiasm and openness are what we require. We will be working in project teams and we will walk the path together, so you don't need to know or be everything.
The project work must be undertaken within the City of Port Phillip. Priority will be given to applications from Port Phillip residents and employees of businesses within Port Phillip. Applicants outside of the City of Port Phillip will need some justification as to why they should take part in this training, together with a clear undertaking to participate in environmental project work within the City of Port Phillip.
The training will be a mixture of in person and online interactions and it is essential that you have access to a computer and an internet connection.
If you're ready to learn more about yourself, meet other people and take action on climate change, then this is the course for you! Send us an email to tell us you're interested in finding out more at enviro@portphillip.vic.gov.au
Past projects
The Environmental Leaders in the 2020/2021 program included the following projects:
Recycling and Upcycling Business
Apartment Eco Blitz
Sustainability of Self Eco-Resilience
Not for Profit Burnout Toolkit
Re-design Recycling
Elwood Kitchen Library
Charity Green
Environment and Social Cause Marketing
Anarchist Hydration Collective
Sustainable Apartment Living
Kerferd Rd Project
Plastic Gift Card Recycling
Monash Climate Action
25:25:25 Residential Emission Reduction Program
Empower School Captains
Bulk Buying Community
Eco-electronics Design Guide
Green Currency St Kilda
Future Oceans
Sustainable Local Businesses
Sustainable Residents Group
Pollinator Observatory
South Melbourne Market Plastic Reduction
South Melbourne Market Refill and Recycle station
Local Responsible Cafes
Myth Busting Bio Cups
Rare Native Plant Society
Local Responsible Cafes
Emission Reduction Strategy in Workplace
Music, Art and Sustainability Festival
Treesponsibility
Kerferd Road Habitat Restoration
Community Sustainability Directory
The Environmental Leaders in the 2019/2020 program had the following projects:
The first council-approved tiny house project in Victoria, if not Australia (featured in The Age)
Tram stop community garden
Green farm laboratory producing local organic food
Carbon neutral kindergarten
Trash Bags on Tour - offering tours and waste education for corporate, council and tourism sectors
Detox your home and boat day
Earth building in the city
Tool library
Sustainable apartment precinct
Annual street closure day
Environmental video log
Sustainable library and indigenous book collection
Children's environmental activity book
Read more details exciting projects by past leaders:
Feedback from the 2020 course
"I can certainly say that the Environmental program changed my life."

"Thank you for running this course, you've given me faith in my idea and faith in councils."

"I just can't thank you enough for the opportunity to 'rub shoulders' with yourselves and other locals who are equally passionate about Sustainability and our environment. The learnings and the camaraderie far exceeded my expectations."