Climate projections
What climate can we expect in Port Phillip in the future? Find out what the CSIRO Victorian Climate Projections tell us about Port Phillip's future climate conditions.
In Port Phillip we are no strangers to the impacts of the current climate emergency, having experienced dangerous levels of bushfire smoke, heatwaves and flooding in recent times.
In 2019 the CSIRO updated its climate models for Victoria, giving us more detailed information for our local region. We know climate change will bring more extreme conditions generally, but the projections allow us to see how much change we can expect.
If we continue our current rate of emissions, by the end of the century we can expect to experience 20% less rainfall, roughly a month of more extreme heat days, and sea levels up to 82cm higher than they currently are, based on the Victorian Climate Projections 2019.
We've highlighted some of the key figures from these projections in the table below. When you're looking at these numbers, consider that a child attending childcare in Port Phillip right now will be in their 70s in the year 2090. If our current rate of emissions continues, they will be living in a very different environment than the one they were born into.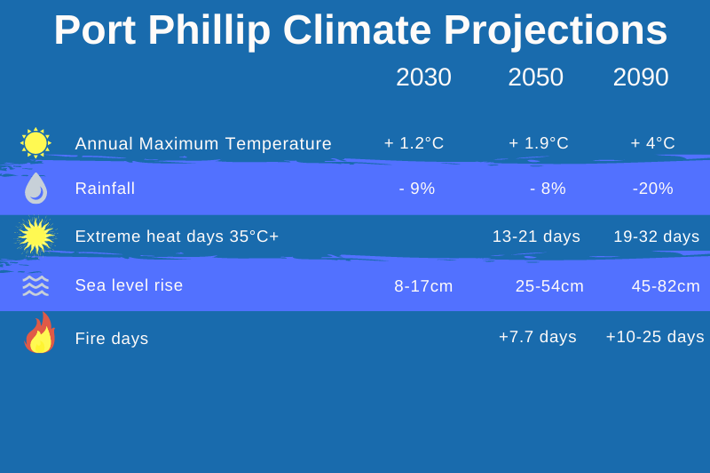 The impacts of these changes in our climate will mean:
increased health impacts on elderly and disadvantaged people (especially from increased temperature and heatwaves),
increasing damage to buildings and other infrastructure near the coast, from storm surges and rising sea levels,
increased impacts to our natural areas and habitat, such as pest invasions, damage to trees from flooding and heatwaves, and loss of vegetation due to the receding coastal edge,
restricted access and movement during severe weather events, e.g. flooding or heatwaves,
combined events (e.g. storm surge and flooding) will have the greatest impacts and cost the most to repair.
Government, business and community members alike need to understand this problem to tailor our emergency response for the best possible outcome. This response requires a mix of immediate action to reduce our emissions, as well as strategies for reducing the impacts already on our doorstep. Read about Council's climate action
You can take powerful urgent and collaborative action to reduce emissions, and start thinking deeply about how to plan for the impacts of climate change. Many people now have emergency bushfire or flood plans, and in some cases, household climate response plans. You can learn more about how to prepare for a changing climate.  
For more information on the results of the CSIRO global climate modelling project: