Cultural Diversity Week 2023
Our Multicultural Advisory Committee presents and supports a program of activities to share and celebrate cultural diversity in the City of Port Phillip from 11 March.
Celebrate the global flavours of Port Phillip
Come Southside and take your tastebuds on a tour around the world!                    
Visit our online map to explore great places to eat across the City.
Visit old favourites and discover new flavours. 
Support our multicultural communities and share the important role that food plays in preserving traditions.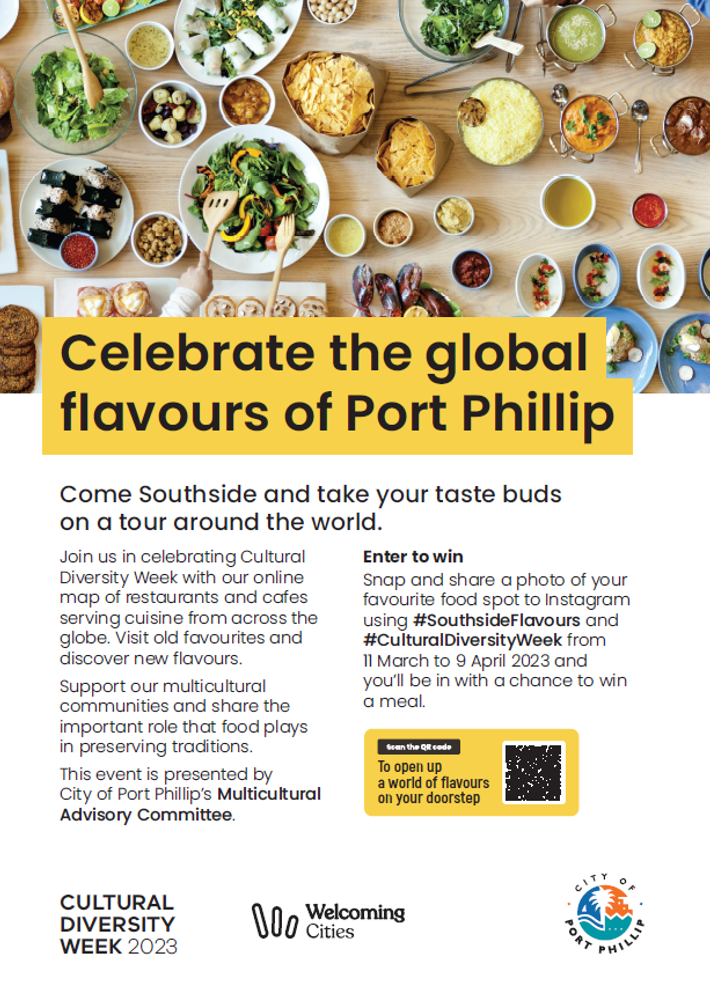 Enter to win
Snap and share a photo of your favourite food spot to Instagram using #SouthsideFlavours and #CulturalDiversityWeek from 11 March to 9 April 2023 and you'll be in with a chance to win a meal.
Multicultural Peace Day
Come celebrate at the Multicultural Peace Day at
St Kilda Town Hall
11 March from 12 to 3 pm
This event will feature stalls, music, performances and more! 
Coordinated by the International Women's Peace Group and HWPL and supported by the City of Port Phillip Multicultural Advisory Committee.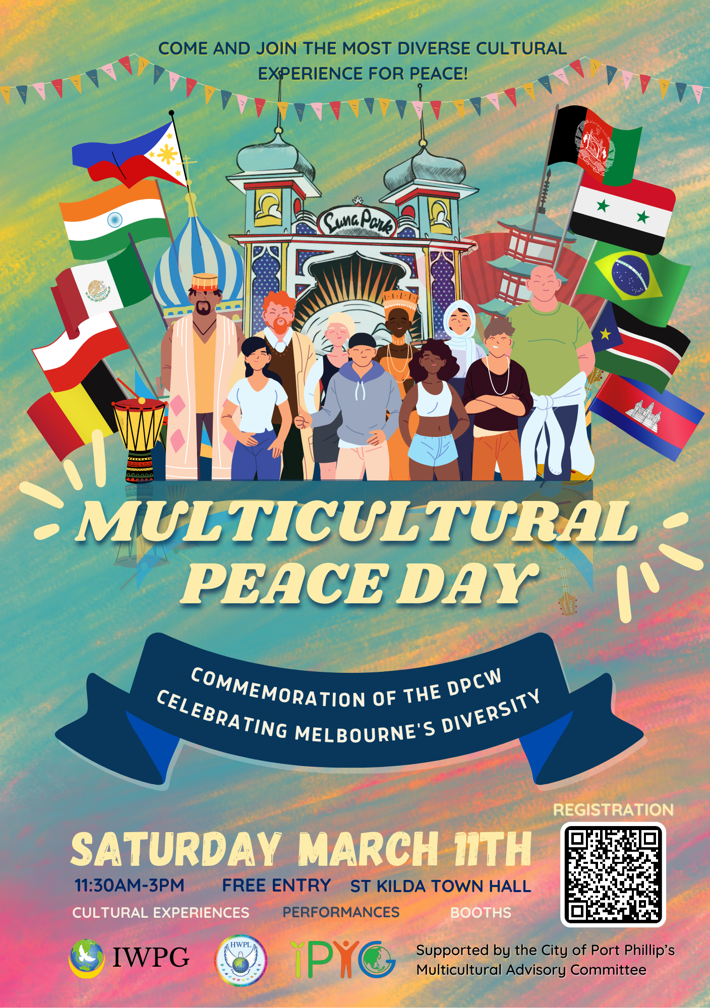 Children's activities in our libraries 
There are heaps of events happening across our library service to celebrate Cultural Diversity Week. Join in for a special Brazilian Portuguese Storytime, discover traditional dance styles from across the world, and experience a music, dance and puppet adventure.
Visit Cultural Diversity Week | Port Phillip Library Service for details.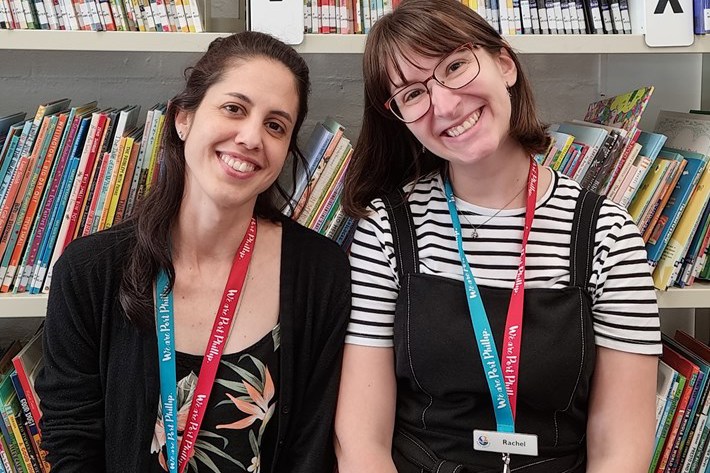 Welcome postcards 
Pick up one of our welcome postcards from Assist counters or Port Phillip libraries and share them with your new neighbours.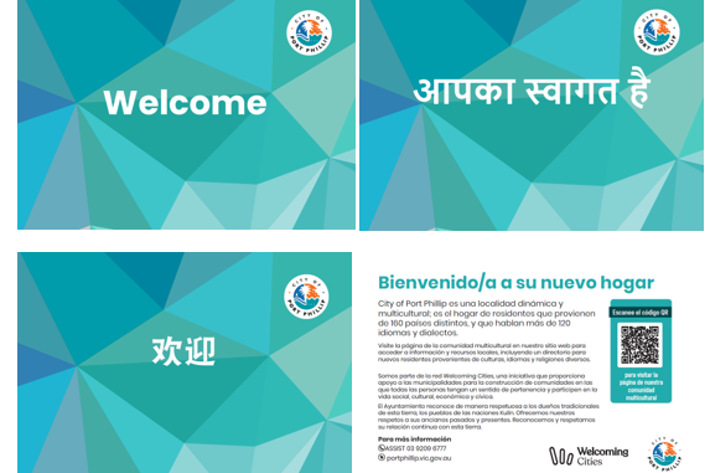 Awards of recognition
We are acknowledging and celebrating our 22 multicultural seniors groups in recognition of their contributions in enabling and supporting a dynamic diverse community. The awards will be presented by the Mayor, followed by performances and morning tea. 
The groups being recognised are: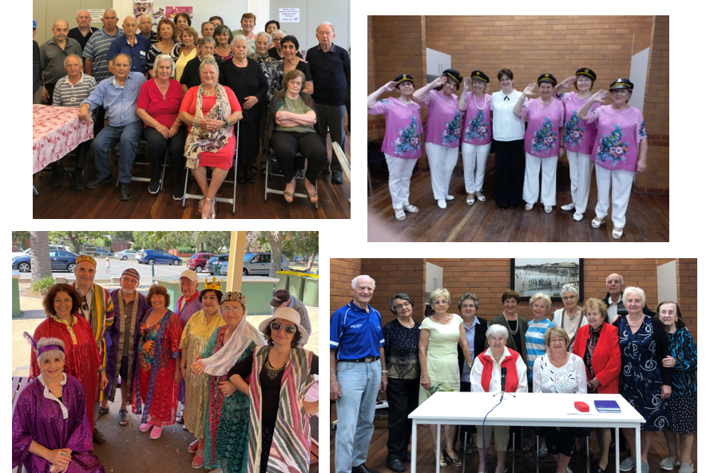 Albert Park/South Melbourne Senior Citizens Club
Association of Former Inmates of the Nazi Concentration Camps and Ghettos from the Former Soviet Union
Eremia Greek Senior Citizens Club
Ethnic Discussion Club
Galini Greek Elderly Citizens Association of Port Melbourne
Healthy Tourism Senior Citizens Club 'Vigor' and Ensemble Nostalgia
Lemnian Community of Victoria Elderly Citizens Club
Lotus Choir
Multicultural Nature Guides Inc.
Nadezhda Russian Senior Citizens Club
Golden Age Clubs, NCJW (Vic) Community Services
New Life Association Inc
'Astry' Polish Senior Citizens Club St Kilda Inc
Port Melbourne Greek Community
Port Melbourne Greek Community Senior Citizens Club
RCTVA Sputnik
Russian Singing Hearts Choir
'Olympia' South Melbourne Greek Women's Club
Shalom Association 
St Kilda Greek Group
Victorian Association of World War Two Veterans from the Ex-Soviet Union
Yachad Senior Citizens Club 
Visit our Community Directory to find out more about these and other groups and services in the City of Port Phillip.  
Distant Shores
Carlisle Street Arts Space from Friday 17 March. 
Carlisle Street Arts Space together with Morganna Magee, curator Anna Monea and Space2b present Distant Shores, an exhibition which poignantly conveys the cultural ties of recently arrived migrants, refugees and asylum seekers in Port Phillip.
The exhibition combines documentary photography, family photographs and written testimony to tell the story of the migrant experience through themes of cultural connection, memory, longing and loss.
A launch event for the exhibition will be held on Thursday 23 March.
Visit Carlisle Street Arts Space - City of Port Phillip for more information.