LGBTIQA+ community
We pride ourselves on being welcoming and sensitive to the needs of people who identify as lesbian, gay, bisexual, trans and gender diverse, intersex, queer and asexual (LGBTIQA+).
We pride ourselves on being welcoming and sensitive to the needs of people who are LGBTIQA+, and provide a range of services and advice to assist the LGBTIQA+ community.
Council works hard to ensure our community is inclusive and we are committed to promoting a fair, just, tolerant and inclusive community.
A Statement of Commitment sprang from a long-standing awareness by Council of the LGBTIQA+ community and it recognises the contribution it makes to the social development in the area.
Nominations for the LGBTIQA+ Advisory Committee
Now Open, closing Sunday 17 October 2021
Council endorsed the establishment of LGBTIQA+ Advisory Committee on 19 May 2021 as part of its ongoing commitment to members of City of Port Phillip 's lesbian, gay, bisexual, trans and gender diverse, intersex, queer and asexual communities (LGBTIQA+).
For details, view the terms of reference (PDF 117 KB).
Call for new member nominations
To ensure our City continues to be a safe, welcoming and inclusive place where people of all backgrounds and ages can thrive, we are inviting community members to join our LGBTIQA+ Advisory Committee. Council is seeking to fill up to 11 vacancies on this committee.
You will provide advice to Council on issues impacting LGBTIQA+ residents, visitors, businesses and the wider community to help steer the development and implementation of the Port Phillip LGBTIQA+ Action Plan.
Council will aim to ensure that members of the Committee reflect a balance between individuals and organisations and the community and business sectors.
Nominees must work, study, or reside in the Port Phillip and they are selected on the basis of their:
identification as LGBTIQA+
capacity to consult with the LGBTIQA+ community and represent a wide range of views
understanding of the needs of the LGBTIQA+ community
capacity to analyse information and provide advice on issues affecting the LGBTIQA+ community.
Submit a nomination
Nominate yourself by completing the Nomination Form by Sunday, 17 October 2021 midnight.
Assistance is available for translation into any language and completion of the application form (in English). Interpreters will also be available at meetings if required.
A Word version of the application form is also available upon request.
Please note that shortlisted nominees will be required to attend an interview in early November before the final selection is endorsed by Council at its December 2021 Council Meeting.
Pride Program 2021
After being postponed due to COVID-19, the IDAHOBIT Pride flag-raising ceremony, Midsumma Festival and Midsumma Pride March are back in 2021.
Midsumma Festival
We're a proud supporter of the Midsumma Festival celebrating our LGBTIQA+ communities.
Running from 19 April until 5 May 2021, to find out about events happening in Port Phillip and see the full program, visit Midsumma Festival.
Rainbow Pride flag-raising ceremony
On Monday 17 May, everyone is welcome to join us from 4 pm for a flag-raising ceremony ahead of the 26th Midsumma Pride March and to mark IDAHOBIT, the International Day Against Homophobia, Biphobia, Interphobia and Transphobia (IDAHOBIT) on Monday 17 May. Everyone is welcome.
IDAHOBIT celebrates LGBTIQA+ people globally, and raises awareness for the work still needed to combat discrimination.
The rainbow flag is a universally-recognised symbol of pride and inclusion. Come along to watch the flags raised at St Kilda Town Hall to celebrate LGBTIQA+ people and our diverse and inclusive community. There will also be a special guest performance on the day.
This is a COVID-Safe event. Please RSVP via TryBooking to attend.
Location: front of St Kilda Town Hall, corner of Carlisle Street and Brighton Road
Midsumma Pride March
On Sunday 23 May, Midsumma Pride March will be taking over St Kilda in a parade of solidarity. If you'd like to attend the march as a spectator, you'll need to book in to a Fitzroy Street venue to watch the parade live while supporting our local Fitzroy Street traders.
You can also watch the parade online via livestream.
Wear It Purple Day 2021
On 27 August 2021, show your support by wearing purple and participate in any activities or opportunities to share a message of support on the day.
Older LGBTIQA+ people
The City of Port Phillip's Access and Ageing department provides a range of support services to people at home and in the community.
We help older people to:
live independently in their homes for as long as possible
be more socially active
eat more nutritious meals.
Our Aged Care Services team has been awarded the Rainbow Tick, a sign to you of our commitment to ensuring that:
our service is inclusive and friendly
you feel confident to be open in your communication with our staff.
For more information about our services, please visit Aged Care and Disability Services.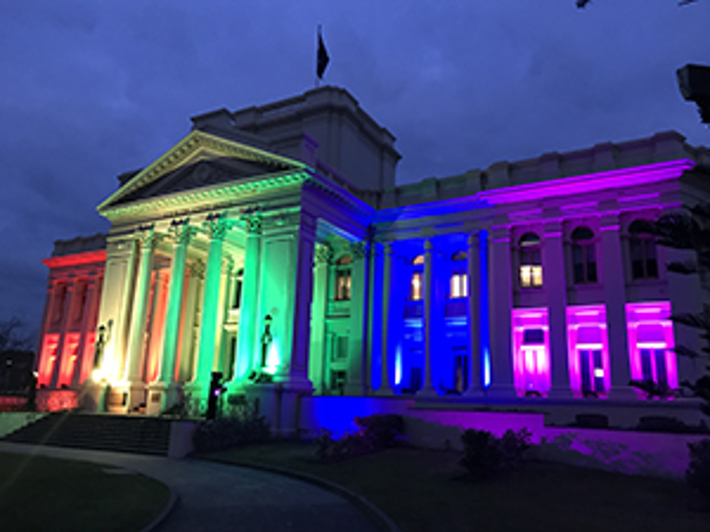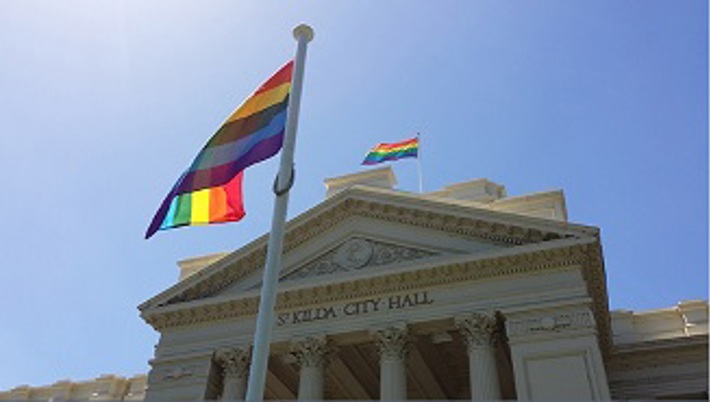 More information
To ask us a question, request information or give us feedback, contact us and ask for the Diversity Officer.