Alma Park
Alma Park is bordered by Alma Road, Westbury Street and Dandenong Road in St Kilda East. The play space features a magnificent tree house with climbing nets, a unique play structure formed to resemble a large imaginary creature and a flying fox.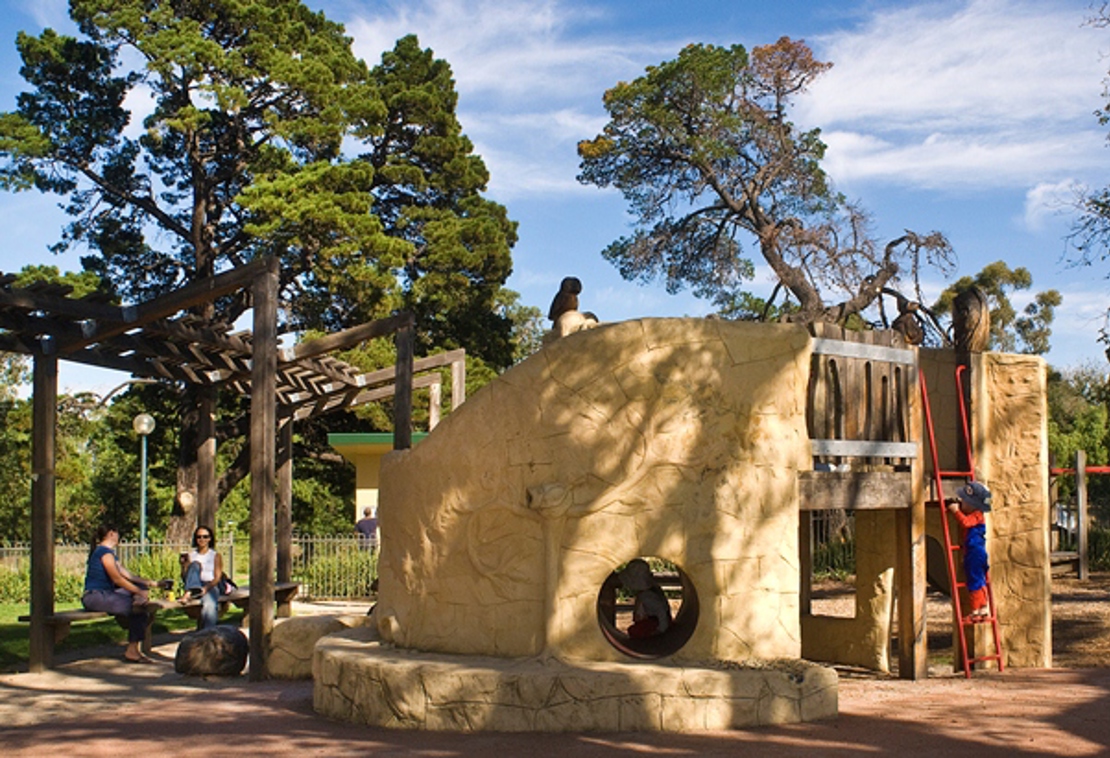 Other information
restrooms with accessible toilets
playground with junior and senior play areas
picnic tables including longer tables for group gatherings
drinking fountain
a large grassed reserve
wetland area
public art works
Location
150 Dandenong Road, St Kilda East
Access
Alma Park is bordered by Alma Road, Westbury Street and Dandenong Road in St Kilda East.
The park is split into East and West sections by the Sandringham train line. The park has open access from each street frontage.
Getting there
Google Map Alma Park
Melways Reference
58 E9
Tram
Tram number 5 or 64 along Dandenong Road or Tram number 78 or 79 along Chapel Street.
Train
Get off the Sandringham train line at Windsor station. Walk one block south along Chapel Street and cross over Dandenong Road, continue walking west along Dandenong Road and access Alma Park from the northern park perimeter.
Parking
Free parking is available in the surrounding streets and roads, check local signage for parking restrictions.
Download the Travel Smart Map of Port Phillip (PDF 2.5 MB).
Attractions
The play space features a magnificent tree house with climbing nets in addition to a unique play structure formed to resemble a large imaginary creature that children love to climb over and under. Alma Park features a sports oval in the eastern section, for enquires contact assist 03 9209 6777.
Large parties and gatherings require a permit. Please check the outdoor weddings and celebrations page for information.

For a schedule on Alma Park's sports ground use, visit Sporting reserves and grounds.
Restrictions
Alma Park West is a designated dogs off leash area and Alma Park East is a dogs off leash area only north of the sports oval. Dogs are not permitted within 5 metres of the playground and BBQ or picnic areas. Penalties apply.
Parking restrictions apply in the surrounding streets, please check the parking signs for full details or call ASSIST on 03 9209 6777 for specific parking information.
About
Alma Park was formally established as crown land in August 1868, on request from residents of East St Kilda. Previously known as the East St Kilda Recreation Reserve, it was used as a loam deposit, a depot for road metal and also a grazing ground for animals. In 1859 the land was divided into two by the Sandringham railway line.
In 1867, designer Clement Hodgkinson was commissioned to design the public park. Hodgkinson had previously designed Treasury Gardens, Fitzroy Gardens and Flagstaff Gardens in Melbourne and was later commissioned to design St Vincent Gardens in Albert Park.
Today, Alma Park encompasses significant avenues of mature trees, a colourful central shrub walk, bike path, playground, gazebo, sports oval, toilets and BBQ facilities.
The park features the artwork 'Listening Place' by artist Julie Shields with the sound installation designed by Ros Bandt for the Margins, Memories and Markers (PDF KB) project. The artwork captures stories and memories of local resident living in the St Kilda East area.
Alma Park Pavilion
The new Alma Park Pavilion was opened by the Mayor and Councillors in April 2016. The pavilion provides a multi-functional space for sports clubs, incorporates Environmentally Sustainable Design features and complies with Football Federation Victoria building requirements. The public toilets next to the children's playground were also upgraded.
The Alma Park Pavilion buildings were designed by k20 Architecture and constructed by Ducon Maintenance.
For more information or to enquire about using the pavilion, contact the Sport and Recreation team:
Email: recreation@portphillip.vic.gov.au
Phone: 03 9209 6777 via ASSIST
Alma Park playground
The junior playground features a two story castle with slide, speaker tubes and crawl tunnel and a collection of hand carved wooden animals by artist James Cattlell including a kangaroo, wombat and potteroo.
The senior playground features a range of equipment designed to encourage active play including a climbing structure formed into an imaginary creature known as the 'slug' that includes climbing stairs and a slide, a flying fox that is open every day during daylight hours, a tree house featuring three slides and a scramble net and a range of free standing equipment such as seesaw, swings and spinning round-a-about.
The picnic area has a free BBQ and features two and three meter picnic table sets. The longer tables allow for parties and group gatherings, for more information and permit enquires visit the outdoor weddings and celebration page.