Food and garden waste (FOGO)
FOGO stands for Food Organics and Garden Organics; that's your food scraps and waste from the garden. Based on our 2019 waste audits, these organics make up 46 per cent of the waste in our bins at home.
The average household spends around $2,000 a year on food that ends up in landfill. There it breaks down into greenhouse gases. About three per cent of Australia's total greenhouse gas emissions comes from organic matter rotting in landfills. That is about as much as the entire country's aviation industry.
We are trialling two new organics recycling services in different parts of the City. We want to test new approaches with you:
to support waste reduction
increase recycling
reduce contamination in kerbside bins.
Communal food organic recycling hub trial
The City of Port Phillip has some of the highest density housing in Melbourne. Households with little yard space or those living in multi-unit develops may not be able to accommodate an additional bin for recycling food waste. We are trialling recycling hubs for these households to provide them with an opportunity to dispose of food scraps and leftovers.
Starting in May 2021, we are introducing communal Food Organic (FO) recycling hubs at three locations for an initial trial period of six months, until November 2021.
Locations
HR Johnson Reserve, St Kilda West
Lagoon Reserve, Port Melbourne
Next to the Rats of Tobruk Reserve, Albert Park
About the communal hub trial
Food recycling in apartments
We are working with people in apartment buildings to trial ways for them to recycle food waste.
To help our communities living in apartment buildings to recycle food waste, we have partnered with waste education service, Reground, to introduce a Food to Farm: FO collection service in three apartment buildings in our City. The collected food waste will be converted into compost and mulch products at a facility in regional Victoria.
The EOI process for high-rise apartment buildings to take part in a FO collection trial has now closed. All applicants will be notified of the success of their application soon.
We are pleased to announce that the Elwood FOGO service will be continuing! As previously advised, the trial was to finish at the end of June 2021, but the decision has been made to make the service ongoing for participating households.
This decision was made by Council as part of the 2021/22 Council Plan and Budget at the Special Council Meeting on 23 June.
The trial has been a huge success over the past 11 months thanks to your enthusiastic involvement and commitment, as well as low contamination rates in the collected materials.
The Elwood FOGO service is the first step in planning for how we deliver food and garden organics recycling to our community going forward, in line with Victorian Government requirements.
At this time, we are unable to extend the service to additional properties.
Why was Elwood selected?
Elwood was selected for the trial as houses generally have both the space to store an extra 240 litre bin and gardens that will produce suitable material for collection.
The trial area is a roughly rectangular area bordered by Bluff Avenue and St Kilda Street (top to bottom) and from Glen Huntly Road and Ormond Road (even-numbered households only) to Ormond Esplanade as shown in the map on the right.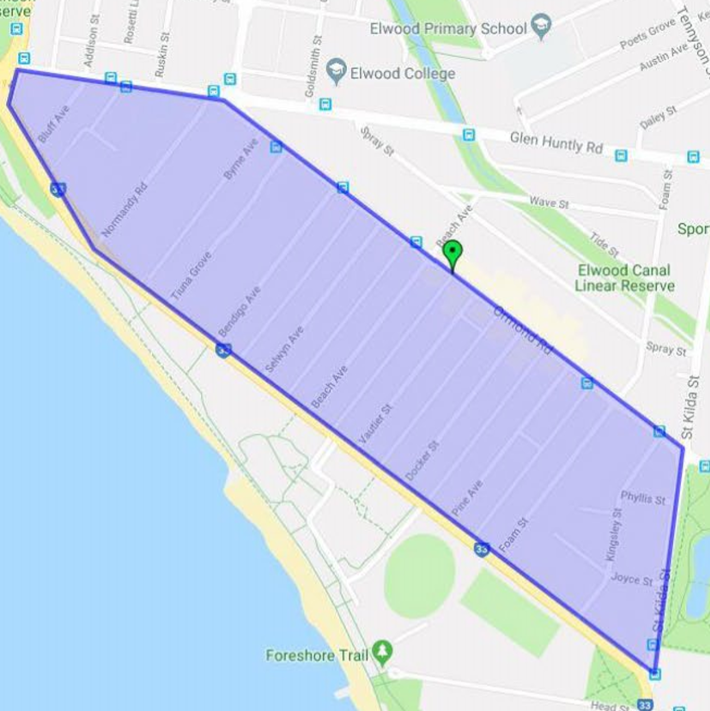 About the Elwood FOGO service