Divercity enews and local media
Divercity is the City or Port Phillip's official enewsletter. There is also a range of local and community media available in the City of Port Phillip, helping you to stay in touch with local issues, news and events.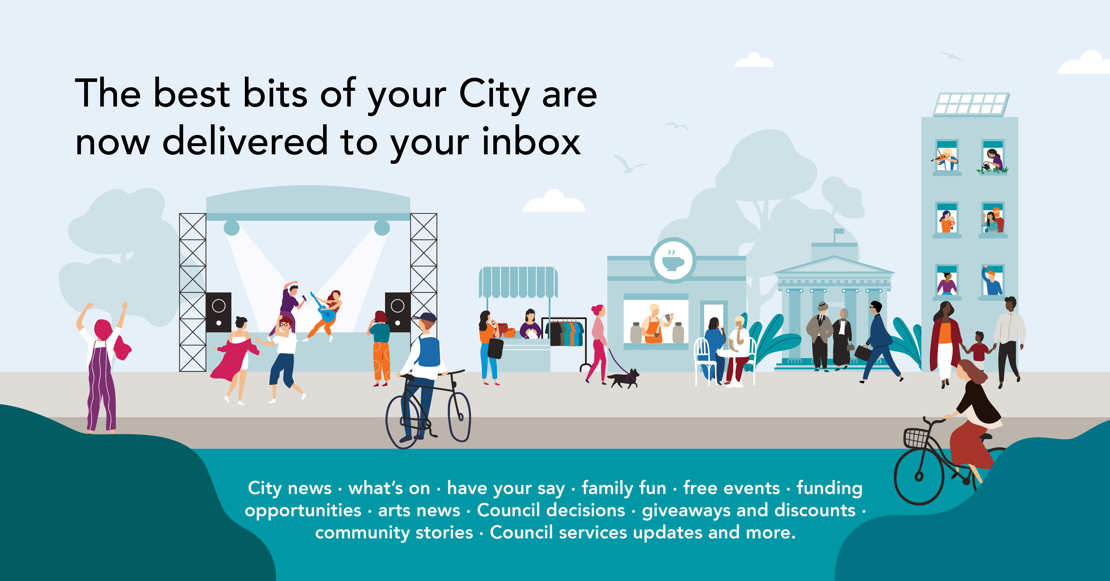 Divercity enews
Divercity is our monthly enewsletter, bringing you the latest City news, what's on, service updates and local exclusives, such as discounts and freebies.
To keep up to date with news about your City and Council, sign up for online.
Story suggestions are welcome. Please contact the Divercity Editor, divercity@portphillip.vic.gov.au.
For older issues, please contact us for an electronic copy. Hard copies are also available for some issues.
Vision FReeZA
Young people in the Victorian community have been significantly impacted by COVID-19 due to loss of casual employment, disruption to schooling, and few opportunities to socialise with peers.
As most of our community transitioned into the online world, what was missing was a connection, embodiment, and tactile experiences. This collective reflection allowed for the City of Port Phillip's 2020 FReeZA Committee, named 'Vision FReeZA', to combine the tactile sensation and promotion of emerging artists into a zine - a small self-published magazine.
'Vision' has been thoughtfully constructed in hope to bring some of the experiences that have been missing most of the year: connection, art, dance, language, culture, voice, humour and creativity.
Local and community media
Newspapers
There is no longer a printed newspaper that serves the whole of the City of Port Phillip. The Port Phillip Leader is now only produced digitally.
The Southbank Local News is printed monthly and serves the residents, businesses and visitors of postcode 3006 and the Montague Precinct of Fishermans Bend.
enewsletters
This Week in St Kilda (TWISK) - Weekly e-newsletter, website and monthly podcast focusing on arts, music and community.
Local Radio
A number of community radio stations broadcast in the Port Phillip area.
Southern FM 88.3
Committed to producing programs for the people living and working in its broadcasting area. Visit Southern FM.
JOY FM 94.9
An independent voice for the diverse lesbian and gay communities. JOY 94.9 is proudly self-funded through on air sponsorship and most importantly membership. Visit JOY Melbourne.
Triple R 102.7 FM
Endeavouring to provide the best available programming, challenging its audience, and encouraging their support, feedback and involvement. Triple R is Australia's largest community radio station. Visit Triple R.
PBS 106.7 FM
A station which provides a clear alternative to both commercial and government radio programs. It broadcasts specialist programs on innovative, and historically significant, music, arts and comedy. Visit PBS.
3CR 855 AM
Providing programs of interest to a broad general audience and to specific interests groups. Groups broadcasting on 3CR cover the areas of social justice, sport, ethnic communities, the arts and music, and trade unions. Visit 3CR.
3ZZZ 92.3 FM
The largest ethnic community station in Australia. 3ZZZ is a community-based radio station. Up to 400 volunteers broadcast in 70 community languages for and on behalf of their own community. Visit 3ZZZ.
3MBS 103.5 FM
A fine music community radio station in Melbourne, Victoria, Australia. 3MBS passionately supports fine music, especially Melbourne musicians and composers, and is the only locally-based classical music radio station in Victoria. Visit 3MBS.