Where do I start
Once you've gathered your property information it's important you familiarise yourself with the processes, as these can affect what you can do. You should also start thinking about who you want to engage with during the project, as well as the times and costs involved.
What's the process?
To help you navigate through and complete your building works, follow the steps listed in the Planning and Building section, or download Planning and Building at a Glance (PDF 300 KB) for a process overview and key tips.
What's the difference?
Planning relates to the use of land, the way it is developed and how any changes will fit in with the environment.
Building is the building and alteration of structures, such as houses, shops, offices and multi-unit developments.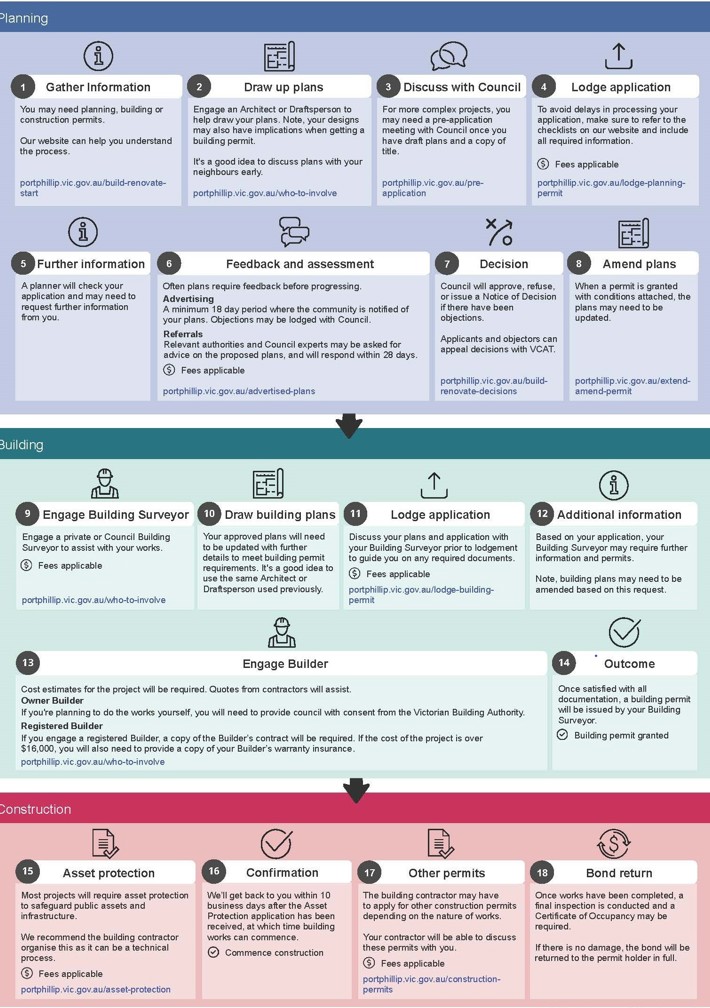 Many factors influence the time it takes to complete a building project and the costs involved.
Throughout your works, you'll be engaging with key professionals, stakeholders and Council.
Council assess each permit application against a number of policies, guides, regulations.
Port Phillip architecture is full of character and history. To preserve this history, Heritage Overlays have been created.
From landfill to greenhouse emissions, environmentally sustainable design and development is key to building works.
Before lodging a permit, discuss your proposal with Council to find out if a permit is required and discuss any concerns.