Things to do
Council has closed the Heritage Centre until further notice due to the COVID-19 outbreak. You can still connect with local history and heritage using our online resources and services. Some art and heritage programs are also available online including guided walks and exhibitions.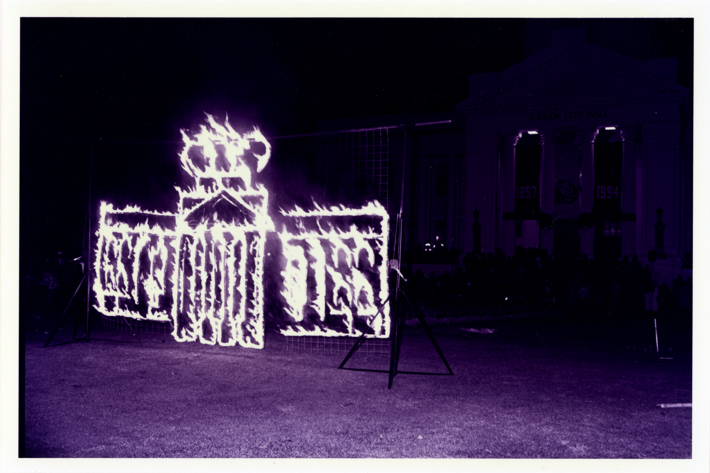 Access to our art and heritage database is available for research and reference.
Open House Melbourne
The 2021 Open House Melbourne program is now online and offers a rich array of digital content to explore, participate in, view, read and listen to, Open House Melbourne.
The following buildings from the City of Port Phillip are scheduled to participate in the 2021 July program:
1. Arts Access Victoria
2. Australian Tapestry Workshop
3. Gasworks Arts Park
4. Hidden Beneath – An Immersive Exploration
5. MacKillop Family Services
6. Melbourne Camera Club
7. Royal Melbourne Yacht Squadron
8. The Victorian Pride Centre
9. Ulimaroa and ANZCA House
10. Emerald Hill Library & Heritage Centre
Guided walks in Port Phillip
This is a free program of monthly walks that explore the heritage treasures of the City of Port Phillip. Join our knowledgeable walks leaders as they share the cultural, architectural, art and social histories of the places that we call home, and tell the amazing stories of the people who have lived here.
For a list of forthcoming walks, visit guided walks in Port Phillip, view the What's On calendar or search Trybooking (bookings essential).
View current and past exhibitions from the Port Phillip City Collection
Self-guided walking trails
Choose a self-guided walking trail brochure from the list below and take a journey into the cultural heritage, past and present of the Port Phillip area.
Our latest trail Mirka's St Kilda celebrates the local artistic and community legacy of Mirka Mora
Heritage Recognition Program
The Heritage Recognition Program comprises blue plaques installed on important buildings or at places whose historical significance may no longer be evident.
There are currently fifty-eight plaques installed across the City which can be found on this map.
If you would like to nominate a site please review the Heritage Recognition Program Guidelines then email your nomination to artheritage@portphillip.vic.gov.au. All nominations are reviewed by Council's Cultural Heritage Reference Committee.
Painted (ghost) signs in Port Phillip
Help preserve our local cultural heritage
The City of Port Phillip has a rich mercantile history which is reflected in painted (ghost) signs on private and commercial buildings throughout the municipality. We are documenting these old advertising signs, and need your help!
Here's what to do if you find a painted (ghost) sign:
Take a photograph of the sign (the higher resolution the better)
Email the location and photo to artheritage@portphillip.vic.gov.au
If you notice a sign in bad condition or that has been vandalised please let us know.
In 2014 and 2015 the locations, dimensions and conditions of thirty-two signs were recorded and the data uploaded to the Heritage Centre's Historypin page.
We did this with heritage specialists, community members, and staff and students from The Grimwade Centre for Cultural Materials Conservation (GCCMC) at the University of Melbourne.
World War II sites of significance in the City of Port Phillip
These sites have a connection to World War II in the City of Port Phillip. This map is only a guide to the diverse places that relate to the war. Many are not able to be visited as a number are private or commercial buildings or have limited public access.
Local history and cultural heritage organisations
Through research, publication and exhibition these not-for-profit organisations increase our knowledge and understanding of the history and heritage of the Port Phillip area.
The St Kilda Historical Society Inc. is a not-for-profit organisation founded in 1970 to foster interest in the history and heritage of St Kilda, Elwood, Balaclava and surrounding areas. The Society's website is a treasure trove of information about past and present St Kilda and its landmarks
The Port Melbourne Historical and Preservation Society was formed in August 1993 to:
foster interest in and knowledge of the history of Port Melbourne
collect and preserve items of historical interest relevant to Port Melbourne
compile and keep historical records of the area.
The Middle Park History Group aims to:
promote awareness and the preservation of Middle Park history
involve and encourage the Middle Park community to actively participate in historical research
seek from the community oral histories, photographs and moving images, documents and artefacts relevant to Middle Park history
encourage research by government, educational institutions and others that can illuminate Middle Park history and culture
seek resources, both financially and in-kind to enhance the work of the Group.
St Kilda Cemetery was established in 1855. It was one of the principal burial places south of the Yarra River during the nineteenth century and its heritage values have been recognised by the Commonwealth and State Governments. Friends of St Kilda Cemetery Inc is a not-for-profit incorporated association.
It was formed in 1998 and incorporated in 1999 with the aim: To promote the conservation and appreciation of the St Kilda Cemetery as a place of remembrance, of historic importance and of natural beauty.
The St Kilda Botanical Gardens are bounded by Blessing, Herbert, Dickens and Tennyson Streets, St Kilda. The Gardens were first established in the 1860s and have a rich and colourful history. The Friends of the St Kilda Botanic Gardens Inc. was established to sustain the bond between the St Kilda Botanical Gardens and the surrounding community. Projects include:
maintenance and restoration of the heritage gardens
encouraging community members to become involved in the gardens and participate in activities such as

hands-on gardening
social events
skills building
fund-raising
advocacy.
The Friends of Luna Park formed in 1991, united by a passion for Melbourne's Luna Park and concern for its survival. Volunteers set about gathering as much history as possible and successfully applied for national heritage protection of the site.
We are proud to have instigated and helped direct the massive restoration of the 1913 merry-go-round (carousel), led by Friend and artist, Patricia Mullins, while Leigh Hobbs created the entrance colour scheme. We guided the recreation of the face, created the concept for the Ghost Train makeover, and found sympathetic artists to create the scenic art.
We hope to see the Park again be a wonderland for both adults and children, with purpose-built structures and brilliant illusions.