Communal glass recycling and food organics hubs
To make sure everyone in our City is able to recycle their glass and food organics separately we have introduced communal hubs in local parks and reserves.
Following our successful communal glass and food organics recycling trials, we have 14 communal hubs in selected local parks and reserves, with more to come in 2023.
We hope you will take advantage of the 660-litre communal glass recycling bins in your area to dispose of glass bottles and jars. All glass collected is recycled at our local processor where it is either used in construction or turned into other glass materials in Victoria.
You can dispose of your food organics into the communal food organics hubs where it will be recycled into compost and soil conditioner to be used in Victorian parks and grounds. For more information on how and why we should recycle our food waste please visit our Dispose of your FOGO page.
Glass bin locations
You can currently find communal glass recycling bins in seven locations across the City:
Albert Park: Little Finlay Reserve, Little Finlay Street
Port Melbourne: Buckingham Reserve, Garden City
South Melbourne: Corner of Park and Nelson roads
South Melbourne: Lyell Iffla Reserve, Dorcas Street
South Melbourne: Sol Green Reserve, Coventry Street
St Kilda East: Alma Park West
St Kilda West: H R Johnson Reserve, corner of Cowderoy Street and Canterbury Road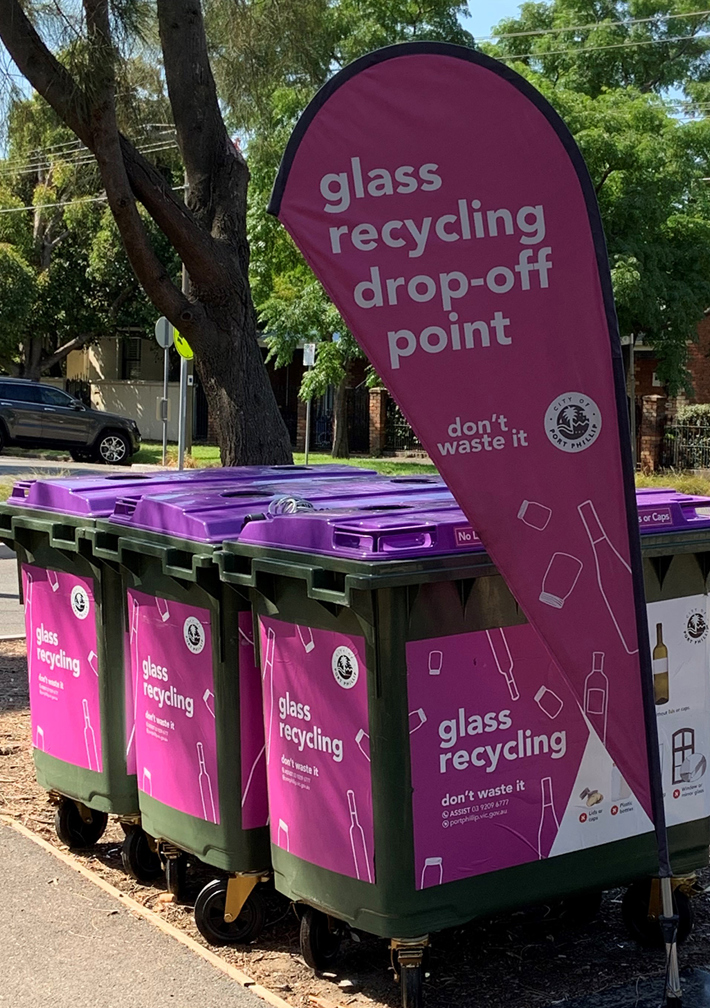 If you live near a communal glass recycling hub, place all recyclable materials except glass in your yellow-lidded household recycling bin, and your glass bottles and jars can be placed in the nearby communal bins. This will allow more space in your yellow-lidded recycling bin and will help us maximise recycling. There won't be any changes to general household recycling bin collections.
Food organics hub locations
You can drop your food organics into one of the bins at our communal food organics recycling hubs. There are currently seven hubs in local parks and reserves, with more to come from July 2023:
How to recycle glass
Before taking your glass bottles and jars to the communal bins, here are some tips to help you recycle right:
Empty and rinse glass bottles and jars
Remove lids and bottle caps and put them in your yellow-lidded household recycling bin
Labels don't need to be removed from bottles and jars
Place all recycling materials loose in the bin - never bag your recycling.
It's vital to recycle right so that the right materials go in the right bin.
Why separate glass
Glass can shatter and break up when mixed with other recyclables. Broken glass contaminates the other materials like paper, cardboard and plastic, making them harder to recycle. We're separating glass to improve the quality of our recycling, and to support a local market specifically for glass to be recycled into high quality new products.
Kerbside trial
In 2020, we ran an eight-month kerbside glass recycling trial. The results of this trial will help inform the rollout of recycling programs in the future. Read about our glass recycling trial.
Contact us
If you need further help or have questions about glass recycling, please call us via ASSIST on 03 9209 6777 or log a request via Online Services.