Visitor parking permits
Handy for parking visitor vehicles, company cars or cars on loan in permit zones. Find out who can get one and how to use it.
Residents can apply for a visitor permit so that guests, company cars or vehicles on loan can park in permit zones and green timed zones in front of residential properties. It can only be used to visit the residential property that it is linked to.
Applying for a visitor permit
Using a visitor parking permit
Display the permit clearly on the passenger side of the front windscreen of the visiting vehicle.
With a visitor permit you can park:
in designated permit zones (in the street or area listed on the permit)
without time limits in time-restricted areas (of 30+ minutes).
The permit cannot be used in clearways, no stopping, loading zones, and any other red sign restrictions.
Permits are only valid when used to visit an eligible residential property and are not valid when used for commercial purposes.
Please note: Visitor parking permits cannot be used to park a truck, trailer, motorcycle, bus, coach, towable caravan, vehicle over 7.5m in length or vehicle with a Gross Vehicle Mass (GVM) greater than 4.5 tonnes.  Permits are considered invalid if displayed on any of these vehicles.
Area-based visitor permit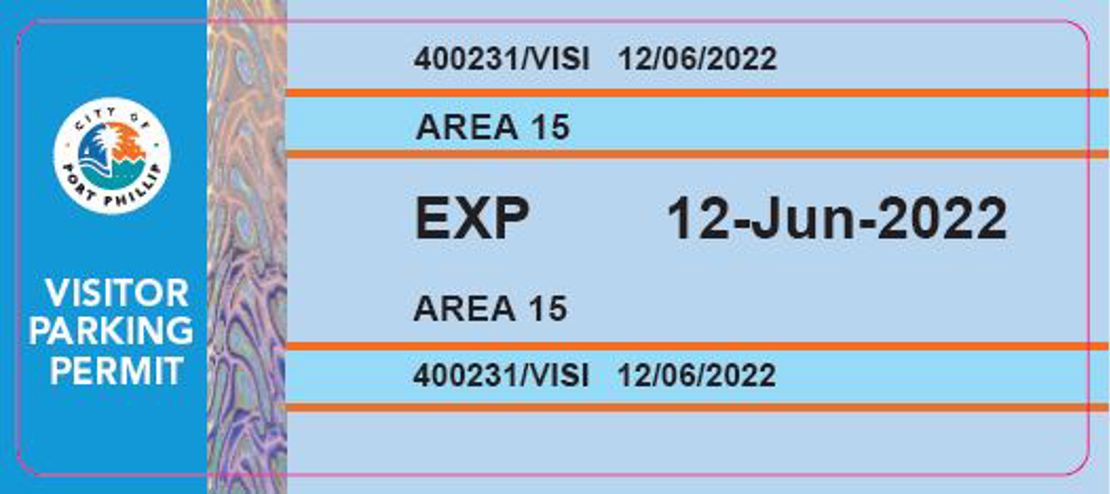 This permit type lists the:
permit number
area you can park in
date the permit expires.
Don't copy, reproduce or tamper with your permit. If we think a parking permit is being misused, we may ask Victoria Police to investigate it as a criminal offence.