New and replacement public toilets
We're building two new accessible public toilets at Fitzroy Street, St Kilda and Waterfront Place, Port Melbourne. We are also replacing the existing Exeloo at Shakespeare Grove St Kilda and the fire damaged facilities at Alma Park with new sustainable toilets.
Clean, safe and accessible public toilets play a major role in the liveability of our City for residents and visitors. Public toilets, particularly near high-activity places such as public transport, parks, playgrounds, sports grounds and the foreshore encourage locals and visitors to spend more time in our public spaces.
Well-located public toilets can boost footfall and encourage people to spend a longer period in shopping precincts. This is invaluable to our traders who are continuing to recover from the economic impacts of COVID-19. The new toilets are in line with recommendations from Council's Public Toilet Plan 2013-23 and the locations were selected after a thorough review and in consultation with key stakeholders where required. We believe these locations are optimal for their contribution to a sustainable, accessible, equitable community important to the functioning of our City.
Locations
Council's Public Toilet Plan 2013-23 identified Waterfront Place and Fitzroy St as busy, vibrant precincts where public toilet provision was lacking and we have identified key, feasible locations where public toilets would best serve the community in a safe, accessible and sustainable way. Additionally, we are replacing the existing Exeloo at Shakespeare Grove / O'Donnell gardens with new modular, accessible amenities, and rebuilding the Alma Park toilets which recently sustained fire damage:
Fitzroy Street, St Kilda
Update: Council is aware that there are concerns about this project. A petition outlining the concerns and requesting to stop the project proceeding was tabled at the June 15 Council meeting, along with a full Officers report in response.
Councillors noted the petition and the comments made by community members on the night. After considering the proposed design and management actions that will be undertaken to mitigate the risks highlighted, voted to continue with the project.
The resolution was as follows:
That Council resolves to pursue Option 1 and delegates to the Chief Executive Officer implementation of this option:
Option 1: proceed with construction of a new public toilet within Albert Park in the currently selected location and to seek relevant approvals, including any required planning approvals for underground service connections and development of land management options, with delegation to the CEO of up to $300,000 additional expenditure on the project to account for likely additional costs that will be incurred for underground services connections to be funded from savings in the public toilet program.
In the event that those permissions are not forthcoming, the CEO is to bring the matter back to Council for further consideration. While the approvals are being sought, the CEO or delegate is to undertake further discussions with Parks Victoria within the next two to three months to see if the toilet block can be moved slightly further north including in the nature strip along Fitzroy Street
An independent Crime Prevention through Environmental Design (CPTED) assessor will also be engaged to provide any further recommendations that can be undertaken to further reduce the likelihood of anti-social behaviour occurring in this location.
The next steps of the project are to commence the permit application process with external authorities for the underground service connection works.
A full copy of the Officers report is available.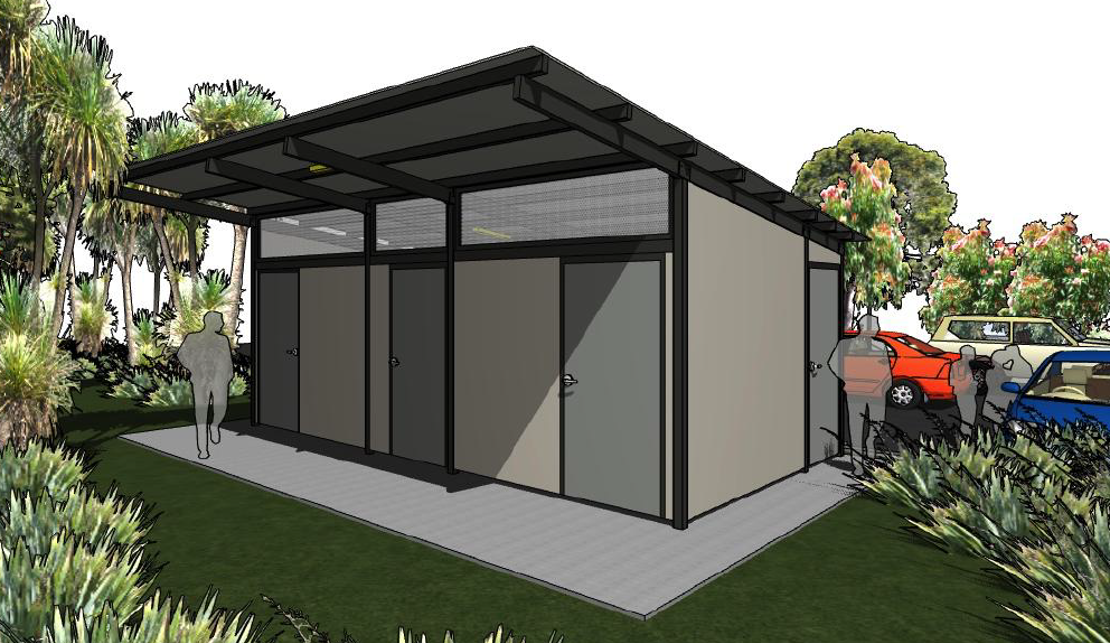 Over the years, Council tried to respond to the lack of public toilets in the busy Fitzroy Street shopping area. Ultimately, Council was unable to find a suitable location.
Council renewed its search in 2017 through targeted consultation with internal and external stakeholders to understand the issues experienced in Fitzroy Street, gauge sentiment and provide input on the preferred location.
Several potential locations were identified from the engagement, though at the time, all had disadvantages. A feasibility assessment of all seven sites in 2018 considered site issues, site gradient, visibility and surveillance, ease of access or proximity to activity areas, location of underground and overhead services, and the works that would be required to facilitate construction.
Following this extensive assessment, the only suitable location satisfying all criteria was Albert Park at the northern end of Fitzroy Street. As Parks Victoria operates Albert Park, we had to negotiate a location and enter into a formal agreement to build a public toilet in this area. The agreed site was proposed by Parks Victoria as their preferred option, with no others within the park boundary accepted. Parks Victoria and Council are currently completing the final agreement.
The approved methodology for this project is a design and construct approach where Council has engaged a contractor with modifiable standard public toilets designs to complete the project. The designs will be added to this page once finalised and approved. Construction will start soon after.
The toilets are modular and will be pre-fabricated off-site to minimise construction activity and disruption.
Shakespeare Grove, St Kilda
In response to community concerns regarding the safety and cleanliness of the Exeloo at Shakespeare Grove, we are replacing this toilet with a modern, accessible modular design which incorporates crime prevention through environmental design (CPTED) elements. This will assist in alleviating some of the anti-social behaviour often identified in this space.
This busy location is adjacent to O'Donnell Gardens, near The Vineyard Restaurant and the Luna Park precinct. A new public toilet will encourage people to remain longer in this thriving public space.
Removal of the existing Exeloo is scheduled for late April. While the Exeloo is being replaced there will be four portable toilets onsite for visitors to use.
Waterfront Place, Port Melbourne
Waterfront Place is a thriving, busy precinct. Council currently has a lease arrangement in place with a local business owner for public toilet provision at the rear of the tram terminus, however these toilets are often difficult to locate and access, particularly for those with reduced mobility.
New public toilets will cater to high demand for public toilets during daylight hours and increased visitation once Cruise Ships start to return. The location will free up local businesses who experience frequent public use of their facilities due to the lack of public toilets in the area. The new location is more centrally located with higher visibility from the tram stop, car park and Bay Trail and will provide easier access to cater to our community.
Alma Park, St Kilda East
The toilets at Alma Park were damaged by fire. Assessment by Council and its insurers have written off the building and it requires a full reconstruction. The remaining building has been demolished to ensure the safety of park users.
The public toilets provided much needed amenity for the busy park, from community members and sporting groups. We have installed temporary toilets until new toilets are constructed to maintain the required service levels.
Next steps
All four toilets are currently in the design phase with construction expected to commence later this financial year. Once design drawings are available we will upload these to give you an idea of the look and feel of the new amenities. We will also update the next steps and timing on this webpage as details become available.
We will improve community benefit through improved safety accessibility, sustainability and convenience. Our community will benefit through:
improved safety in line with the Crime Prevention through Environmental Design (CPTED) principles
improved accessibility by adhering to current Disability Discrimination Act (DDA) standards
improved environmental sustainability through the use of water and energy efficient fixtures and fittings
improved convenience of our public toilet facilities.
Public safety
Antisocial behaviour is more likely to occur in public toilets with minimal public surveillance. We are designing our toilets in line with crime prevention principles. Previously, public toilet facilities were intentionally out of view, often attracting antisocial behaviours and crime. The location and design of our toilets ensure buildings or landscape features do not obscure the view of the public toilet.
To mitigate antisocial behaviour, our public toilets will be well lit using as much natural light as possible in addition to energy efficient artificial lights at the facilities. The facilities will be highly visible with direct access to public areas.
Accessibility
Older public toilet designs fall short of accessibility standards. In many cases, access to the facility is difficult, ramps are at incorrect gradients, entrance doorways are too narrow, fixtures and fittings are placed at inappropriate heights and internal circulation areas are insufficient.
Our new design will ensure accessible pathways, internal manoeuvrability for wheelchair users and accessible fixtures and fittings.
Sustainability
In line with our commitment to sustainable design, our new public toilets will consider water resources, energy efficiency, indoor environment, waste management, urban ecology, and materials selection in the design and construction of the facilities. As a result, fixtures and fittings used in the new toilets will meet or exceed water and energy efficiency standards.
Construction
Construction is anticipated to begin in April 2022 to be completed by July 2022. Impact will be minimal during construction. There may be some minor noise at times.
Get the latest news straight to your inbox
Divercity brings you the latest City news, what's on, service updates and local exclusives, such as discounts and freebies.
To keep up to date with news about your City and Council, sign up now.