Middle Park beach renourishment
The City of Port Phillip is working with the Department of Environment, Land, Water and Planning (DELWP) to renourish Middle Park Beach between Mills and Langridge streets.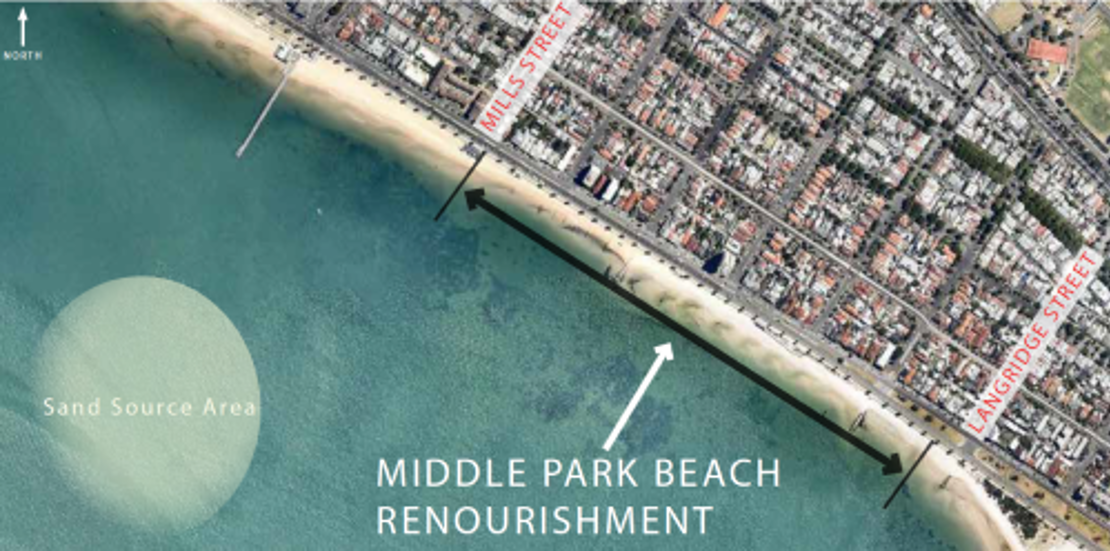 Location
Middle Park Beach, between Mills and Langridge streets
Cost
Funded by Department of Environment Land Water and Planning (DELWP) through a Deed of Grant
Why are we doing this?
Like many of our City's beaches, Middle Park Beach is artificially made and requires ongoing sand replacement. Climate change speeds up erosion and regular renourishment campaigns are required. Previous works were completed in 2016 and 2008.
Beach conditions are currently fine, but Council is trying to be proactive by doing works before a severe storm, which would dramatically decrease beach width. Once complete, renourishment will offer some protection to the beach from weather events.
The impact
Project works are proposed to start July 2020 during winter and be completed in spring 2020 prior to the summer peak, subject to favourable weather and conditions. Work will take place during the cooler months to mitigate public safety risks.
Fencing and barriers will be installed to limit public access into the construction site. A fenced construction compound will be set-up for larger equipment including the sand dredge, booster pump and bulldozer.
Sections of the beach will be closed in stages to minimise disruption to the public. The contractor will work 24 hours a day, seven days a week. Allowing the contractor to work to this schedule will result in fewer delays and less impact to the community.
During night works, effective noise barriers will be in place. Pumping of sand will be allowed but no mechanical spreading of the sand.
The works have been designed and engineered by independent coastal engineers to increase the beach area and minimise coastal erosion. A dredge will be used to recover sand 750 metres offshore and pump it back onto the beach. This will build the beach to an initial width of about 35 metres at high tide.
Objectives
Once completed, the renourishment is expected to:
increase beach width
improve recreational amenity for the whole community
provide a buffer from storm damage on the surrounding area, including the heritage beach shelter, Sandbar Café, the bluestone wall and the Bay Trail.
Partnerships
A competitive public tender process in partnership with the Victorian Government was advertised in February 2020 with a contractor appointed in June 2020. The successful contractor is MC Dredging and Port Development Pty Ltd.
The renourishment of Middle Park Beach is managed by the City of Port Phillip and funded by DELWP through a Deed of Grant.
Dredging
The works involve dredging 37,000 cubic metres of sand, which will be spread out to create a larger beach profile.
The dredged sand will be darker in colour and may smell at first because of naturally occurring organics being exposed to the air. Within a few days, the new sand will bleach from sunlight exposure, wave action and the ongoing tidal cycle to match the existing naturally bleached beach sand.
Frequently asked questions (FAQs)