Reimagine Designs
Reimagine presents six creative, public art installations located across the City, created by local designers, artists and creatives.
Call to Peace by Nina Sanadze
The project invites members of the community to come together to a safe place to experience the beauty and humanity of others through art, even if their views are not shared. 
The installation is designed as a kind of a public theatre for grassroots performances, gatherings, workshops, rehearsals, jamming, meeting, talking and just being together. A place to make a wish for peace. You can also tie a ribbon with a message to the sculpture, like a wishing tree.
Location: 258 Coventry Street, South Melbourne
Read more: Call to Peace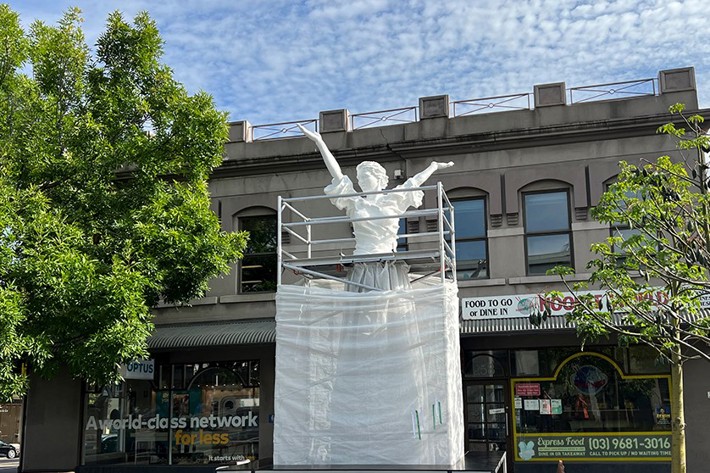 Drift by Ying-Lan Dann
Drift is an artwork that you can sit on and interact with. It has been commissioned through the City of Port Phillip's 'Re-imagine' Design Competition 2021 - 2022. It references the 'drifting' edge of the bay due to rising sea levels and the 1955 art and design theory of 'derive' (drift) that encouraged citizens to interact with the city. The work aims to create visual impact, conversations, social space, and awareness of rising sea waters within The City of Port Phillip and surrounds. The design approach grew from a fictional project 'prologue', written by the artist and set in 2098. In the story, a tidal surge deposits ocean debris from the bay onto the foreshore, creating assemblages of urban furniture. This was translated into the installation of 100 inflatable buoys. The buoys, which travelled deflated from Norway, via sea, are inflated and located in clusters of soft furniture along the Bay Trail. Clusters are held together by marine cordage and lightly 'moored' into position. As well as evoking ocean drift, the buoys used as the primary material, invite consideration of global trade and transit, originating in Norway and travelling via sea to Melbourne. They are pumped with compressed air, which may have been in the atmosphere for 6 million years. Take a seat, let them buoy you.
Location: Drift is located at three sites along the on the foreshores at Port Melbourne, Albert Park and Point Ormond, Elwood.
Read more: Ying-Lan Dann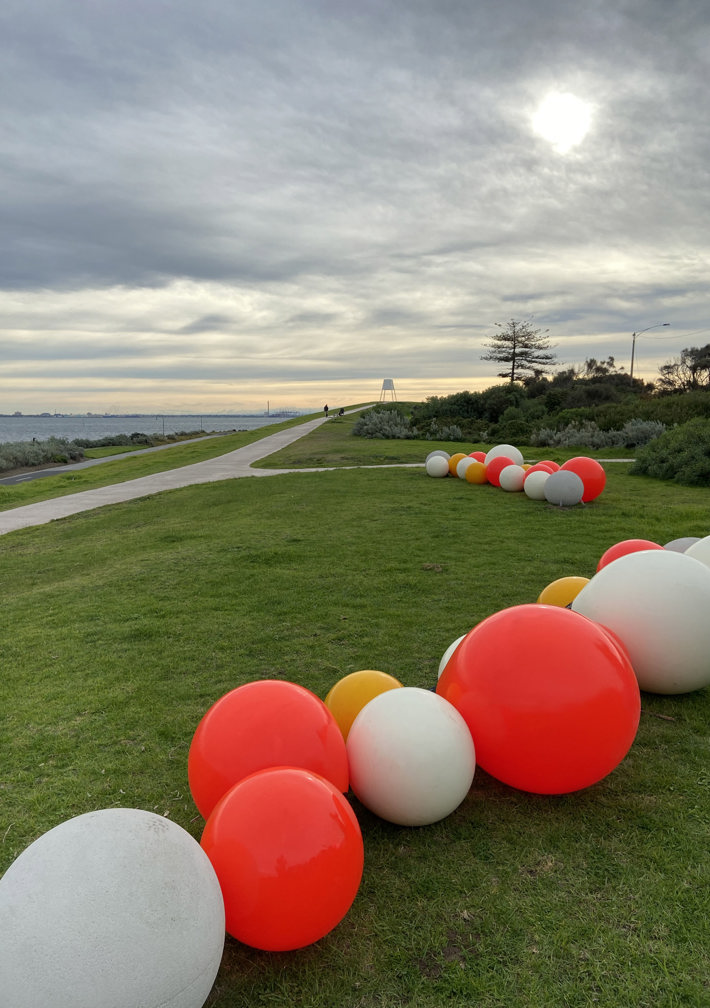 Fairy by Jonathan Leahey
This celebrates the smallest species of penguin - eudyptula minor, or Little Penguin, an aquatic flightless bird that lives on St Kilda's foreshore. Fairy will be anything but a "little". Standing at 500 cm and fabricated from 3 mm corten steel, Fairy will be an icon and place maker day and night, inspired by one of St Kilda's least transient populations.
Fairy will be one of the grandest, if not the biggest, penguin on the planet. This work is created in conjunction with the Bay Keeper, Neil Blake OAM, and is an origami representation of a Little Penguin.
Location: St Kilda Sea Baths, Jacka Boulevard, St Kilda
Read more: Jonathan Leahey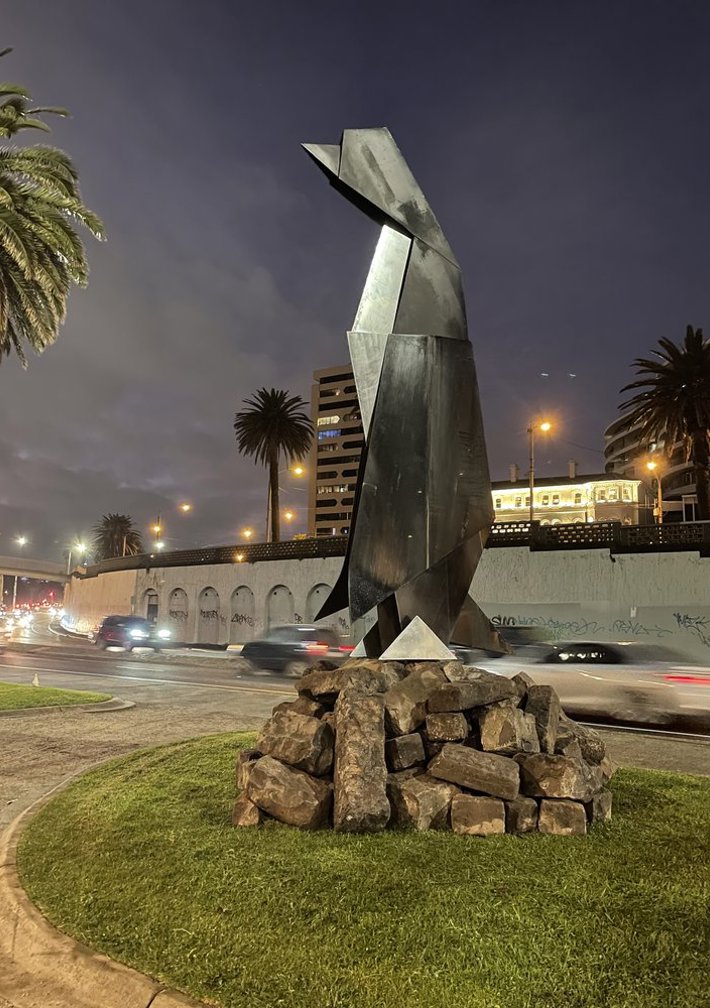 Screening by OCTA
The work explores society's fascination with self-image, the price of participating in online communities and ways in which interactions with screens impact our sense of self, relationships with others, and place in the material world.
The installation is an immersive passageway clad with a large digital screen and two-way mirror, charging the surrounding public space with a sense of intrigue and event. At night, the installation serves as an apparatus for media content created by visual artists. Moments of surprise occur when motion sensors embedded within the structure of the installation are triggered, causing cameras to capture and replay live footage of passersby.
Location: Cleve Gardens, Fitzroy St, St Kilda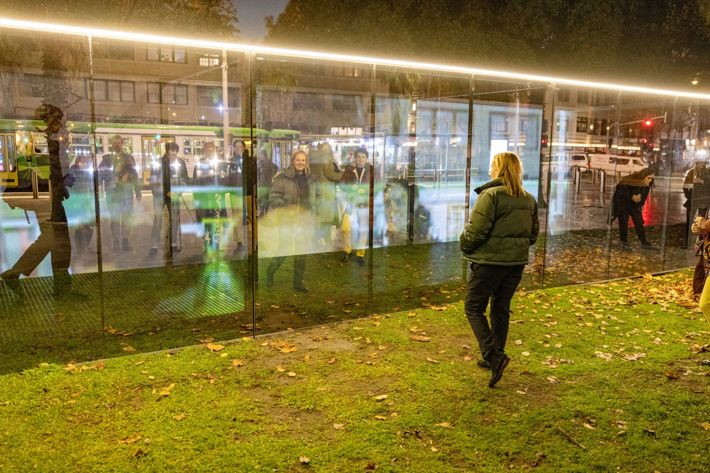 Shifting Sand by EXCX and LIAN
The installation is themed by the concerns of storm flooding and coastline erosion that are becoming more frequent and severe due to climate change. These issues are particularly urgent in low-lying areas such as South Melbourne, Fishermans Bend and City of Port Phillip.
The installation is made of a thousand sandbags dyed in shades of blue that form 'floodlines' that predicted storm surge scenarios would produce by the year 2100 (Kirrip Park is only one meter above sea level). A flood level indicator in the centre acts as an iconic plaque, a literal beacon to bring in the curious and concerned.
Just like sandbags themselves, the installation is a messenger of crisis and emergency, but more importantly it is a messenger of collective action and cooperation.
Location: Kirrip Park, South Melbourne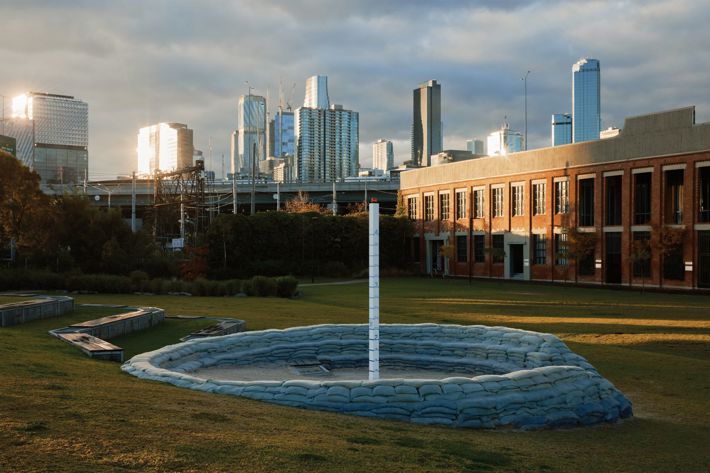 W(e)aves of Colour
by
Village Well and Slow Art Collective
Similar to yarn bombing, a popular form of activism with the overall goal of covering urban objects with yarn, Village Well and Slow Art Collective aim to make a public statement by changing people's way of looking at existing spaces by adding layers of colour and intricacies in a truly collaborative process.
The installation delivers a colourful and dynamic overhead art installation that provides a virtual roof to Acland Plaza, effectively integrating a playful sense of human scale and creating an inviting and 'instagrammable' place for resting, meeting and eating.
Location: Acland Street, St Kilda
Read more: W(e)aves of Colour