'Trash Bags On Tour' turns litter into a tourism opportunity
In 2050 it is predicted there will be more plastic in our oceans than fish.
Well not if Kathryn Farrell has anything to do with it.
After walking along South Melbourne beaches and picking up rubbish, she started a Facebook group, Trash bags, in 2018 with friend, Melissa Tuliranta, to invite others to join her for beach clean-ups and share information on ocean waste.
"A beach walk is something so beautiful and for it to be tainted by plastic got my goat," says Kathryn.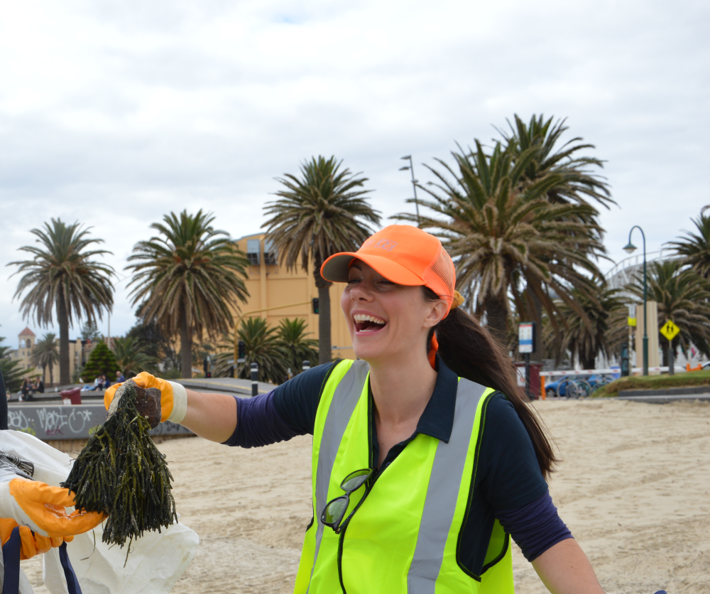 The Facebook group quickly reached 800 people so using their background in tourism, they launched Trash Bags on Tour, offering day trips to stunning beach locations such as the Great Ocean Road and Phillip Island. The day includes a clean-up activity and zero-waste talk to raise awareness of the impact of what we buy and how to reduce personal waste. They had run nine tours before COVID-19 restrictions put things on hold.
"People want to tour an area but they want to choose a tour that highlights the eco component, and giving back to the local community is really appealing. We've also had a lot of locals join because they want to get out and do something fun and worthwhile," says Kathryn.
As well as day trips, Trash Bags on Tour run local community events and corporate events.
People who join them for clean-up events are always surprised by how much rubbish is collected on a beach.
"The last event we ran had 18 people, and in under an hour they'd collected 20 kilos of rubbish. You might walk along the beach and not notice the rubbish, but when you see it all piled together, you're shocked," says Kathryn.
All the rubbish collected at an event is counted and weighed and the data submitted to the Tangaroa Blue Foundation's Australian Marine Debris Initiative (AMDI) database to help measure and understand the problem of marine debris.
What rubbish do they find the most?
"Cigarette butts. Soft plastics such as wrappers from chips or glad wrap. Food packaging. Plastic is light and travels easily. Nurdles and microplastics are a big and emerging problem, especially along Port Phillip Bay. Nurdles are the plastic resin pellets that are melted down to form plastic items. They are about the size of a grain of rice," says Kathryn.
A report on microplastics in Port Phillip Bay by Sustainability Victoria found most of the litter on the bay's beaches comes from waste we produce every day in our city and suburbs, not from beachgoers, with up to 95% transported through Melbourne's stormwater system. 
Monthly trawls of rubbish conducted by the Port Phillip Ecocentre showed that almost 80% of the rubbish entering the bay was microplastics.
"We follow the motto of the Tangaroa Blue Foundation: 'If all we ever do is clean up, that's all we'll ever do'. So we include a zero waste discussion and encourage more sustainable consumer choices at our events to try and address the problem at the source," says Kathryn.
Trash bags on Tour was given a huge boost after Kathryn completed the City of Port Phillip's Environmental Leaders program, a 10-week leadership course followed by ongoing mentoring and support from Council's Sustainability Officers.
"The program helped us hone our mission and be clear about why we are doing what we're doing and therefore we were able to acquire our non-profit status" says Kathryn.
It was during the Environmental Leaders program that Kathryn met Marta Arrojo, a Spanish expat who now calls St Kilda home. Marta's experience as brand manager for international companies such as L'Oréal is now helping the Trash Bags on Tour team spread the word on the work they're doing to prevent rubbish ending up in our oceans. They're set to launch a new website soon and have a series of events and tours in the pipeline ready to go once restrictions ease.
"Being part of the Environmental Leaders program was an incredible experience. I found people that were in the same situation as I was, caring about the same things and sharing the same concerns. It helped me start doing things for good," says Marta.  
Find out more about Trash Bags on Tour and future events on Facebook. 
Register your interest to join the Environmental Leaders program.