Local school leads on climate action
Albert Park Primary School is on a mission to be carbon neutral by 2022.
The school has partnered with Albert Park Kindergarten and Albert Park College to form the Wurru Wurru Sustainable Schools Alliance which will be Australia's first carbon neutral learning community. The Principals of the three educational institutions have signed a memorandum of understanding to mutually pursue environmental responsibility.
City of Port Phillip is helping them achieve their goals by providing advice and support from Sustainability officer, Brett Hedger. They're in good hands with Brett who helped Albert Park Kindergarten become Australia's first carbon neutral kindergarten in 2019. One of the first things Brett recommended to the school was a facilitated environmental vision session which resulted in the following statement:
"To empower students to lead by example and to collaborate with their communities in taking action on climate change to achieve a zero carbon Australia. We aim to respect the example of First Nations peoples, to be kind and fair to the natural world and to embed responsible energy, waste, water, and biodiversity practices in our daily activities".
Stationery supplies reduced by 50%
One of the school's achievements on the path to carbon neutrality includes reducing stationery supplies purchased by 50% for the 2021 school year. Inspired by Grade 3 student, James, who rescued school supplies from the school bin to donate to the local kindergarten when he was only in Prep (read more about James and the giant reuse), they decided to audit school supplies that were going home and potentially going in the bin. They realised in previous years, every student would receive a new set of supplies so by the end of grade 6, they would end up with 7 pencil cases, 7 scissors, 7 rulers, 14 plastic folders etc. Now they've introduced a new stationery policy which provides one set for the duration of Prep to Grade 6.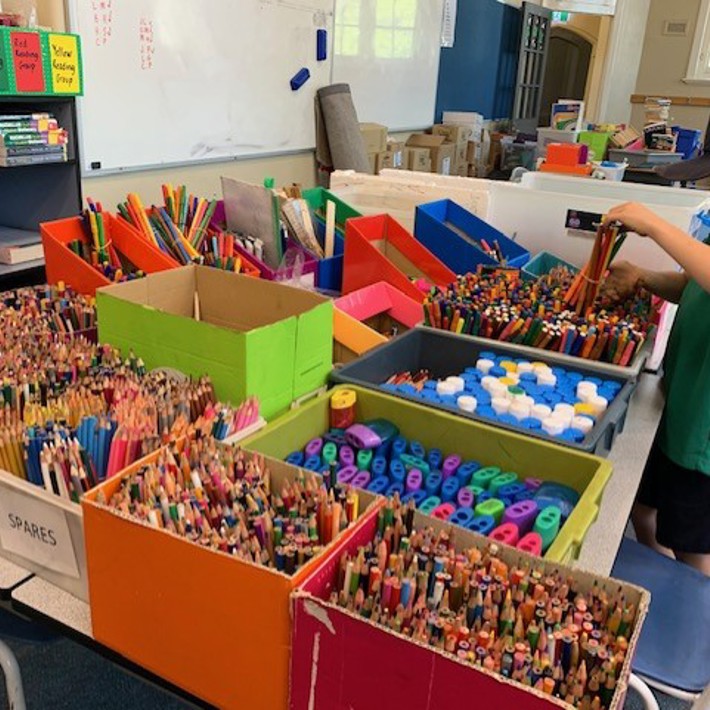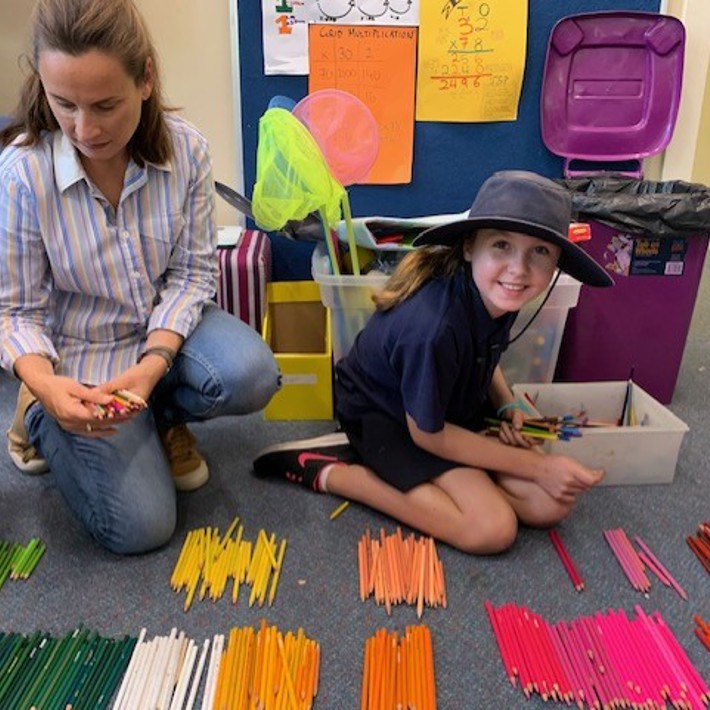 Summer Switch Off campaign saves energy and cuts carbon emissions
On the final day of term last year, students united with staff to identify items that should be shut down for summer, including lights, fridges, air-conditioners, TVs, computers and printers.
By doing this, Albert Park Primary reduced its electricity consumption by 9.3% against the same period last year. They saved 426 kg of carbon from entering the atmosphere and $102 on their electricity bill.

But they know they can do more. So over the next couple of months, the Grade 6 Sustainability Leaders will be working with Brett to conduct an electricity audit across the school to understand the electricity consumption at the school, identify areas that can be improved and then develop an action plan to reduce energy consumption which will reduce their carbon footprint and also save the school money.
How can Council help me?
City of Port Phillip's sustainability team is available to support any community group, business or resident in Port Phillip wanting to reduce their impact on the planet.
We facilitate vision workshops to help organisations develop a sustainability vision and action plan to start implementing.
We also coordinate the Sustainable Business Network bringing over 250 businesses of all sizes together to exchange ideas, hear about new programs, and discover sustainability innovations. Membership of the network is free for businesses within the City of Port Phillip. 
Get in touch if there's something you need advice on by emailing enviro@portphillip.vic.gov.au or take a look at our sustainability programs at www.portphillip.vic.gov.au/sustainability