Elwood centre tackles loneliness and sustainability in new programs
The Neighbourhood Learning Centre's new initiatives bring people together and help the environment at the same time.
Loneliness and the environment were two topics that hit a nerve with the local Elwood community whenever the team at Elwood St Kilda Neighbourhood Learning Centre (ESNLC) posted on their Facebook page.
So they decided to launch two new initiatives that would bring people together and help the environment at the same time- a kitchen garden, growing edibles, natives and medicinal plants, and a kitchen library, allowing community members to borrow kitchen gadgets and utensils rather than having to buy and store them at home.
Both the garden and kitchen library are due to open in the coming months.
A garden crew of volunteers is already busy learning, planning and planting. City of Port Phillip provided a grant for the garden beds and composts through the Smart Solutions for Community Services program run by the Sustainability department.
The garden will be communal, allowing people to drop in and contribute as it suits them, and can be found in the courtyard of the centre. If you're a regular visitor to the centre, perhaps for one of their yoga or language classes, you will notice the garden bloom and herb packs and produce for sale once the garden is up and running.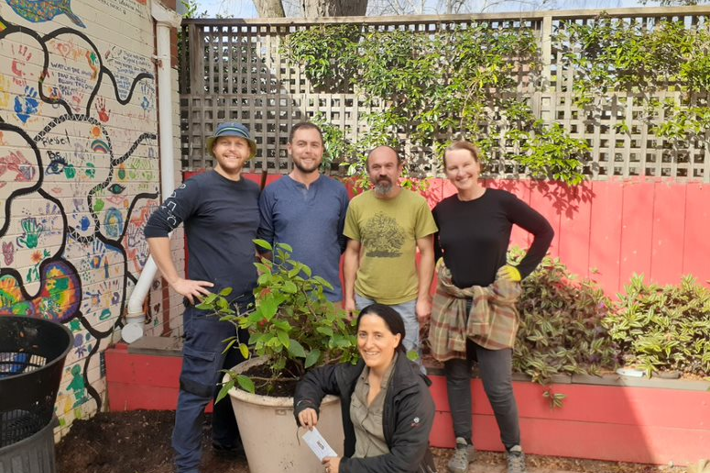 The centre has a strong sustainability focus, driven largely by Education Coordinator, Melanie Norton, who completed City of Port Phillip's Environmental Leaders program which equips locals to implement sustainability projects in the community.
The Elwood Toy Library is hosted at the centre, allowing local families to borrow toys instead of buy them.
Popular sustainable living workshops are held onsite, teaching skills such as making beeswax wraps, making natural skincare and cleaning products, and creating mud bricks for earthen buildings.
Kids party packs are also available to hire with reusable plates, cups, bowls, cake stands and decorations. (Just pick up the equipment and return it after the party – they'll even do the washing up!)  Adult party packs coming soon!
At the back of the centre, Poet's garden is a communal garden where members can manage their own plot.
Want to get involved?
The neighbourhood house is looking for people who would like to be drop-in gardeners or even help manage the garden. They're also inviting plant donations of edible or medicinal plants.
The kitchen library needs volunteers to help out a few hours a week during borrowing time.
If you're time poor, the centre accepts donations or sponsorship from individuals or businesses on their website or phone 03 9531 1954.
To get involved, email volunteering@esnlc.com.au
About Elwood St Kilda Neighbourhood Learning Centre
The centre is located at 87 Tennyson St, Elwood. It is owned by the City of Port Phillip and a peppercorn rent is paid for use of the building. The house runs programs in languages, technology, health, arts and crafts, music among other initiatives.
Visit their website or follow them on Facebook to find out more.