THRIVE creative grants
In the City of Port Phillip, the arts are an essential part of the cultural diversity, creativity and prosperity of our communities.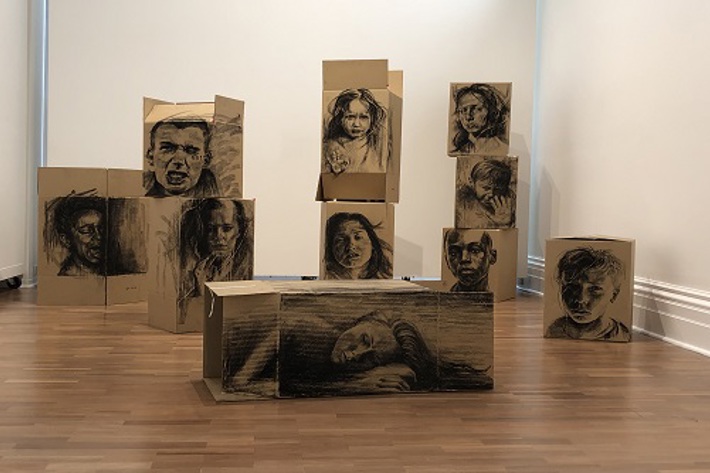 In the City of Port Phillip, the arts are an essential part of the cultural diversity, creativity and prosperity of our communities.
In 2020 and 2021 Council partnered with Arts Access Victoria to offer THRIVE Creative Grants to assist and encourage Victorian Deaf and Disabled artists to:
develop professional skills and realise creative projects in the City of Port Phillip
increase the diversity of individuals accessing Council's arts programs and processes.
This two-year funding program was designed to increase the diversity of people who access the Council's programs. The program will not be offered ongoing.
The grant funded art projects to be presented as part of an event in the Emerald Hill precinct in July 2021. The Emerald Hill precinct is the civic and cultural area surrounding the South Melbourne Town Hall.
More information about the event will be available soon on both the Council and Arts Access Victoria websites.
2021 THRIVE grant successful recipients
Hugh McNabb
Project Title: The Crow of Emerald Hill
A site-specific, semi-improvised roving performance utilising Hugh's puppet character 'The Crow' as a central character. Through the character of 'The Crow', Hugh will bring his unique perspective to festival attendees by reminding them to have fun and play, encouraging them to be thoughtful with their waste and inspiring them to explore the buildings and surroundings of Emerald Hill in unique and playful ways.
Ryan New
Project Title: Sick
SICK is a collaboration between Ryan New and one of Australia's foremost provocateurs of choreography Phillip Adams. SICK is a dance and performance that makes you think about the meaning of the word in unexpected Ways. We are planning to make an impact with SICK by presenting a unique gathering at Temperance Hall for the Thrive Festival.
Daniel Coulson
Project Title: Outside The Box
Daniel will work with residents in supported independent living, who will provide their time and share their story while he does their portrait on a cardboard box. The boxes will have a QR code linked to the audio of that person, giving them the platform to share their story and interests.
Dave Houston
Project Title: Mind Beatz - Different 4 Life
Full-On Theatre and the Bongo Brothers will create a new work in collaboration with Port Phillip Special School students. An exciting live music-theatre performance designed for young audiences and families using World Music, comedy, storytelling and animation to explore different modes of learning.
Sabina Knox
Project Title: Ruby Hill, an Alternative History
Sabina will use artificial intelligence (AI) to create a script about the history of the Emerald Hill Precinct and The City of Port Phillip. The project includes a fictional history using this information, a zine, a poster and workshops with the local community.
Inaugural 2020 THRIVE grant successful recipients
Samsara Dunston
Project Title: The Emerald Hill Coffee Palace - podcast
A small series of short-form podcasts episodes inspired by the history of Temperance Hall on Napier Street. Episodes will revolve around people and places impacted by the Hall and play on the concept of coffee palaces which were an outcome of the Temperance movement.
Heidi Everett
Project Title: Qualia - short film
Qualia will bring together four disabled/deaf performance artists and an experienced diverse community filmmaker to devise and create a short documentary/drama film conveying under-represented human rights aberrations in our public psych wards.
Joe Monteleone
Project Title: Iconic Landmarks of the Emerald Hill precinct - visual art
A series of six prints showcasing and celebrating iconic landmarks of the Emerald Hill precinct - such as the South Melbourne Market and other historic buildings - while also helping the wider public to gain awareness of the deafblind world.
Adam Knapper
Project Title: Public Portraits - public art
An exhibition of portraits (drawings) on the windows of Arts Access Victoria at 222 Bank Street South Melbourne. The Portrait Project will involve drawing portraits of deaf and disabled artists who live in the City of Port Phillip.
COVID-19
Council Officers and Arts Access Victoria staff will be working closely with THRIVE recipients to support the delivery of projects, including project amendments if required.
Contact
For more information contact the THRIVE program manager via our Online Services or phone 03 9209 6777.