Winter in Port Phillip
Don't let the cold weather stop you from enjoying everything Port Phillip has to offer. Rug up and get out and about to make the most of our wonderful City this winter.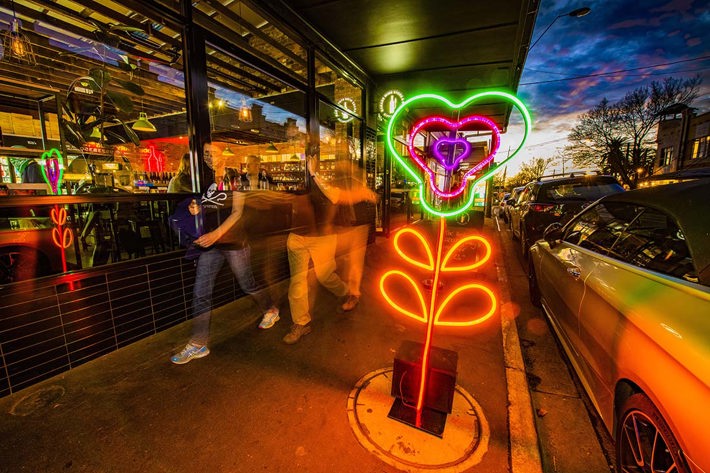 No matter the time of year, the City of Port Phillip is a great place for a day or night out.
Port Phillip businesses, hospitality, arts and entertainment venues have everything you need for your enjoyment and entertainment throughout the winter season. And this winter, more than ever, our diverse local businesses and arts organisations need and deserve our support.
Discover our unique neighbourhoods
Explore Port Phillip and get the most out of the unique precincts, shopping villages and diverse experiences available across our City.
Outdoor dining is a sweet treat this winter
Our Dessert First outdoor dining program is part of the winter fun here in Port Phillip.
Find out what's on
Visit What's On St Kilda for the latest event listings for arts, entertainment and events across Port Phillip.
Find some inspiration to Live Love Local this winter.
Glowing light displays
Where: Acland Plaza, St Kilda
When: Fridays to Sundays from 4 pm until Sunday 8 August
Winter family fun
We've installed a colourful pop-up play space for the kids at Dundas Place Reserve, Albert Park with lots of seating too. It will be there until December.
Galleries and museums
There is always a fantastic variety of exhibitions on display.
Here are a few locations to get you started:
Live music
Seeking some great gigs this winter?
Here are a few venues to get you started:
Theatre
Here are some locations to get you started:
And for the film lovers, The Astor Theatre in St Kilda has some great film programming and a beautiful building to explore. Built in the 1930s, it is the last single screen cinema of its kind in continuous operation in Melbourne.
Markets
Farmers' markets
Guided walks
Self-guided walks
Choose a self-guided walking trail brochure from the list below and take a journey into the cultural heritage, past and present of the Port Phillip area.
Mirka's St Kilda celebrates the local artistic and community legacy of Mirka Mora