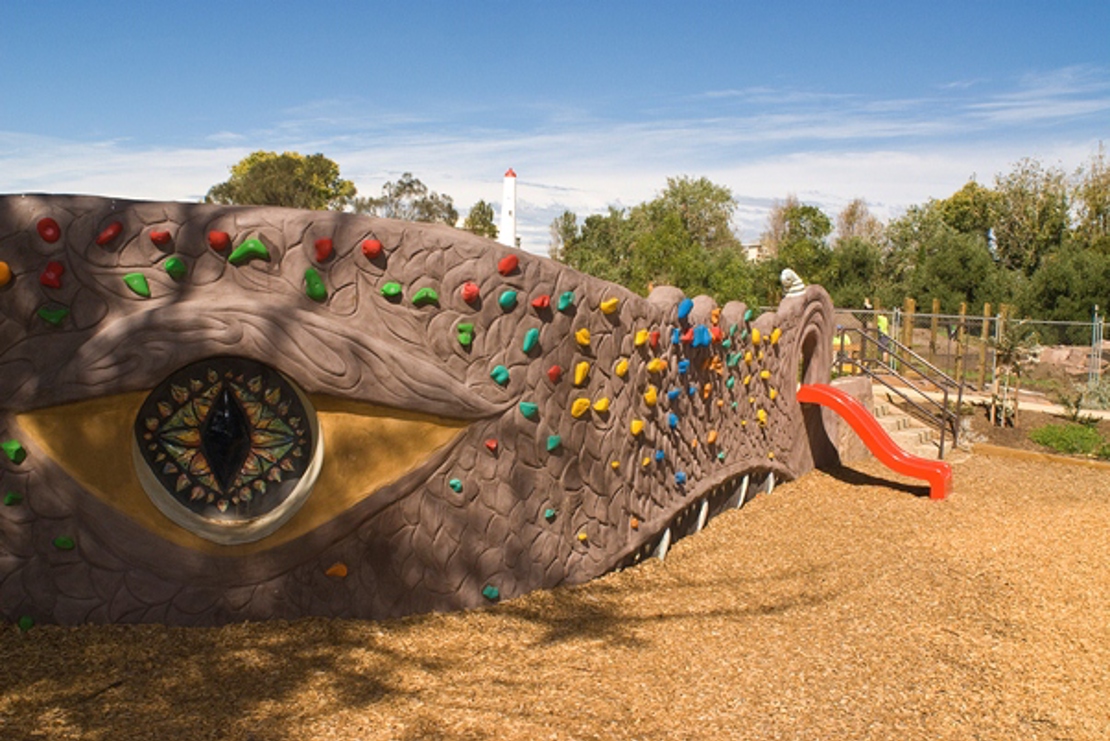 Other information
The flying fox is available to use during daylight hours and is locked overnight
Large grassy reserve
Please note that there are no toilets located at the reserve
Location
Beacon Road and Crichton Avenue, Port Melbourne
Access
Google Map Garden City Reserve
Melways Reference
56 K2
Garden City Reserve is bordered by Beacon Rd, Crichton Avenue, Tucker Avenue , Clark Street and Poolman Street in Port Melbourne. Park paths entering the reserve are accessible from all street frontages. 
Getting there
Bus
The 250 and 251 bus directly pass Garden City Reserve via Howe Pde, Tucker Ave, Poolman St and Swallow St. Bus routes 232, 235, 238, 606 travel along Normanby Rd.
The free Port Phillip community bus directly passes Garden City Reserve via Beacon Rd and Tucker avenue. For more information visit the Port Phillip Community Bus webpage. 
Tram Light Rail
109. Walk along Swallow Street west toward Garden City Reserve.
Parking
Ample parking is available the surrounding streets and roads, check signs for local restrictions.
Playground
The playground is located in the corner section bordered by Beacon Rd, Crichton Avenue and Tucker Avenue.
It features a large play structure formed to resemble a dragon that includes:
a small slide
rock climbing wall
ornate bench seating
peek-a-boo holes
art elements such as the mosaic eye.
In addition, the playground also features:
a flying fox
tea cup spinner
chain walking bridge
natural play elements such as logs and rocks to clamber on
dual swing set for older kids
junior swing set for toddlers
all abilities bird nest swing
wide wave slide
toadstool wooden play sculptures.
The Sandridge Trugo Club and Hobson's Bay Dog Obedience Club are located in the eastern section of the reserve.
Restrictions
Dogs are permitted off leash though no dogs are permitted with 5 metres of the playground, penalties apply.
The flying fox is available to use during daylight hours and locked in the evenings.
Parking restrictions may apply in the surrounding roads and streets, please check the parking signs for full details or call ASSIST on 03 9209 6777 for specific parking information.
About
Garden City Reserve is one of the largest recreational parks in Port Melbourne. It can accommodate a range of activities including cycling, soccer, dog walking, trugo games, picnics and adventurous play in the playground. An extensive shared path network facilitates easy passage across the reserve and a sustainable lighting system illuminates the paths at night.
Hundreds of native and exotic tree plantings and numerous indigenous garden beds add to the aesthetic character and biodiversity of the reserve and attract a large number of birds.
Contact Park Services
Email: assist@portphillip.vic.gov.au 
Phone: 03 9209 6777
Post: Park Services, City of Port Phillip, Private Bag No. 3, St Kilda PO VIC 3182