Thelma Edgar
Thelma remembers her mother regularly took packages of food and other comforts to the training camps.
Growing up in Montague during the 1930s and 1940s was a time of community and of neighbourhood solidarity. Thelma Edgar (nee Nixon) was one of seven sisters who grew up in Gladstone Street at this time. All the Nixon girls went to Nott Street Primary School, like many of the children in the area, and then to J. H. Boyd Domestic College.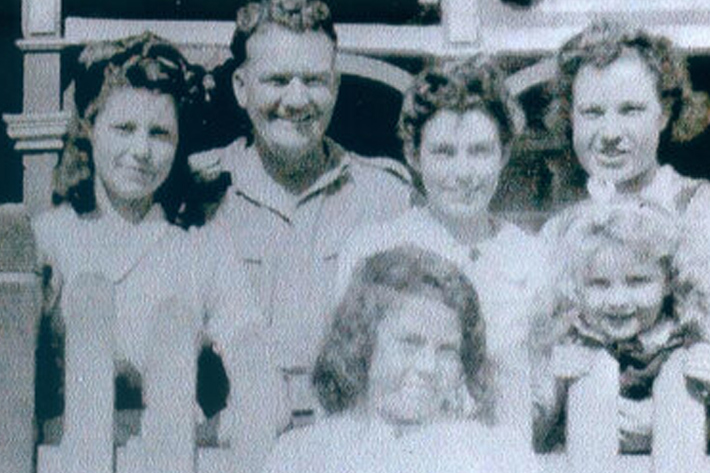 Despite the fact that her parents and the other adults in the community tried not to talk about the war much in front of children, Thelma and her sisters knew what was going on. "You heard people talking, they thought you weren't listening, but you knew. Sometimes we didn't understand it all and we'd get frightened."
The community of Montague stuck together and supported each other. Thelma remembers that, even though residents weren't supposed to know when the troop trains were leaving Melbourne for Port Melbourne, the Montague community always knew and would put a log on the tracks to delay the train if there were local men on board. This was so they had a chance to say one last goodbye to their loved ones.
There were lots of local men from Montague who enlisted. "There was always a party put on for those who were leaving", recalls Thelma.
"We would sing soldiers' songs, It's a Long Way to Tipperary, songs like that. Sometimes someone would pretend they were leaving so they could have an excuse for a party! They were sad times, but a bit of fun as well."
Thelma's mother would put on a pot of pea soup every Sunday and any of the local men who came home from the training camp at Puckapunyal would drop by and visit. Thelma remembers her mother also regularly took packages of food and other comforts to the camps.
By 1942, all the children at Nott Street Primary School were given a haversack and advised to pack a change of clothes, toiletries and pyjamas, so they would be ready in case they were evacuated to the country at a moment's notice. Fortunately, things never reached that stage. But it was still hard living through the war years.
Thelma remembers, "when you saw the telegram boy coming down the road, you knew it was bad news." Many of the young men from Montague who left to fight in the war never returned home. "I can't forget the war years and what it was like for me as a child. It's always on my mind."