Thelma Aimers
Thelma finished school and began working at the Victoria Barracks for the army typing pool, then the war records unit adding captions to photographs.
Thelma was born in 1926. As a young girl, she lived with her grandparents for a few years, who owned the Acland Laundry on Acland Street. Living with them above the shop, Thelma spent much of her childhood in St Kilda.
She remembers attending the opening of the St Kilda Sea Baths in 1931 and going to Luna Park to celebrate the 25th anniversary of its opening in 1937.
When World War Two started, Thelma was in her last years of school. Her father enlisted and went to serve in the Middle East, while Thelma and her stepmother remained in Malvern.
At the end of 1940, on the day that Australia declared it was at war with Japan, Thelma fell in love.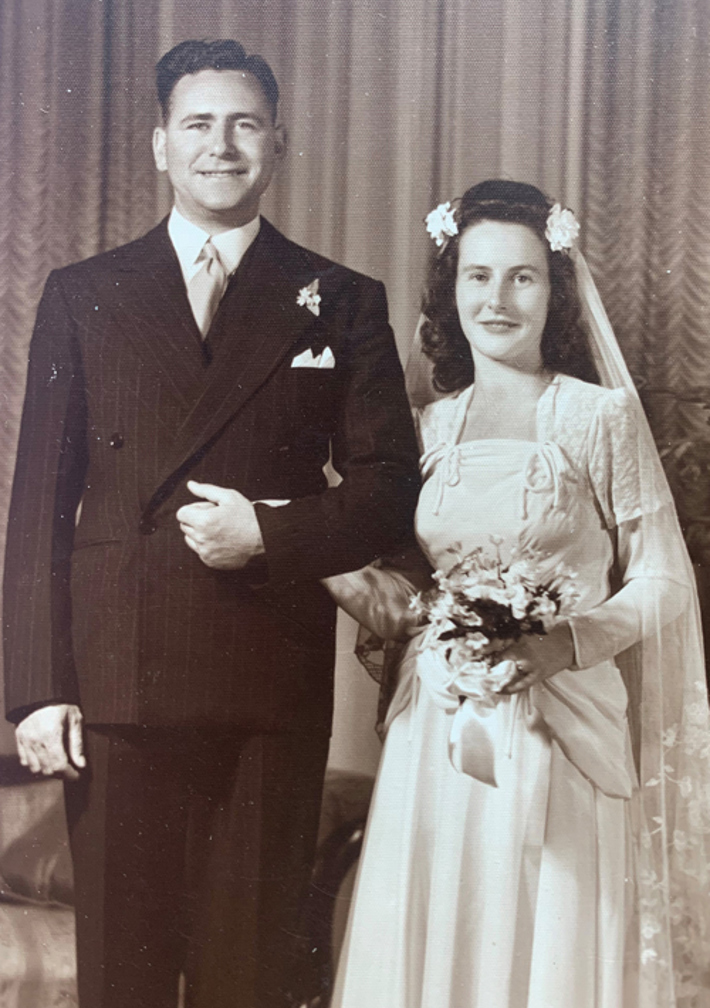 She was on the Weeroona paddle steamer crossing Port Phillip Bay from Sorrento to Queenscliff with her stepmother and a family friend she'd known for many years, Jack Aimers. Jack was 20 and training as an engineer at Point Nepean.
"I remember that day. We were crossing Port Phillip Bay, Jack was with us, having come from training grounds at Point Nepean. The band that was playing on the paddle steamer suddenly stopped and the captain announced that Australia was at war with Japan. That was the day we fell in love."
As it did to so many lives, the war interrupted the beginning of Thelma and Jack's life together. After the bombing of Pearl Harbour, Jack enlisted in the Australian Imperial Force (AIF) and served as a commander until the end of the war.
Thelma finished school and began working at the Victoria Barracks for the army typing pool in 1942. Thelma was just 15 when she started work. While there was a lot of demand for workers during the war, getting a job in the army was competitive. At Victoria Barracks Thelma worked on various assignments. From there she moved to a building on Queens Road where she worked in the war records unit adding captions to photographs.
When the army took over Wesley College she moved there to work. It was while Thelma was working at Wesley College that three women were murdered in Melbourne by a man the newspapers called the 'brownout strangler'.
"The thought of a Japanese invasion was a vague concept and hard to really think about. But knowing there was a murderer killing women in Albert Park and near where I lived, was very real and I was very uneasy about that. Because we worked long hours and would often leave after dark, the army would organise cars or taxis to take us home during that time."
Thelma moved into a house just off St Kilda Junction and spent a lot of her social time with friends in Fitzroy Street or at the West St Kilda Life Saving Club, where there was a dance every Saturday night. St Kilda was a popular entertainment area during the war with St Moritz ice skating rink, the Palais Theatre, Luna Park, the Palais de Danse and the Galleon coffee lounge.
Whenever she was invited to dinner parties during the war years, Thelma was always happy to take along one of her meat ration coupons for the host. "I didn't much like meat, so I was always happy to be able to share my meat ration coupons."
Thelma and Jack wrote letters to each other during the war and when he went missing in action, Thelma remembers going around to his parents' home and comforting his mother. Jack, luckily, was found.