Judy Thompson
At school Judy practised drills in the muddy, mosquito-filled trenches dug all around the hockey ground.
When Judy was eight years old, her father enlisted and left to join the war effort.
In 1940, her mother moved the family, which included Judy and her two older brothers, from their home in Malvern to a flat in Elwood to be closer to her best friend.
Her two older brothers eventually left for boarding school and later enlisted themselves. Being the youngest and still at school, Judy remained in Elwood with her mother until the end of the war. Judy remembers spending lots of time entertaining herself.
"I used to ride my bike everywhere and head down to the water quite often. I particularly recall spending lots of time hitting a tennis ball against the wall in the courtyard of our building."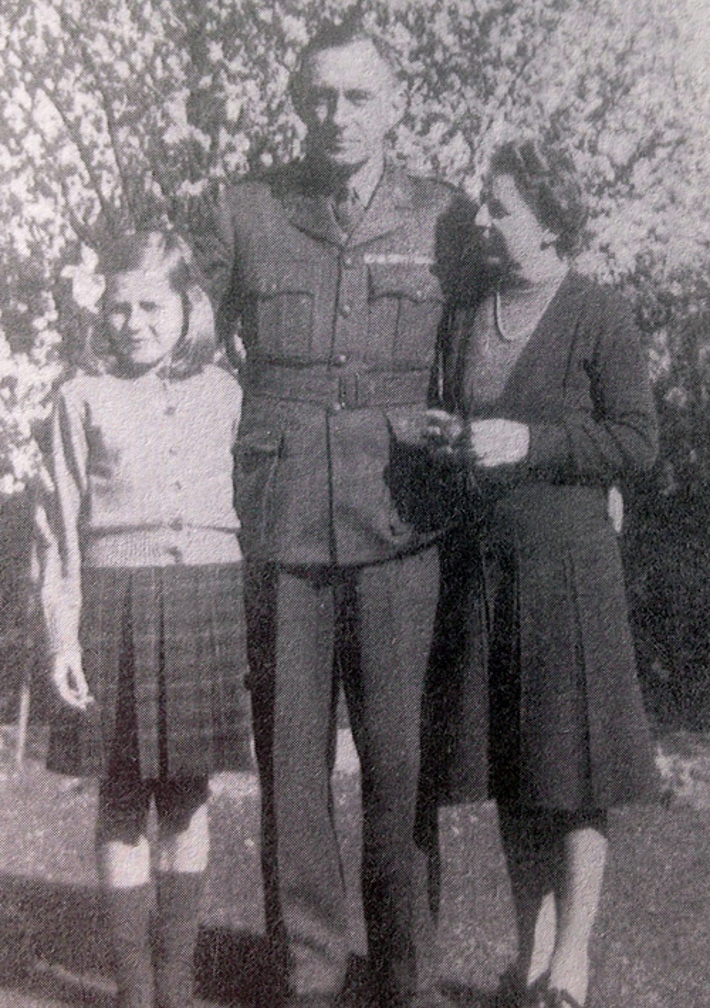 Judy's mother was heavily involved in the war effort and spent lots of time volunteering.
"I recall helping my mother with her First Aid and Home Nursing course, and winding bandages in the living room and even being a volunteer patient during training days, lying on the ground while Mother demonstrated bandaging techniques."
Judy saw her father once during the war, when he came back for a short visit, but he wrote to both her and her mother regularly. Judy particularly recalls her father constantly writing about how much he was looking forward to hearing her play a particular piece of music on the piano.
"I was really worried he would be disappointed if I couldn't play it, but I was much more interested in playing hockey than playing the piano!"
Food shortages and rationing affected everyone during the war years. Judy remembers her mother grew silverbeet in amongst the flowers around their flat.
At school Judy practised drills in the muddy, mosquito-filled trenches dug all around the hockey ground. She can remember one particular day when the whole school marched with backpacks on to the train station, preparing in the event that they might have to be evacuated. When talk of evacuating children to the countryside came up, Judy's aunt in Heidelberg offered to have Judy stay with her and her family. "I really didn't want to go", Judy recalls, "because my aunt made her kids do their homework on Saturday mornings!"
While she has no memory of being scared of a Japanese invasion, Judy definitely recalls being fearful of the American soldiers stationed in Albert Park after the brutal murders committed by the 'brownout strangler' Edward Leonski. "I remember walking home in the dark after hockey practice, waving my hockey stick around me."
The biggest scare that year, however, was not from an American solider but from her brother.
"I remember coming home from school one day and going into my room as normal, but suddenly I saw a pair of feet sticking out from under my bed. I ran screaming from the room, only to learn it was my brother home on leave playing a trick on me."
There was still fun to be had during the war years. Judy's mother had a car and Judy can remember on special occasions, such as birthdays, travelling with her aunts and grandmother to spend the day out in the bush. During the summer, Judy and her mother would often spend a few weeks with family friends on the Mornington Peninsula. Judy also recalls once, on a very special occasion, going out to dinner at a hotel in St Kilda with her mother and a family friend who was in the navy.
By the time the war ended, Judy was 14 years old.
"I remember that day. I was at school when the news came and we finished early, and my friends and I all caught the tram into the city to join the celebrations. Everyone was so excited and the city was crowded with people singing and cheering."