A handy guide to waste and recycling
Find out what items can and can't go in your waste and recycling bins, and what to do with other materials.
What can I put in my recycling bin
Paper and cardboard, bottles and jars, plastic containers, steel and aluminium cans and foil can all be recycled in your yellow recycling bin. For a detailed list of what can and can't go in your yellow recycling bin, visit Recycling Reset.
Many other materials can be recycled, but not in your household bin. Read on for information on the services available to help you recycle more and keep waste out of landfill.
We've created a poster to help you get your weekly recycling collection right. Download the Recycling poster (PDF 5.5 MB) to put in your apartment bin bay or share online.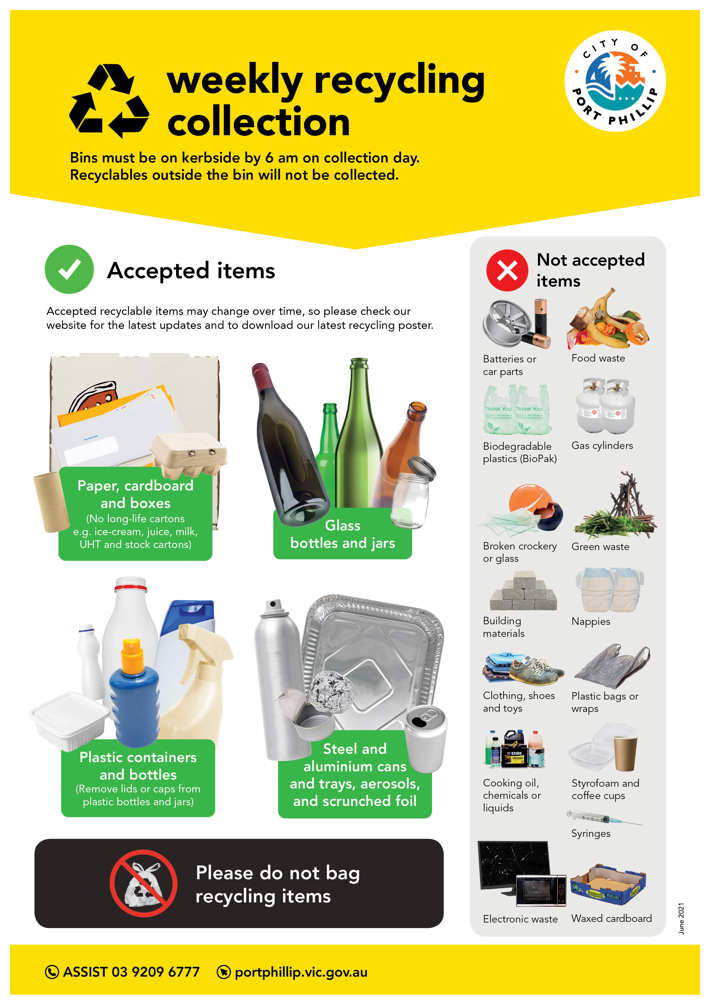 Electronic waste (e-waste)
E-waste is any item with a plug, battery or power cord that is no longer working or wanted. The valuable materials in e-waste are recyclable through dedicated recycling services. Find out what e-waste you can recyle at the resource recovery centre and depot.
Food and garden waste (FOGO)
The average household spends around $2,000 a year on food that ends up in landfill. There it breaks down into greenhouse gases. About 3 per cent of Australia's total greenhouse gas emissions comes from organic matter rotting in landfills. 
You can help reduce food and garden waste at home and in the community.
Hard rubbish and household chemicals
Along with accepting general household waste for disposal, there are materials and chemicals you can and can't dispose of at the resource recovery centre and depot.