A handy guide to waste and recycling
This page contains information on all your waste and recycling services, plus how to recycle things that can't go in your household recycling bin.
How can I recycle...?
Paper and cardboard, bottles and jars, plastic containers, steel and aluminium cans and foil can all be recycled in your yellow recycling bin. For a detailed list of what can and can't go in your yellow recycling bin, visit Recycling Reset.
Many other materials can be recycled, but not in your household bin. Read on for information on the services available to help you recycle more and keep waste out of landfill.
We've created a poster to help you get your weekly recycling collection right. Download the Recycling poster (PDF 219 KB) to put in your apartment bin bay or share online.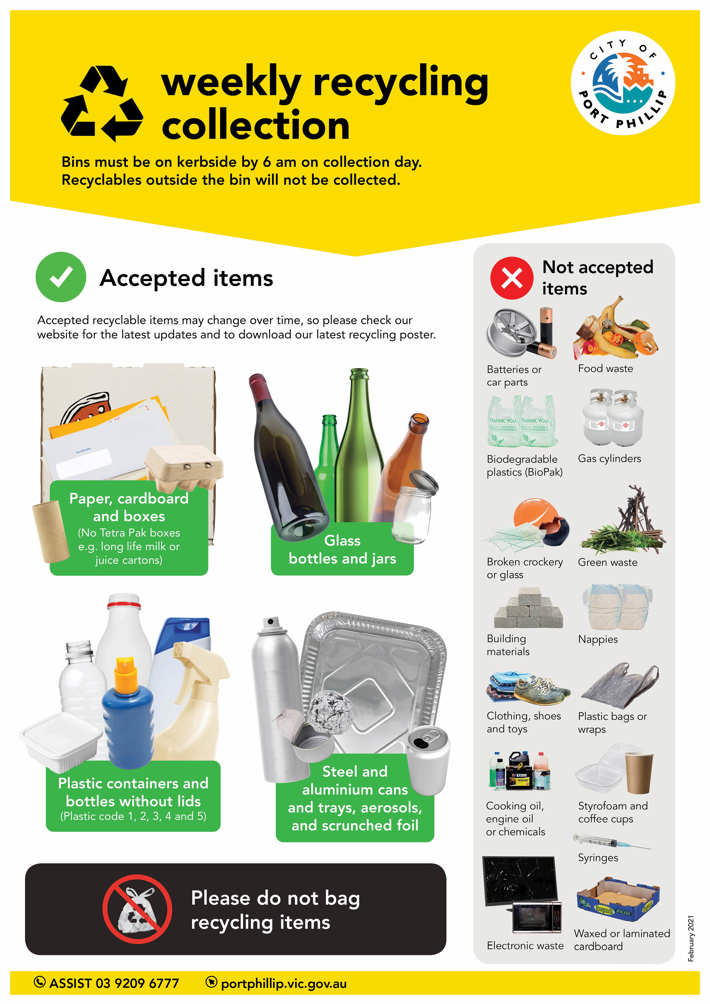 Electronic waste (e-waste)
Due to COVID-19 e-waste drop off points at Port Melbourne Library and St Kilda Library are unavailable until further notice.
E-waste is any item with a plug, battery or power cord that is no longer working or wanted. The valuable materials in electronic waste (e-waste) are recyclable through dedicated recycling services.
E-waste must be separated and disposed of separately from general waste and recycling. E-waste often contains hazardous material that must be treated to prevent air, land and water pollution. Changes to state law within Victoria on 1 July 2019 mean that e-waste is banned from landfill and can't be put into kerbside general waste or recycling bins.
You can read more about the ban on the Sustainability Victoria website.
Fortunately there are a range of services available for City of Port Phillip residents to recycle or dispose of e-waste responsibly. You can drop-off to the Resource Recovery Centre or by booking a hard waste collection.
Food and garden waste (FOGO)
FOGO stands for Food Organics and Garden Organics, or your food scraps and waste from the garden. Based on our 2019 waste audits, FOGO accounts for 46 per cent of our general waste bins at home. The average household spends around $2,000 a year on food that ends up in landfill. There it breaks down into greenhouse gases. About 3 per cent of Australia's total greenhouse gas emissions comes from organic matter rotting in landfills.
Why recycle food waste?
Composting breaks down food and garden organic waste  into reusable organic matter. Decomposition takes place through naturally occurring bacteria, fungi, worms, millipedes and other micro-organisms. There are many benefits of composting. It saves valuable landfill space, creates fertiliser for your garden and improves soil condition.
Organic waste releases harmful greenhouse gases as it breaks down in landfill. Using home composting systems successfully diverts organic waste from landfill, helping to reduce our impact on climate change.
Elwood FOGO trial
Council is trialling three new recycling services in different parts of the municipality. We are doing this to test new approaches with our community to support waste reduction, increase recycling and reduce contamination in kerbside bins. One of the trials we are introducing is a food organics and garden organics (FOGO) collection service for 500 households in Elwood. 
The FOGO trial will run for eight months. The first bin collection was 6 August 2020.
What are the benefits of a FOGO bin?
We recently conducted an audit in Elwood and found that 60 per cent of our household waste consists of FOGO materials. When these materials break down in landfill, they produce harmful greenhouse gases. If we collect these in a separate FOGO bin (or stream), we can recycle these materials into a commercial compost to be used on farmland and nurseries throughout Victoria.
Why was Elwood selected?
Elwood was selected for the trial as houses generally have both the space to store an extra 240 litre bin and gardens that will produce suitable material for collection.
The trial area is a roughly rectangular area bordered by Bluff Avenue and St Kilda Street (top to bottom) and from Glen Huntly Road and Ormond Road (even-numbered households only) to Ormond Esplanade as shown in the map on the right.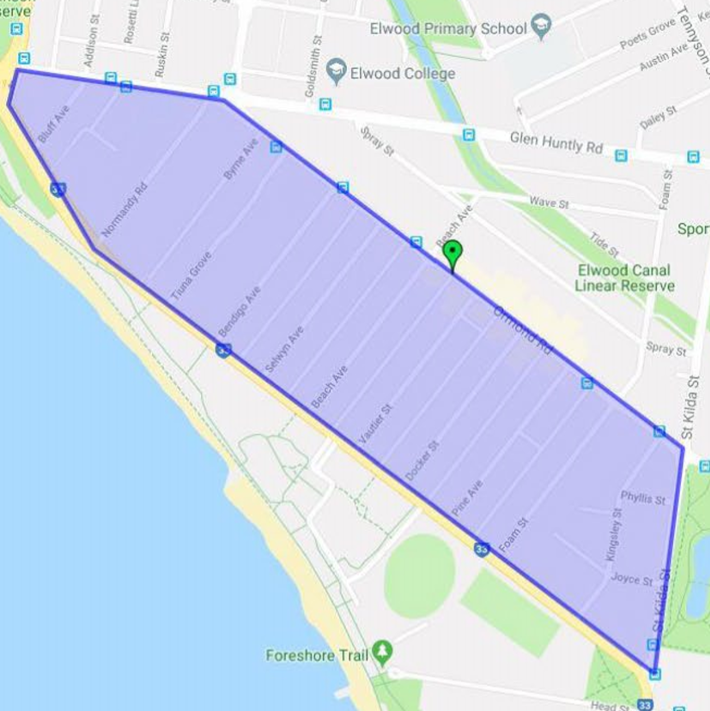 When is my FOGO bin collected?
The FOGO bin is collected fortnightly on a Thursday morning, beginning Thursday 6 August until Thursday 1 April 2021. You can download the full list of FOGO bin collection dates:
There is no change to your landfill and mixed recycling collection.
What materials can be collected in a FOGO bin?
The main acceptable and unacceptable items are listed on both the FOGO bin and the lid of the kitchen caddy. You can also check the full list of accepted items:
Not sure about an item? Email the Waste Futures team at dontwasteit@portphillip.vic.gov.au
What can I use to line my kitchen caddy?
Your kitchen caddy is designed to be used without a liner and can be hand washed our put in the dishwasher. We recommend emptying and washing your caddy every two to three days.
If you would like to use a liner, check out a handy link to make a newspaper bin liner. Don't forget you can put the newspaper liner in your FOGO bin too.
What happens to the collected FOGO materials?
View the FOGO flowchart (PDF 1.97 MB) or read the steps below.
Collection: FOGO materials are collected and taken to Suez's Organic Resource Recovery Facility in Epping.
Decontamination: Contamination is hand-removed – things that shouldn't be in the FOGO bin are taken out.
Shredding and stacking: FOGO materials are shredded then stacked into long piles called windrows, which are kept moist and turned regularly for 16 to 20 weeks.
Composting: These materials are composted at 50 to 70 degrees to destroy weeds and pathogens. Lab testing ensures the compost complies with standards.
Screening and grading: The composted FOGO is screened into required sizes. Different grades of compost are required for different applications.
End product: Your processed FOGO is ready for use! This compost is full of nutrients and used to rehabilitate land throughout Victoria.
Reducing food waste
Sustainability Victoria's Love Food Hate Waste reports that the average Victorian household spends $2,136 a year on food which they throw out.
We've created a weekly meal planner and shopping list (PDF 121 KB) to help you plan your meals before you shop for groceries. It's a proven way to reduce what you buy and what you throw out.
For more tips on smart shopping and food storage to reduce food waste, see the Love Food Hate Waste How to Save Food resources.
Household chemical disposal
Thanks to a joint partnership between the City of Port Phillip and Sustainability Victoria, residents can now drop off household paint, batteries and fluorescent lamps and compact fluorescent lamps (CFLs) free of charge at the Port Phillip Resource Recovery Centre.
Please visit the Resource Recovery Centre page for details.
What to do with household chemicals
Other materials
Residents can drop off many items for recycling at no charge at our South Melbourne Resource Recovery Centre. Council recycles many materials through our residential hard and green waste collection service.
Planet Ark's RecyclingNearYou is a comprehensive recycling information service. Find more information and drop-off locations for a wide range of items that can't be recycled in your kerbside recycling bin on the RecyclingNearYou website.