Tree planting and selection
Find out the many benefits provided by trees and vegetation and the proactive planting of trees the City of Port Phillip in nature strips, parks and reserves. Request a tree be planted, tree selection considerations and find out about street tree planting programs.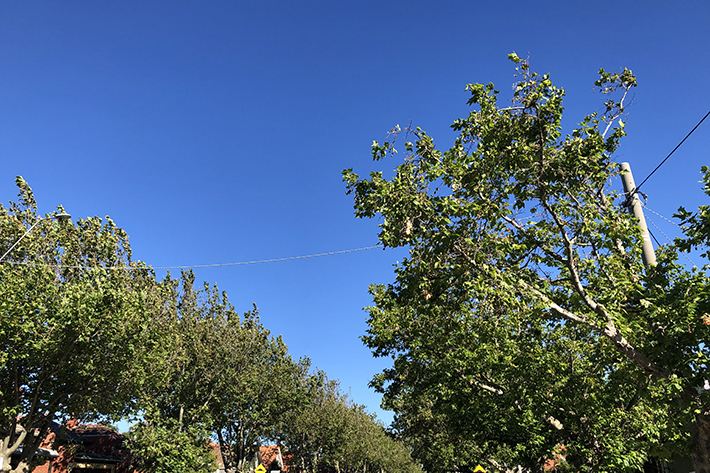 Trees and other vegetation in public and private spaces provide many benefits including:
shelter
shade
beauty
cleaner air
regulated temperature
reduced energy needs of nearby spaces
treating and cleaning stormwater
protecting and increasing the life of infrastructure
providing habitat.
We will proactively plant trees in nature strips, parks and reserves, and other Council owned and managed land to:
increase canopy cover to achieve a greener, cooler and more liveable city
increase the number of trees within our streets and other Council owned and managed land
preserve and enhance the local character of the distinct areas within the city
provide biological diversity.
For further information on the benefits of trees, see page 14 of the Greening Port Phillip strategy.
Request a tree be planted
To request for a street tree to be planted, please lodge your location and details using Online Services or the Snap Send Solve app.
Tree selection
There is no one perfect urban tree and no one perfect urban environment.
The urban environment is a varied collection of micro-climates and soil conditions, which can change dramatically within the space of a few metres.
As such, a site analysis of each major planting site will be conducted to allow for more appropriate tree species selections.
When selecting trees to plant in specific areas of our city, we consider:
the suitability of the tree for the site
the surrounding planting themes
adaptability to climate change.
The most successful strategy is to match the planting site limitations with the right tree.
Street tree planting programs
Street tree planting work involves three different programs within a street or street section:
In-fill planting: planting out with the same or similar species.
Partial renewal: removing some declining or inappropriate trees, and in-fill planting to reinforce a preferred tree species. This program may also involve the construction of new or improved planting sites, such as in-road planters or expanded sites in hard surfaces.
Renewal: removing most, if not all, inappropriate or declining street trees and replacing with appropriate species. This program could also incorporate the creation of new or improved planting sites.
Contact Park Services
Online: Online Services
Phone: 03 9209 6777
Post: Park Services, City of Port Phillip, Private Bag No. 3, St Kilda PO VIC 3182