Tree care tips
Find out about expected changes to our climate, the effects these changes will have on our trees and information on watering street trees, mulching and improving soil conditions.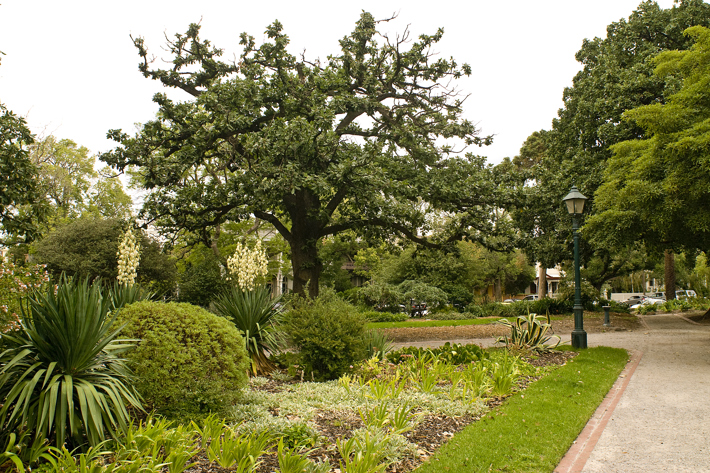 Climate change is expected to bring warmer, wetter winters, warmer drier summers and rates of fire and insect disturbance are expected to increase. In addition, these effects will interact with existing urban stresses such as air pollution, soil compaction and heat island effects.
As our climate progressively changes, our young and stressed trees will take longer to grow and will require more care to stabilise to local conditions and reach maturity.
You can make a difference, by adopting and watering a tree in your street or local area. Water, mulch and soil improvements will all help improve the health of your tree.
Alternatively, if you find a recently planted tree that looks stressed, please provide the location and details using Online Services, the Snap Send Solve app or calling ASSIST on 03 9209 6777.
Watering street trees
Trees depend heavily on water, and the use of grey water from baths, showers and washing machines (using biodegradable detergent) can help trees thrive.
It can be difficult to find an appropriate place for watering street trees. Large established trees have a root system that tends to be proportional with the tree's canopy. The edge of the canopy is known as the drip line. Tree-lovers are encouraged to water these trees on the drip line.
Recently planted trees have been fitted with a watering well. These watering wells allow the water within to penetrate the tree's root, as this is the most appropriate location for new trees to be watered.
Mulching
Applying mulch at the base of a tree will help retain soil moisture and improve the soil profile. Free mulch is available at the South Melbourne Resource Recovery Centre.
Improving soil conditions
Because urban areas are highly used spaces, compaction and poor soil conditions can restrict access to moisture. For large trees, we encourage residents to help break the soil profile up with a pitchfork in a small section of the nature strip. This provides an area where water can be applied with ease.
The size of this area can be as little or as large as you can manage. Mulching will help the tree to retain the moisture over the warmer months.
Contact Park Services
Online: Online Services
Phone: 03 9209 6777
Post: Park Services, City of Port Phillip, Private Bag No. 3, St Kilda PO VIC 3182