Transport and Port Phillip: MTF Forum
Information about the upcoming forum on the future of transport in Port Phillip. Members of all major parties will be there.
Join local members of parliament to discuss transport issues in Port Phillip.
Organised by the City of Port Phillip in  partnership with the Metropolitan Transport Forum. Free
About this event
Local transport issues such as a tram for Fishermans Bend, bike infrastructure, public transport improvements and congestion issues will be discussed at a special town hall forum in September.
Organised in partnership with the Metropolitan Transport Forum, the event will involve local members of parliament from the three major parties discussing their commitments on transport within the City of Port Phillip.
Chaired by City of Port Phillip Mayor Marcus Pearl, the panel of invited speakers includes:
Nina Taylor, MLC Southern Metropolitan (Labor)
David Davis, MLC Southern Metropolitan(Liberal)
Sam Hibbins MLA Prahran (Greens)
After short presentations there will be an opportunity for the audience to direct questions at the panel.
Seats are limited, so please book early to guarantee your place.
The event will also be livestreamed. Please select the livestream ticket option and you will be emailed a link shortly before the event starts.
A video recording will also be available at a later date.
Suggest a question: Use this link to suggest a question. These will be used by the chairperson if time allows.
Accessibility and Adjustment Request: We are committed to making the event as accessible as possible. If you have accessibility requirements or require an adjustment to participate in this event, please contact us before 31 August. Use this link to make an access request or please email gday@edunity.com.au or call 0418345829
Book tickets here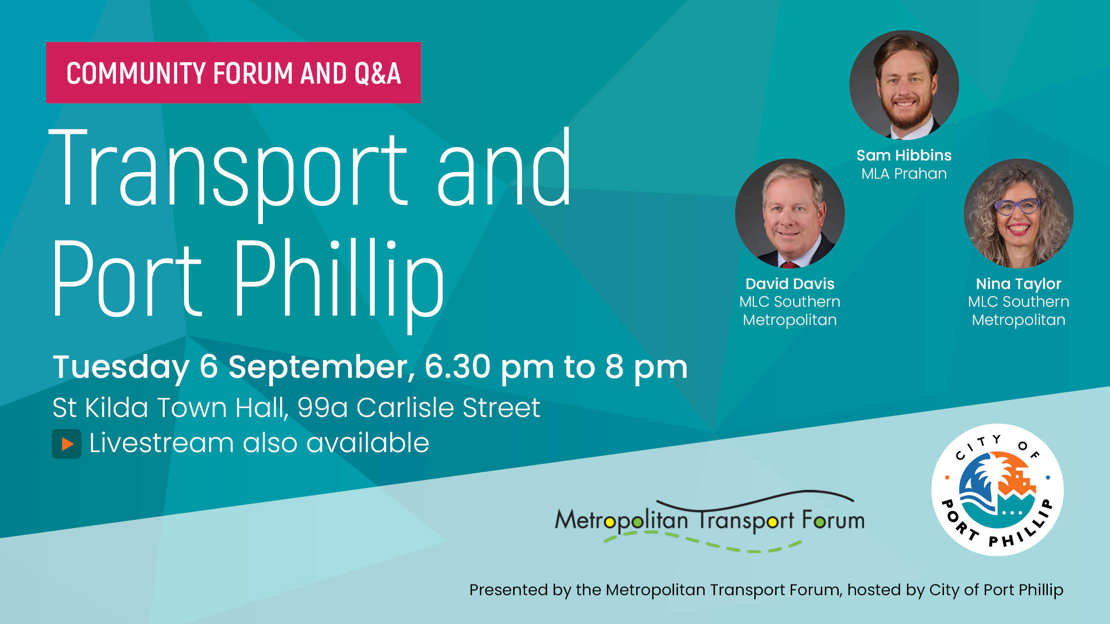 Council State Advocacy Transport Priorities
Council has identified the following transport projects as our advocacy priorities for the State election.