Ninna's vision for an edible city
Published 20 March 2023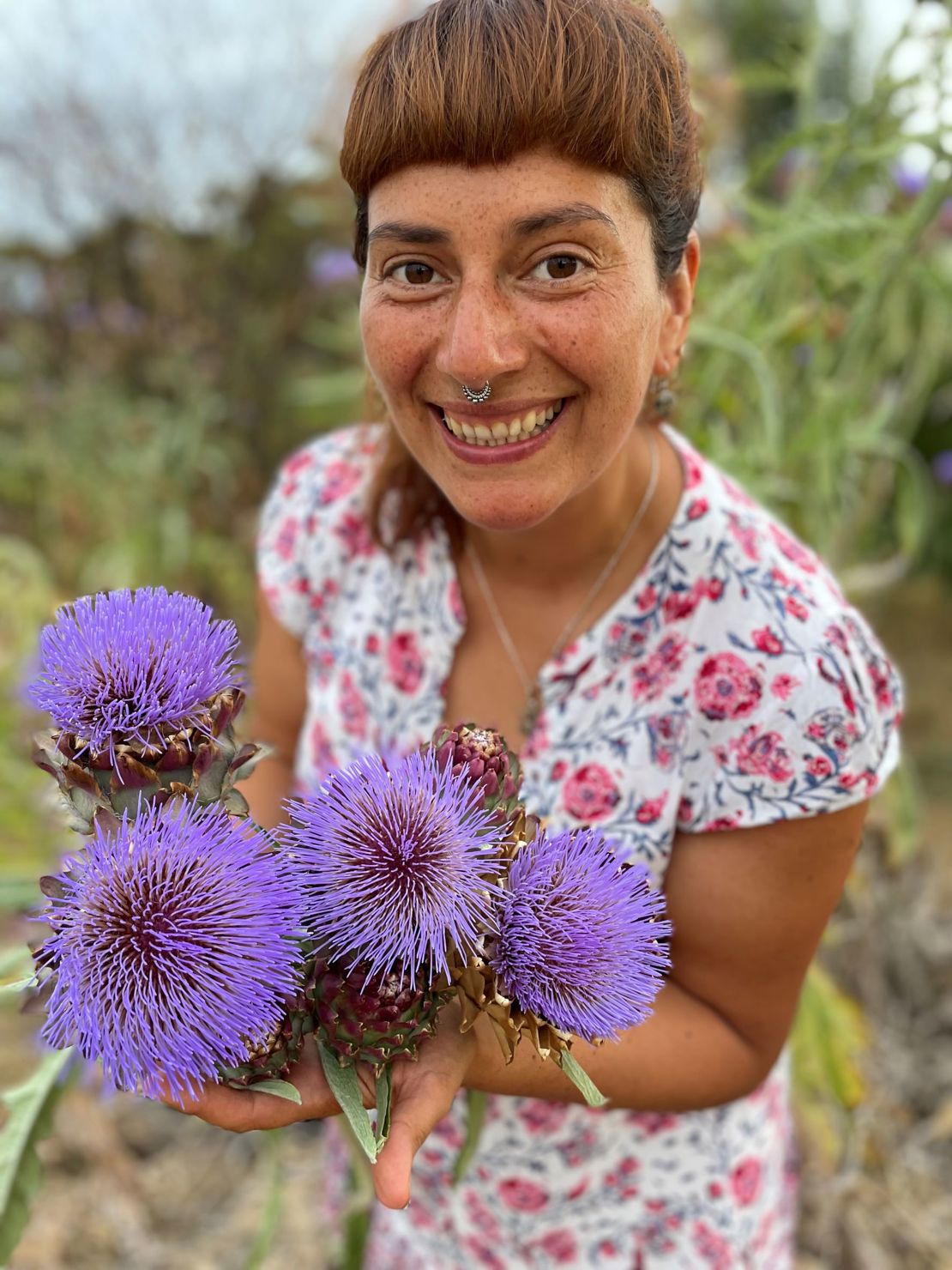 As we kick off another Environmental Leaders Program, we caught up with Ninna, a past graduate, to hear more about her journey and her vision for the city of Port Phillip.
Tell us a little about yourself Ninna
I'm Chillan, originally from the south of Chile. My parents were farmers. They farmed grapes for making wine. However the price of grapes soared due to the monopoly on the market and they went broke. Through this experience they developed a deep frustration about living in the countryside and they raised 3 children to "go to uni and work in an office". So that's what I did.
I went to university and became a journalist for an independent publisher. I was keen to share information with the world. I found there was a lot of pressure working in press, political news, which was the field I was most passionate about. Though I was doing well in my job, I was feeling empty inside, something was missing in my heart. I realised it wasn't making me happy, so I quit my job and decided to travel.
When did your passion for the environment start?
My travel took me to far north Queensland where I mostly lived in Port Douglas. It was there while I was exploring the amazing Daintree Rainforest where I started to think, how can we protect this? This place where the beautiful rainforest meets the Great Barrier Reef. This is where my journey of action started. I began picking up rubbish from the beach after work. This marked a before and after in my journey, and was a jump between using a pencil to write and communicate, to doing something. Then I started to invite friends to collect rubbish with me. I then realised it's there in the community that we have power to make real changes and move forward.
How did you come across the Environmental Leaders program?
I came to Melbourne to visit a friend and then the COVID-19 pandemic happened. I found myself staying in Melbourne. I decided I was going to follow my passions and learn as much as I could. I heard someone mention the Environmental Leaders program, so I Googled it and signed up. By then I already had some personal projects and I wanted to connect those projects with the local community and create a strong green network.
How would you describe the Environmental Leaders program?
The program was very different to how I imagined. I thought it would be formal and talk about laws and policies, but I was so impressed with how holistic the course was. It was really about getting to the heart of your passion and where it came from.
I met so many inspiring people who all had really different and interesting ideas. I recall one lady was really interested in oil and recycling oils, another was passionate about light pollution and the effects on birds, and the other about dolphins.
What was your most memorable moment during the course?
During the course, we started with a quiet time, and the facilitator Brett let me lead some sessions with the group on meditation, using sound bowls and other instruments, as sound therapy. I felt at that moment that this was it, this is aligned with my values, this is my tribe.
What did you get out of the program?
I went into the program thinking I would like to do something with Community Gardens. But as part of the course, I came to realise this wasn't my true passion. So I decided on a personal project, 1 year of activism. I spent the year learning everything I could about all my areas of interest, permaculture, zero waste movement, urban farming, climate justice and so many other topics.
I discovered amazing people doing amazing things and want to spread the word about what they are doing. I call them my heroes. People like David Holmgren, Rosemary Morrow, Costa, Morag Gamble, Mariam Issa, Daryl Taylor, Helen Norberg, Brendan Condon, Dr Nick Rose and others.
I have come up with a project called 'Green Riot' where I document through photography what they do to expose their work. I have submitted photos for the Melbourne Photography Festival for 2024. If the project is approved, the pictures will be in outdoor spaces in the CBD.
My objective with this documentary photography project about my heroes is to expose an alternative way of living. A more ethical and sustainable way, where people can get inspired, take action, find their tribe and then work with them.
What's next for you?
I will keep working on my super personal project "Green Riot" for Melbourne Photo Festival 2024 until I get the results of the application on June this year.
In the meanwhile, I love gardening and edibles, so I will keep spreading the word about urban farming and ecological restoration, using my background in permaculture, communications and art therapy.
I am collaborating with Raw Garden in Brighton East, designing and doing workshops that are about connecting people to nature and themselves.  I'm using my permaculture knowledge, art therapy, communication skills and sound therapy, and creating experiences that bring people together.
The next workshop is about bees and around people getting more knowledge about their importance to biodiversity. Here is the link to sign up - Bee for biodiversity Raw Garden
We also will have an open circle conversation for Earth Day in Raw Garden: "Earth Beyond my lifetime". We will mix storytelling and art, in a morning to reflect about our lifestyle and our interaction with this gorgeous planet.
What is your ultimate vision?
For the entire City of Port Phillip to be an edible city. With gardens over the streets and in our backyards. Where we have a neighbourhood of people who are connected to community and know their neighbours.  We need to retrofit our suburbs. Invest in our local communities, buy in our local shops and support our local farmers. We can have a more ethical lifestyle, but we have to start today.
To follow Ninna's progress on social media you can find her at @drill_by_ninna and visit her website www.symbioticninna.com