Sustainability leadership
Our actions to lead a sustainable community.
Climate emergency declaration
In September 2019, the City of Port Phillip declared a climate emergency, stating climate change poses a serious risk to Australians, including those living in Port Phillip – and should be treated as an emergency.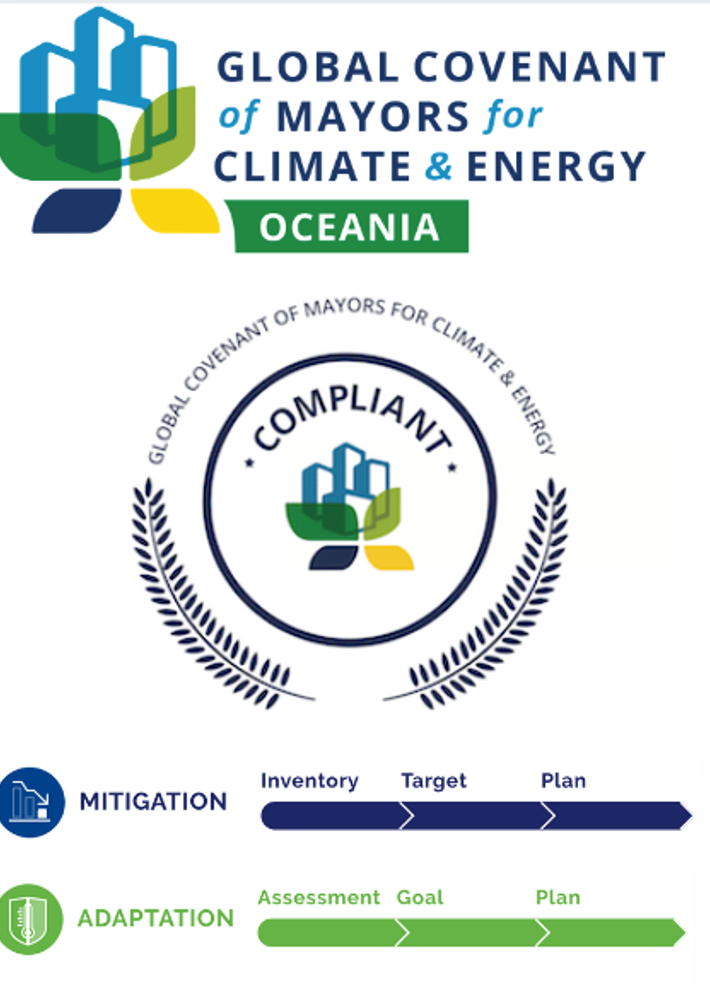 Key sustainability achievements
We declared a climate emergency in 2019 and are calling on the state and federal governments for stronger action on climate change.
Council will achieve zero net emissions in 2020-2021.
The majority of our electricity comes from renewable sources. This includes 559 kW of rooftop solar on our buildings and investment in an 80 MW wind farm as part of our Power Purchase Agreement through the Melbourne Renewable Energy Project.
We are divesting from fossil fuels. For example, in February 2020, 84% of our investments were fossil fuel free.
We are collecting and reusing stormwater to reduce our reliance on potable (drinking) water while also keeping our gardens and parks green. For example, at the Alma Park stormwater harvesting scheme, up to 18 million litres of stormwater is captured and reused each year.
We are planting trees on public land. In 2019-2020, we planted 1,337 trees and approximately
20,000 indigenous plants in native vegetation areas along the foreshore.
Over 200 raingardens have been installed to treat stormwater and reduce pollution entering Port Phillip Bay.
We are installing dedicated bike lanes and paths across the city and improving pedestrian crossings and paths.
We are collecting data on our biodiversity to help protect our plants and animals.
We are raising the standards for Environmental Sustainable Design in the planning scheme for all new developments.
Other achievements, projects and actions can be read about in our Annual Reports.
How are we reaching zero net emissions?
Council's emissions mostly come from our fleet vehicles and energy use in our buildings and streetlights.
Since 1996/97, we have reduced our net emissions by 71 per cent (from 16,333 tCO2e in 1996/97 to 4,736 tCO2e in 2018/19). See the path of our emissions reductions in the chart below.
We've been able to achieve this reduction in emissions by:
reducing our energy use
improving energy efficiency - for example, by improving insulation and replacing streetlights with LEDs, and installing more efficient heating and cooling systems in buildings
installing 559 kilowatts of solar on Council buildings such as St Kilda Town Hall and South Melbourne Market
transitioning buildings from using gas to electricity
transitioning fleet vehicles to zero or low emissions vehicles (electric and hybrid models) and adding electric bikes to our fleet
sourcing renewable energy through our involvement in the Melbourne Renewable Energy Project, an 80MW wind farm.
purchasing accredited offsets
Where do Council's emissions come from?
Vehicle fuel: 34 per cent
Electricity: 28 per cent
Water use: 16 per cent
Natural gas: 10 per cent
Street lighting: 6 per cent
Waste and minor emissions: 6 per cent
Since 1996/97, CO2 emissions in Port Phillip have decreased from 16,333 tonnes to 4736 tonnes in 2018/19.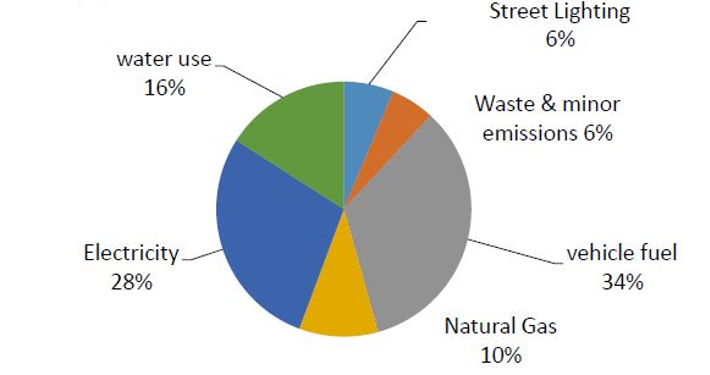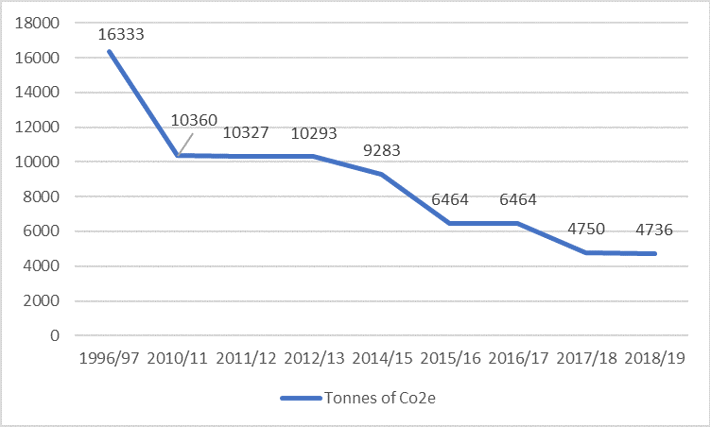 Awards and recognition
Council has been recognised for its Sustainability leadership in the following awards.
2019/20
Cities Power Partnership
Community Engagement Achievement Award For The Butterfly Effect, Albert Park Kindergarten and City of Port Phillip; the first certified carbon neutral Early Childhood Education and Care Service in Australia
LGPro Excellence Awards
Sustainability Award For the collaborative Supply Chain Sustainability School project.
Stormwater Victoria
Excellence in Integrated Stormwater Design - Highly Commended for the Alma Park Stormwater Harvesting System in partnership with E2 DesignLab, Simpson Construction, and Melbourne Water
Keep Victoria Beautiful awards
Sustainable Cities Awards Environment Winners of the Waste award for our Glass recycling trial and the Indigenous Culture Award along with the Boonwurrung Land and Sea Council for our 'We-akon Dilinja' dawn ceremony on Australia day. We also received 'Highly commended' for our Alma Park Stormwater Harvesting Scheme and Summer Rangers program.
We were also finalists for the Overall Sustainable City awards and for the following projects - NatureSpot Citizen Science Project, Council and community food waste diversion, and National Recycling Week social media campaign.
Garage Sale Trail Awards
Excellence in Innovation Award achieved for the Garage Sale Trail event.
2018/19
Premier's Sustainability Awards
Winners of the Government category in partnership with the City of Melbourne, City of Moreland, and City of Yarra for our role in the Melbourne Renewable Energy Project.
Victorian CitySwitch Award
The Melbourne Renewable Energy project partners were awarded the Victorian CitySwitch Award.
National CitySwitch Award
Following the success at the Victorian CitySwitch Awards, we were in the running for the National Awards. The project partners were announced as winners in Sydney in November
Institute of Public Works Engineering Australasia (Victoria)
Engineering Excellence Award. City of Port Phillip received an Engineering Excellence Award for environmental sustainability for its work in the development of Kirrip Park.
The City of Port Phillip received the inaugural Water Sensitive Cities Award from the Cooperative Research Centre for Water Sensitive Cities. The award recognises water sensitive principles being applied on the ground.
2017/18
The City of Port Phillip, together with five other councils, received the 2017 LGPro Awards for Excellence Sustainability Award for introducing a joint Environmentally Sustainable Development Policy – planning reform for a sustainable future.
South Melbourne Market won the 'Environmental Sustainability Award' at both the IPAA Victoria
Leadership in the Public Sector Awards and the LGPro Awards for Excellence.
South Melbourne Market received the Australian Organics Recycling Association Award for Outstanding Local Government Initiative in Collection/Processing/Marketing.
South Melbourne Market also received the Hospitality sector and Overall Winner awards at the Facility Management Innovation Awards. This was the result of the numerous sustainability practice innovations introduced at the market including recycling, food rescue, waste and water management and water monitoring.