Sustainability in action in Port Melbourne
We welcomed one of our newest members to the Port Phillip Sustainable Business Network recently. Located in Port Melbourne, the Sustainable Coffee Company is a specialty coffee roaster that has operated from the same premises for the past 15 years.
Sustainable business case study: The Sustainable Coffee Company
April 2022
The Sustainable Coffee Company joined the Sustainable Business Network in early 2022. Sustainable coffee has bean a long-term priority for this Port Melbourne business. We asked Michael McIvor, General Manager, about their business' sustainability journey and what advice he'd share with other Port Phillip businesses wanting to take action to improve their environmental performance.
Tell us a bit about your organisation's sustainability priorities.
Michael: We're focused on playing our role when it comes to sustainability and reducing our environmental impact, all while roasting a quality product and serving our customers to the highest standard, all over Australia and internationally.
What challenges have you faced along the way while improving your sustainability performance?
Michael: The obvious challenge is a financial one. It costs more to do the right thing, but we believe it's absolutely worth it. We endeavour to partner with the right suppliers and customers that share our values and morals when it comes to sustainable practices. The coffee industry has, for the longest time, not been known for being the most sustainable industry in global terms.
In saying that, in more recent times there has been a huge shift in the industry to improve its environmental impact. While it was a tough slog when we were advocating for these sustainable measures years ago, it's pleasing the broader industry is now seeing the benefits of acting in a more environmentally friendly and sustainable manner.
What are some of your key actions in sustainability?
Michael: We've been pushing more sustainable practices for many years, and in many different ways, including:
ensuring we're sourcing coffee from farmers and cooperatives that share our sustainability mindset, and ensuring our coffee is ethically sourced
using only fully recycled boxes to ship our products Australia-wide and overseas
using compostable bags for all our coffee
a highly refined waste management plan
being 100 per cent carbon offset from tree to cup by purchasing carbon credits
supporting our customers to join Reground, a scheme where used coffee grounds are collected for composting
running a workplace farm, fed by composted coffee grounds and food scraps, which produces 300 kilograms of food each year for charity.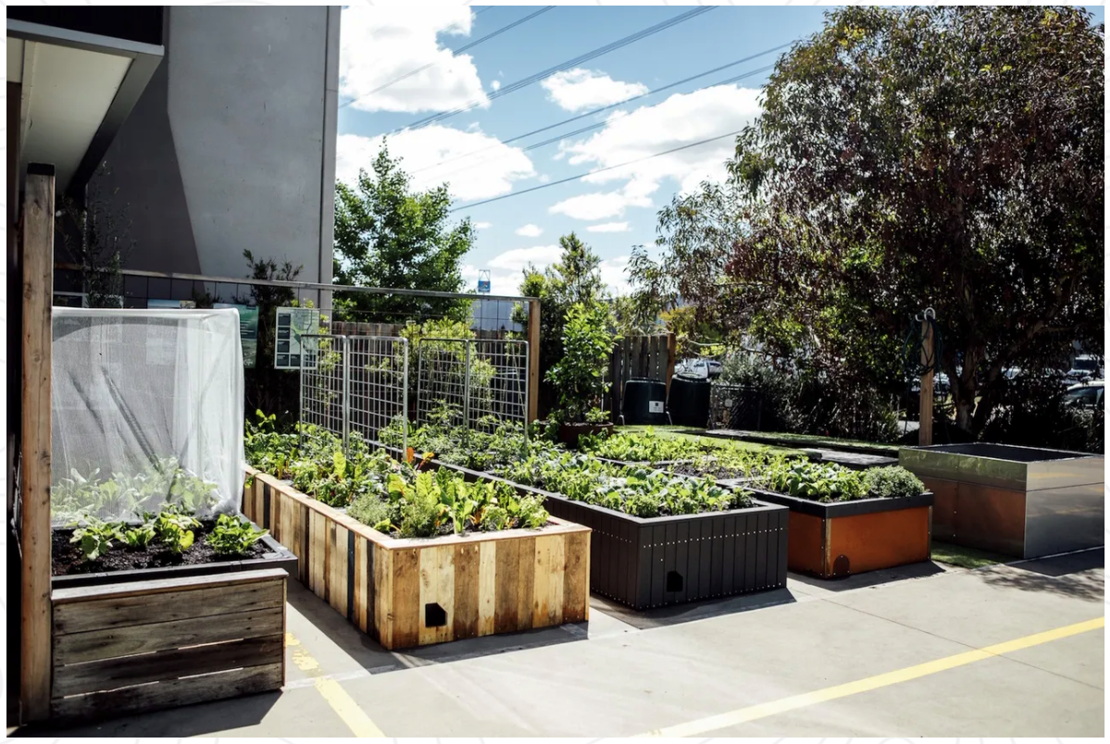 What is a recent change you've made that has had a great impact?
Michael: We recently purchased a fully electric bullet roaster to roast small batch coffee blends and single origin beans to further reduce our environmental impact (we use 100 per cent green energy at our roastery).
What triggered you to make these changes?
Michael: I wouldn't say there was really a trigger, it has been part of the company ethos since day one, based on the coffee industry's environmental impact as a whole. If we can play our small part in an industry that produces the second-most-consumed beverage on the planet, maybe influence other roasters to do the same, and have that conversation with our customers, we know the world will be a better place as a result.
What did you learn along the way?
Michael: Every day is a learning experience for us. The most profound learning for us is probably just how simple it is to make some small changes to have a huge impact on the environment. Things like using recycled boxes, switching to compostable packaging and repurposing used coffee grounds as nutrient-rich garden matter, all helps lead to a more circular economy and reduces the negative impact on the planet.
How much impact have these changes made to your operations? Have you seen a difference over time?
Michael: We're proud to operate as a carbon neutral business through adopting the practices already mentioned and we're working towards producing an annual sustainability report that provides complete transparency on our positive impact in real terms, all with the hope that we can influence other businesses to do the same.
What is the best piece of advice you would give to other Port Phillip organisations looking to take action to reduce their environmental impact?
Michael: There are incredible businesses and individuals already taking positive action and leading the way in the sustainability space, right here in Port Phillip. The best advice is, jump in, ask questions and do some research on some of the practices you could adopt, relevant to your industry, that will have immediate positive impact.
Ask the team at Port Phillip Council how they can assist, they have a wealth of knowledge in this realm.
Chances are you have people within your businesses that can champion a project around sustainability. Find them, empower them and watch the change in organisational culture and outward impact, and the new wave of customers you will attract to your business!
Anything else you'd like to share about your sustainability actions?
Michael: I can't say too much yet but stay tuned on a significant sustainability project we have embarked on that will have an incredible impact on the Melbourne coffee scene (which is the global leader in coffee culture).
Get involved
We are committed to supporting Port Phillip businesses and organisations to operate more sustainably, and in doing so, reduce operating costs.
Sustainable Business Network
Join the Port Phillip Sustainable Business Network to discover new programs and opportunities, receive event invitations, access expert sustainability advice and network with other local businesses.
Membership is free. There are currently over 280 members.
Members receive:
regular newsletters with information and articles relevant to businesses
one-on-one sustainability advice and support
invitations to networking breakfast events and webinars.
Sustainability vision workshops
We also run free sustainability vision workshops for Port Phillip organisations. Contact us to find out more.
Email: enviro@portphillip.vic.gov.au
Phone: 9209 6777