Business parklets permit
Extend your business beyond the footpath.
What is it?
A business parklet permit gives you permission from Council to use parklets for trade. If you're not sure what a parklet is, it's an extension of the footpath.
A parklet uses former car parking spaces to provide seating and green spaces. Some of the benefits of parklets include:
encouraging people to spend more time enjoying our streets
improving the look and feel of our streets
supporting local businesses by extending their floor space.
You can find more information about business parklets in: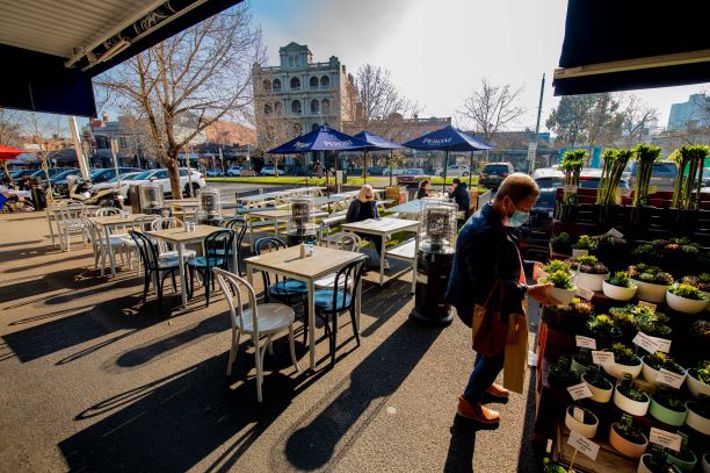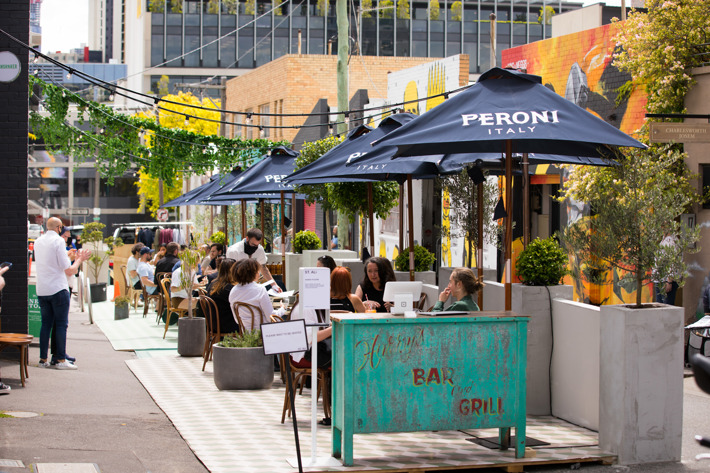 Who's it for?
Hospitality businesses based in the City of Port Phillip can apply for a business parklet permit.
You can also apply if you're a:
community organisation
not-for-profit organisation
business outside of hospitality.
These businesses can not apply for a permit:
stand-alone bottle shops
tobacco shops
venues with an electronic gaming machine or other gambling components
businesses located on arterial roadways.
Please note: new applications for business parklets on arterial roads managed by Vic Roads will no longer be accepted. The Department of Transport (Vic Roads) has currently ceased issuing new permits for on road dining.
Other outdoor dining options
If a business parklet is not suitable for your business because of your location, there are other options.
You might still be able to extend your dining area outdoors. This could be into public open space such as a park or reserve adjacent or across from your business.
You can find more information about an outdoor extension of trade in:
Will I need more than one?
How many registrations and permits you need depends on your business.
Food businesses doing outdoor trade often need:
business parklet registration
If you think you might need more than one permit, use our Business Permit Finder to determine the permits you need. This will save you time and hassle.
Fees
Council calculates permit fees based on the location and size of the parklet.
Business parklet permits are effective from:
1 October 2022 to 30 September 2023 (annual permits)
1 October 2022 to 30 April 2023 (seasonal permits).


For information about fee costs and how we calculate them, you can read the:
Before you apply
A business parklet is one of the outdoor trading options available to businesses in City of Port Phillip.
To help you determine if a business parklet is right for your business, consider the following:
the design of your parklet
requirements from Council
assessment process
your responsibilities
costs associated with business parklets.
The key steps for how to set up a business parklet are in the:
Before you apply for a business parklet permit, check if a footpath trading permit or an extension to your existing footpath trading is a better fit.
Other outdoor trading opportunities include:
footpath trading permits
advertising board permits
When you apply
To apply for a business parklet, you need to complete the online Application for Business Parklet Permit.
Follow these steps to apply online using My Port Phillip:
Step 1. Register or log in using registration details
Step 2. Apply for a permit
Step 3. Select permit type
Step 4. Address
Step 5. Lodge
Step 6. Confirmation - accept terms and conditions of use
Step 7. Summary - attach any required documents
Step 8. Payment - securely pay by credit card.
Submit this form and required supporting documentation to:
footpathtrading@portphillip.vic.gov.au 
or
Footpath Trading
City of Port Phillip
Private Bag No. 3 St Kilda, VIC 3182
Council invoices the fees for the permit once we receive your application.
After you apply
During the application review, we may contact you to provide more information about your application.
If this happens, we'll work with you to:
finalise your business parklet designs
make sure that your parklet complies with the guidelines.
If Council supports your application, you'll receive a permit with conditions and an approved plan.
Installation and operation of your business parklet
When you get your permit, you can construct your business parklet. This includes all approved structures and furniture.
You must follow the rules set out in your permit and approved plan. Council officers will inspect the business parklet from time to time to check the structure and furniture.
Removing your business parklet when your permit expires
When your permit expires, you must remove the business parklet structure and furniture, and return the space to its original condition.
Frequently asked questions