Sustainable Business Network
The Network provides an opportunity for a range of businesses to come together to share, network and learn from one another.
Join the Network
Join the Sustainable Business Network to discover new programs and funding opportunities, receive event invitations and access expert sustainability advice.
The network aims to support your business to reduce operating costs and improve your sustainability outcomes.
Membership is free and there are currently over 250 members.
Members receive:
invitations to regular networking breakfast events
newsletter with information and articles relevant to businesses
one-on-one sustainability advice and support
The City of Port Phillip is home to nearly 20,000 businesses that provide a fantastic service to our community. We are committed to supporting business owners to operate more sustainably, and in doing so, reduce operating costs.
To join the network, complete and submit the form:
"We have found that the Sustainable Business Network is one of the few programs that allows us to meet, participate, [take] action and share in the visions of so many like minded experts in their field and within the City of Port Phillip Community."

— Baenziger Coles
"The benefits of the business breakfasts has been in finding new opportunities for collaboration within Port Phillip including the installation of a shared solar array on the roof of our neighbour, with a power purchase agreement to distribute the solar energy created."

— Morris Group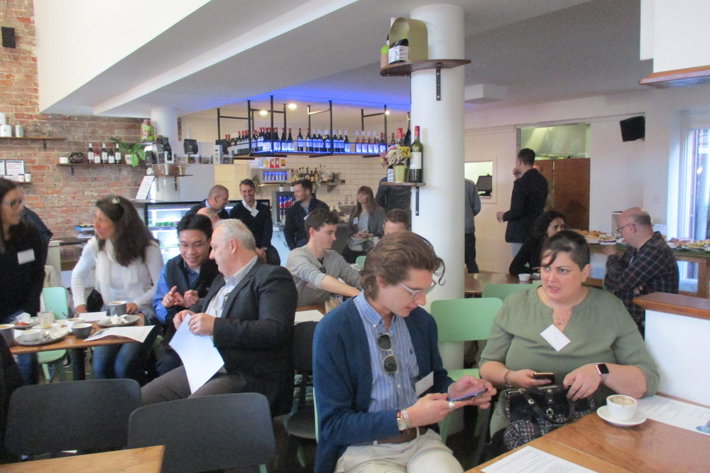 Members of the Sustainable Business Network
The Sustainable Business Network has over 250 members.  View the details of some of our members below.
Launch of the network
The first business breakfast was held in May 2019 and was a sold-out event. The overwhelming feedback from attendees was that the event was a roaring success and the network is filling a void in the local business community.
Attendees were inspired by some wonderful guest speakers, including World Champion skier Jacqui Cooper, and business owners shared their knowledge with one another. In addition, our own energy experts were on hand to offer advice to attendees.
Find out more about the event in the media release (PDF 160 KB).
Previous events
Find out about previous Sustainable Business Network events, watch recordings and download presentations.
Contact us
For questions about the network, contact Szilvia at enviro@portphillip.vic.gov.au or call 03 9209 6777.