Business parklets
Council has options for small business owners who are thinking of venturing onto the footpath ­– and not only for outdoor dining.
2020 was a challenging year for local traders due to COVID-19 restrictions and we're supporting recovery by permitting activations to help them to start trading again under the new Victorian Government restrictions.

These opportunities allow our community to continue to support their local businesses. These are not intended to be permanent fixtures and will be reviewed accordingly with community feedback.
If you have any enquiries, please email businesses@portphillip.vic.gov.au.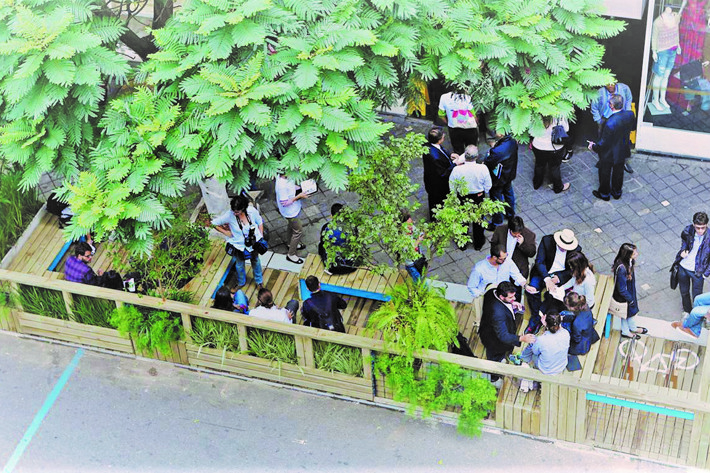 Council is looking to re-purpose parking bays outside your business to increase footpath trading and provide a safe, physically distanced environment for your patrons.
Parklets can be open to the public daily.
To find out more, download the Business Parklets Guide.
To apply for a business parklet, please complete the below form.
Please note, businesses must fund the design, build, installation, removal and maintenance of parklets until at least 30 June 2021*. Parklets can be open to the public daily subject to Victorian Commission for Gambling and Liquor Regulation (VCGLR) licensing and permit conditions.
We can install large 600mm X 600mm timber planter boxes, with plants, for the corners of your parklet. Businesses need to provide barriers (with no gaps) to go in-between these as well as any loose furniture required.
We can also provide DDA compliant ramps for accessibility if required.
*Please note: a longer term policy is being developed on the Business Parklet Program and Council will provide additional directions in May 2021, that could include a further extension beyond June, before a longer term policy is finalised.
If a business parklet is not a suitable option due to your location, you may be able to extend your dining area outdoors into public open space, such as a park or reserve adjacent or across from your business.
Further information on what can be permitted under an outdoor extension of trade can be found in the Public Space Trader Application Guide (PDF 496 KB).